One of Netflix's most popular original series features a menagerie of strong, diverse and effervescent women, like a sarcastic junky with a throaty voice and huge eyes rimmed with black eyeliner and a calculating Russian with hair as red as her lipstick.
"Orange is the New Black," based on Piper Kerman's experience behind bars, entertains viewers while dealing with important issues like mental health problems and the treatment of people in the LGBTQ+ community. The show especially succeeds at developing complex characters. It's not uncommon for viewers to unconditionally love a character even when they uncover their troubled past — the writers do an excellent job of redeeming the characters, who are multi-faceted and realistic, albeit more interesting and humorous than the average person.
To recap, Season 5 took place over the course of three harrowing days, as the prisoners seized control of Litchfield prison and rioted. Their outburst culminated in most inmates being separated and sent to different prisons, while a core crew waited on officers to infiltrate their hideout and presumably send them to Litchfield Maximum Security.
In honor of Season 6 dropping on Netflix next week, here is a list of five of the most captivating backstories seen on the show thus far.
1. Mei Chang
Little is known about Litchfield's most mysterious inmate, aside from her occasional jokes (and desire to turn ordinary objects into phallic ones, as seen during improv class), but her backstory, revealed in the sixth episode of the third season of "Orange is the New Black," cemented how resilient she is.
In the flashback, Chang is set to marry a rich businessman who rejects her due to the unusual appearance of her skin (possibly dermatitis). When her engagement doesn't work out, Chang ultimately ends up working for her family's black market business. As a woman deemed unattractive and therefore unnoticeable, she is often sent on missions.
On one such mission, she saves the life of a delivery man, who repays her by helping her kidnap the man who rejected her. After the businessman spits blood at her and says she'll always be ugly, Chang orders her men to cut out his gallbladder.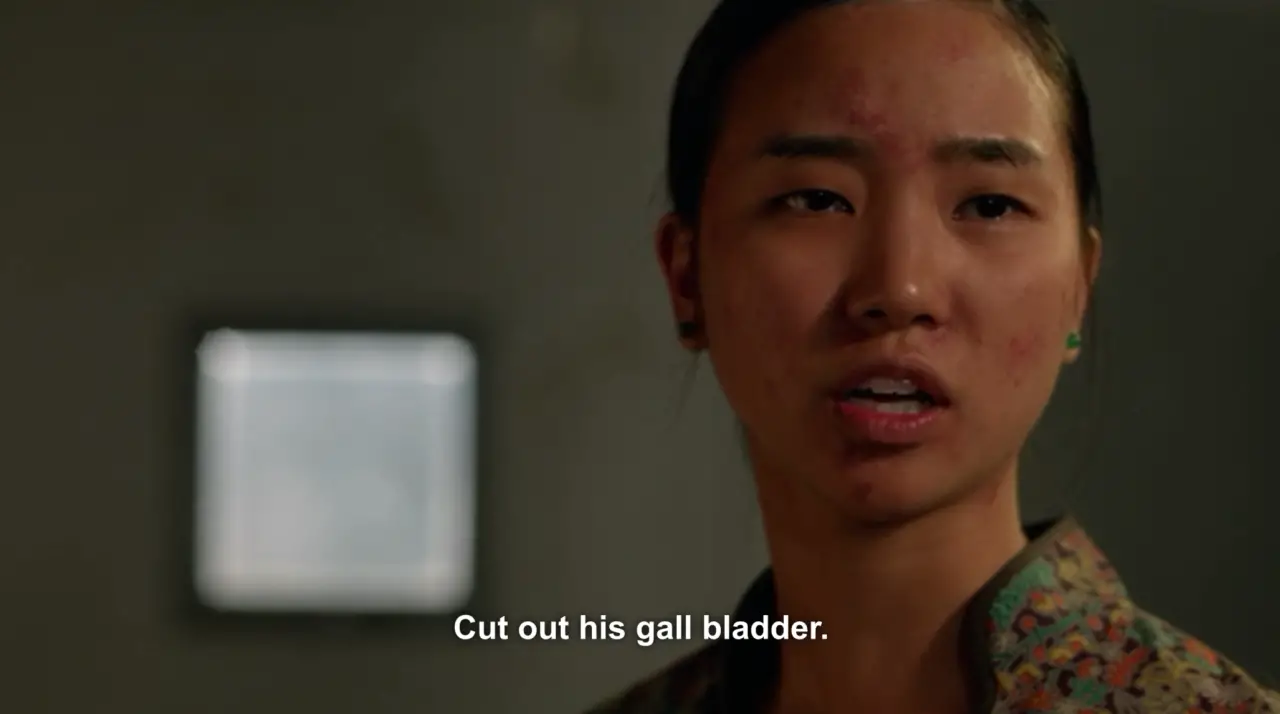 While this is an extreme measure, seeing shy, young Chang exact revenge in such a manner is striking. It seems the nonchalant and private Chang viewers see today has always been fearless.
2. Suzanne "Crazy Eyes" Warren
With her creative talent and child-like wonder, Suzanne easily captures fans' hearts. Although she gets upset easily, it's clear she tries her hardest to do the right thing and is a reliable friend.
During her flashback in Episode 11 of Season 4, Suzanne is shown working as a greeter at local store. Ever friendly, she is popular among families. When her younger sister Grace and her boyfriend, whom Suzanne lives with, go out of town, Suzanne decides to go to the local park to make friends.
She recognizes one of the boys from the store and invites him over. The two play video games, and the boy begins to get frightened at her insistence that he spend the weekend. Suzanne is hurt when she finds him calling 911, stating he should only call the police in an emergency. Agitated, she follows him to the balcony where he accidentally falls to his death.
Suzanne's innocence is what makes her backstory especially tragic to "Orange is the New Black" fans — all she was trying to do was make a new friend.
3. Lorna Morello
Morello is quite the character, with her trademark red lipstick and hybrid Brooklyn-Boston accent. She manages to be both sweet and sassy, and her relationship with Nicky is particularly endearing.
Throughout their on-again-off-again relationship during the first two seasons, Morello made it clear she had a fiancée, Christopher. Although he never visited, she was constantly seen planning their supposed wedding.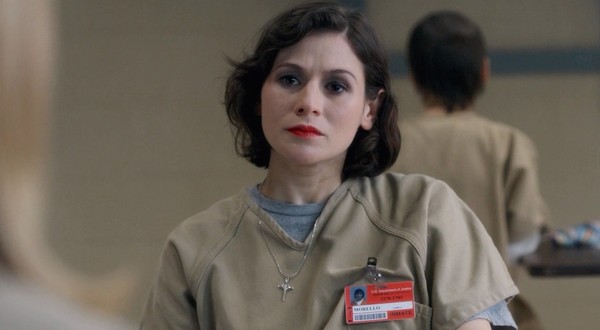 During a flashback in Episode 4 of Season 2, Morello begins stalking Christopher after one date, despite the restraining order he takes out. Morello even strangles his girlfriend and puts a bomb underneath their car.
Morello's backstory is tragic enough as it is, as she is clearly suffering from mental illness, but it is her chipper disposition and empathetic personality that make her history particularly heartbreaking.
4. Tiffany "Pennsatucky" Doggett
Pennsatucky evolved from the religious zealot villain of Season 1 of "Orange is the New Black," to a decent human being (who formed an adorable friendship with Boo, by the way). Her extreme and judgmental behavior may have annoyed viewers, but her backstory offers valuable insight into why she's the way she is.
In a flashback in Episode 10 of Season 3, 10-year-old Pennsatucky has just gotten her period, which her mom says gives her value. Her mom advises it's best to just let men have their way with her —  it'll be over before she knows it, much like a bee sting. This advice shapes Pennsatucky's opinion of herself and of sex.
Years later, after trading sex for soda, she gets bitten by an insect and halts the act. She then meets Nathan, who treats her with respect. Nathan shows her sex can be consensual and pleasurable. Unfortunately, after saying goodbye to Nathan at a party, the soda man shows up and demands what Pennsatucky owes him, despite her protests. Her vacant-eyed submission is especially haunting.
This peek into Pennsatucky's past helps viewers understand her reaction when Officer Coates rapes her in the same episode. She stares ahead passively as a single tear falls from the corner of her eye.
5. Poussey Washington
Ah, Poussey. Litchfield's resident bookworm, loyal friend to Taystee, girlfriend to bubbly Soso and overall super chill and nice person. Viewers were understandably shocked when Poussey died after being accidentally suffocated by CO Bailey toward the end of Season 4.
One episode later, in the 13th and final episode of Season 4, viewers are shown a magical night Poussey had in New York City before she was incarcerated. She spots a duck on the bus, borrows a phone from a drag queen and smokes a joint with a member of a theater troupe who's dressed as a monk. After glancing at the bay, Poussey breaks out in one of her famous grins, and looks directly into the camera.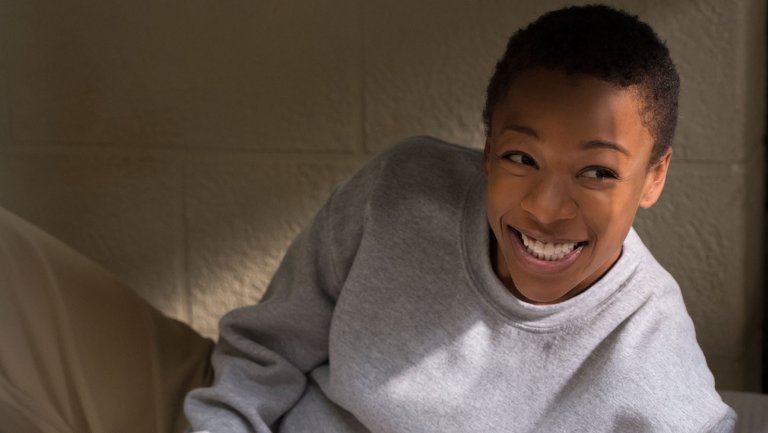 Unlike other character backstories that explore traumatic incidents from their pasts, Poussey's flashback was ripe with possibilities —  a reminder of her vibrancy that also served as a good send off to the beloved character.
Aside from sheer entertainment, "Orange is the New Black" succeeds at portraying realistic characters who've been through the ringer and have scars to show for it, yet still hold onto their humanity. To see what happens next to these nuanced women, check into Netflix on July 27 for Season 6 of "Orange is the New Black."