While we all love binging shows on Netflix, it can get tiring trying to find the right show in the right genre. But many fail to realize that, thanks to subtitles and dubbed audio, you don't have to limit your options to shows filmed in English.
Here's a list of some international shows that are definitely worth a watch.
1. Élite
The Spanish web television series "Élite" certainly has it all: snobby rich teens, an exclusive private school, scholarship students, lots of sex and, most excitingly, murder. This new Netflix drama follows three working-class students, Samuel (Itzan Escamilla), Christian (Miguel Herrán) and Nadia (Mina El Hammani), as they navigate the halls of private school Las Encinas, which is home to the most elite students in Spain.
This clash between the two worlds leads to many forbidden relationships and cutting family drama. The first episode starts off with a very dark introduction: one of the students at the school has been murdered, and everyone is a suspect. The show follows two timelines, one of which follows the interrogation of the various characters involved in the story. The other shows the events that had unfolded prior to the murder.
Unfortunately, the first season is only eight episodes, but don't worry — the episodes are so chock-full of drama that the show doesn't feel short at all. And, even better, Netflix has already renewed the show for its second season, so you've got a lot more teenage drama to look forward to.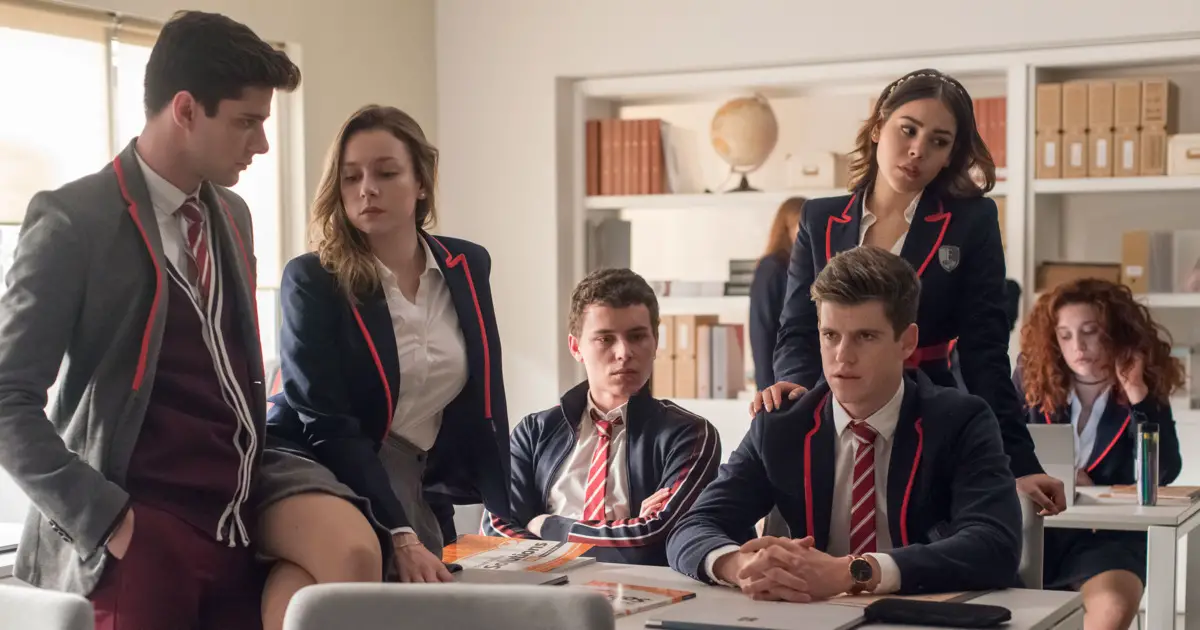 2. Baby
Loosely based off of the actual "baby ring" scandal that took place in Rome, this Italian show follows two teen girls from the wealthy Parioli district as they look for an escape from their dysfunctional home and school lives.
Chiara Altieri (Benedetta Porcaroli) and Ludovico (Alice Pagani) forge an unlikely friendship following a chance encounter in their school's restroom. As they confide in each other about their insecurities and fears, they realize that they are both tired of their lives and their expected futures.
Their search for an escape leads them to a problematic club, which introduces them to the business of prostitution. Mix in a scorned ex-best friend, a secret relationship with said ex-best friend's brother and a new bad boy at school, and you've got yourself a recipe for perfect disaster. With one season on Netflix and a second one announced on Dec. 21, there's a lot of promiscuous drama for you to binge on.
3. Dark
Science fiction thriller web series "Dark" is the first German Netflix original series. When children start to disappear from the fictional town of Winden, mysteries that shroud the families living in the town start to come to the surface.
The first season of the show focuses on the Kahnwald, Doppler, Tiedemann and Nielsen families and the secrets that both tie them together and pull them apart. Although the story mostly occurs in 2019, the storyline eventually includes the years 1986 and 1953 because of the use of time travel. This foray into the science-fiction genre makes the story all the more exciting and adds an element to the show that grips the audience.
Although the first season of the series came out in 2017, a second season has been approved for the show and is expected to come out in 2019.
4. Merlí
This series is filmed in the Catalan language and follows Merlí Bergeron (Francesc Orella), a free-spirited high school philosophy teacher, as he helps his students find their places in the world. Of course, Merlí's unorthodox teaching methods are followed swiftly by a procession of upset parents, disapproving coworkers, enthusiastic students and various romances.
Each episode of this series is named after a different philosopher and attempts to bring the knowledge of philosophy to the general public. Although you may not remember the specifics of each philosophy lesson in the series, you'll definitely remember all of the drama that happens within the school and its student body.
The series is composed of a wide variety of characters, spanning from an outgoing class clown to an extremely anxious homebody. Only one season out of three is available on Netflix, but the first season is a great introduction to the unique world and workings of Merlí.
5. Meteor Garden
This 2018 Chinese television series is based off of the first "Meteor Garden" series and the Japanese manga series "Boys Over Flowers." The story focuses on the extremely headstrong girl Dong Shan Cai (Shen Yue), who is accepted into the distinguished Mingde College.
At Mingde, she unwittingly befriends F4, which is an exclusive group of four attractive and extremely rich boys at her school. Dao Ming Si (Dylan Wang), one of the F4 and possibly the most arrogant of the group, immediately takes a dislike to Dong Shan Cai due to her unwillingness to conform to F4's unspoken societal rules. However, as the two begin to interact more, Dao Ming Si falls in love with Dong Shan Cai. Unfortunately, Dong Shan Cai is in love with Dao Ming Si's best friend Hua Ze Lei (Darren Chen).
As this love triangle unfolds, so do a multitude of unfortunate events, many of which stem from Dao Ming Si's extremely strict mother. Although the storyline can be predictable at times, it's definitely a guilty-pleasure watch and perfect for any binge-watcher, as every single episode in available on Netflix.