From Dave Chappelle to Katt Williams, Netflix has produced some memorably gut-busting specials. Comedian Mo'Nique, however, is not too pleased with the company.
In a video on her Instagram page, she called for her followers to boycott Netflix after they offered her significantly less money for a comedy special than her peers. Comedians such as Amy Schumer, Chris Rock and Dave Chappelle received a lot more for their specials.
Because of her significant pay loss, she accused the company of exhibiting both gender and color bias. "I was offered a $500,000 deal last week to do a comedy special," the comedian states in the Instagram video. "However, Amy Schumer was offered $11 million, Chris Rock and Dave Chappelle $20 million."
Schumer received $11 million for her Netflix comedy special and was even able to negotiate the deal to $13 million after learning that Dave Chappelle and Chris Rock acquired more than double what she was offered. On the issue, Schumer states, "I believe women deserve equal pay. However, I don't believe I deserve equal pay to Chris and Dave. They are legends and two of the greatest comics of all time."
When confronted, Netflix allegedly told Mo'Nique that they didn't "go off of resumes" when deciding what to pay each comedian. Despite this reasoning, they listed Schumer's accomplishments, such as selling out Madison Square Garden and having a box office hit this summer, as reasons why Schumer deserved a higher pay. Netflix stated that they believed $500,000 was a good deal for Mo'Nique despite also calling her a legend.
Netflix's $500,000 offer definitely seems odd since Mo'Nique also has a long and impressive resume. Kay Wicker from ThinkProgress notes that the comedian has never failed to draw a crowd. Not only did she win an Oscar for her performance in "Precious," but she also had an extremely hilarious show "The Parkers" which aired for five seasons.
She has also had many other accomplishments, such as when she sold out venues on the "Queens of Comedy" stand-up special, hosted both the Apollo Theater along with her very own talk show on BET and stole the show on the original "Def Comedy Jam."
The question remains: Why was Mo'Nique offered way less than Schumer, despite having such impressive accolades to her name? The story points to color bias. However, the comedian has gotten mixed reactions on social media.
One Twitter user even accused the comedian of using the "victimized black woman card" to get more money out of Netflix. Many accuse her of fitting the "angry black woman" stereotype and give this as a reason why she didn't get offered as much money as the others.
The angry black woman myth assumes that black women are aggressive and always upset about something. According to this stereotype, because the black woman is always angry, she is unreasonable and hard to please. Thus, people often use this trope to dismiss the concerns of black women.
Dismissing Mo'Nique as simply an angry black woman gives the impression that her anger is not justified when, in reality, it is. Black women such as Mo'Nique face the expectation to be happy with what others give to them, even if it is unfair. The angry black woman card is being used to deflect from the real issues of gender and color bias and to paint Mo'Nique as the one to blame.
Following Mo'Nique, another successful black female comedian, Wanda Sykes, spoke out about Netflix and their pay disparity. Sykes stated that she received less than half of Mo'Nique's offer for a Netflix comedy special. In response, Mo"Nique stated, "Now some would ask, why is it that Wanda Sykes and Mo'Nique, these two black women who have 50+ years in the comedy game, be offered $750,000 between the both of us and Amy Schumer get $13 million?"
The whole issue is reminiscent of a quote by Malcolm X in which he stated, "The most disrespected woman in America is the black woman. The most unprotected person in America is the black woman. The most neglected person in America is the black woman."
Black women have historically been at the bottom of the totem pole. Even in 2018, they are still struggling to be as respected as other groups in America. The pay gap is worse for black women. They make less than both Asian and white women in America.
Additionally, why was Mo'Nique offered much less than her male counterparts despite having several successful years in the comedy game? To answer that, we would need to address the severe pay gap for black women. According to a July 2017 study, for every dollar that a man makes, a black woman makes 63 cents.
Mo'Nique's critics may say that she doesn't deserve as much money as legends Rock and Chappelle, yet Netflix themselves called her a legend. One would assume that she deserves much more than a $500,000 offer.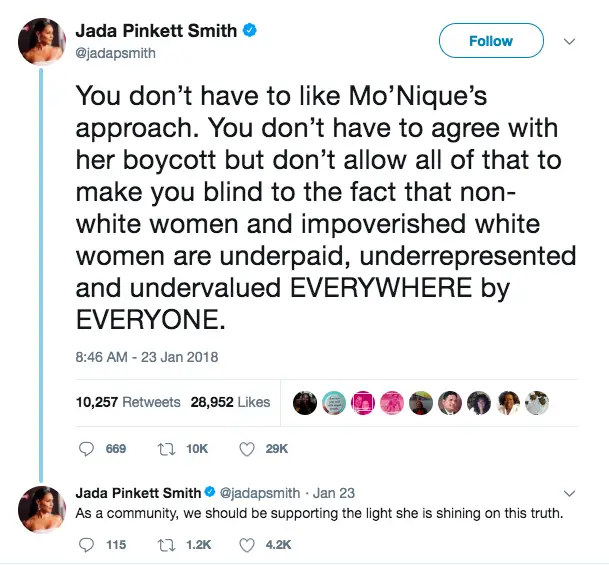 In support of the comic, Jada Pinkett Smith tweeted, "You don't have to like Mo'Nique's approach. You don't have to agree with her boycott but don't allow all of that to make you blind to the fact that non-white women and impoverished white women are underpaid, underrepresented and undervalued EVERYWHERE by EVERYONE." She continued her argument by saying, "As a community, we should be supporting the light she is shining on this truth."
It goes without saying that women, especially under-represented women, deserve our support. Boycotting Netflix may not be the answer and it might not be realistic to expect everyone to do that. Yet, there is no doubt that change should happen to dismantle the system of oppression that women of color have suffered from since the dawn of time.
Don't be so dismissive of women of color when they voice their concerns or frustrations. It will take a joint effort to destroy the wage gap between different genders and races.