2017 was a great year for movies, but nothing has stuck in the mind quite as vividly as Jordan Peele's spine-chilling directorial debut, "Get Out." The movie — which sunk its eerie teeth right into the hearts of audiences as soon as "Run Rabbit Run" blared out of a car stereo in the opening scene — has since set a new bar for horror.
Peele took a genre that most critics toss to the side and used it to communicate a much larger societal issue: race relations in the United States. "Get Out" is satirical, twisted and, in many ways, terrifyingly real. It is the kind of movie that not only presents a scary story, but makes you shudder at your own participation in it. With heavy excitement and anticipation in the air, murmurs of Peele's newest film "Us" have only just started to hit headlines.
Set to be released on March 15, the plot of "Us" is still largely unknown, though synopsis details and teaser pictures are slowly trickling in. The story follows Adelaide and Gabe Wilson (Lupita Nyong'o and Winston Duke) as they take their kids to Adelaide's old childhood beachside home in Northern California for the summer. They spend a day at the beach with the Tyler family (which includes Elisabeth Moss and Tim Heidecker), but Adelaide — who's haunted by a lingering trauma from her past — soon becomes paranoid that some evil will wreak havoc on her family.
Weekly recently got their hands on a pair of exclusive stills from the movie, and while they're certainly vague, the pictures are all that is needed to convey the intensity and creepiness of "Us." The first shot features Adelaide bruised and bloody, her white shirt torn at the seams and blooming with muddy patches of dirt. Despite this, she is wielding a weapon and looks prepared to take on whatever wickedness befalls her. From this picture alone, Nyong'o — who audiences know most recently from Marvel's "Black Panther" — already looks like a promising lead.
Fortunately for Peele, the award-winning "12 Years a Slave" star was more than eager to work with him. "He was on my wish list of people to work with," Nyong'o told EW, adding, "The very fact that I have not done anything like it was appealing, because it promised growth and excitement and new territory."
Peele, who is frequently inspired by horror classics, had Nyong'o watch 10 of the best scary movies to prepare for the role: "Dead Again," "The Shining," "The Babadook," "It Follows," "A Tale of Two Sisters," "The Birds," "Funny Games," "Martyrs," "Let the Right One In" and "The Sixth Sense." The films range from standard scream-worthy horror to flicks with comedic and romantic twists. "Get Out," which is a genre-bending masterpiece, seemed to tackle every method of approaching horror, but will the same thing be executed in "Us"?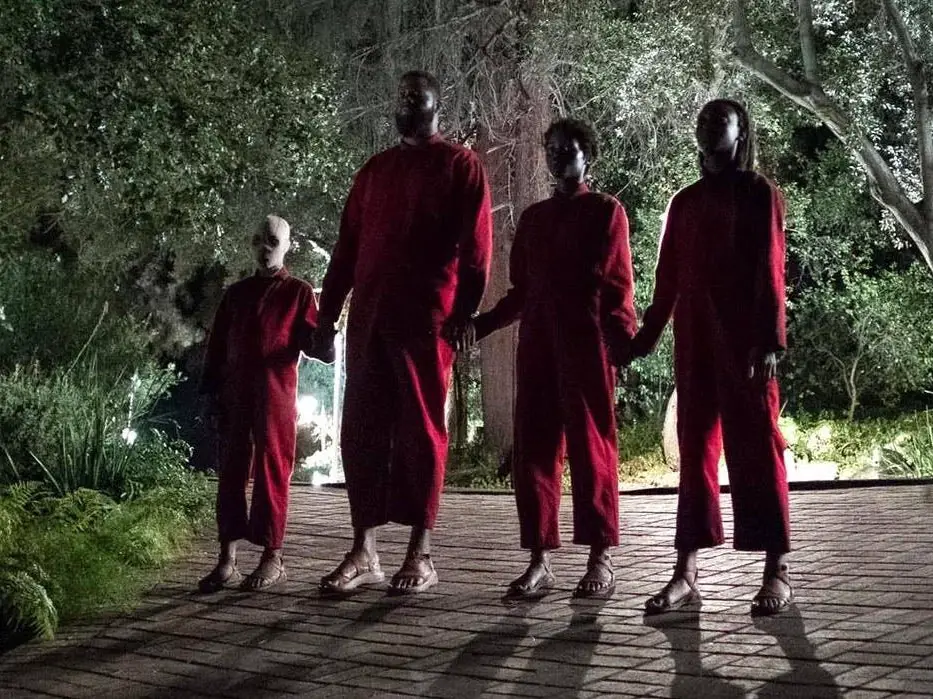 As much as everyone loved the expository themes of liberal ignorance and 21st-century slavery that engulfed "Get Out" scene by scene, "Us" seems to lean more toward the fundamentals of a classic scream-inducing horror flick. "For my second feature, I wanted to create a monster mythology," Peele said to EW. "I wanted to do something that was more firmly in the horror genre but still held on to my love of movies that are twisted but fun."
Peele has revealed that the monsters in his new movie are called "the Tethered," perhaps referencing the mysterious clan of red-cloaked bystanders lingering at the edge of the Wilson's driveway in the second EW movie still. Either way, "tethered" is quite an unexpected term to name a monster, and is leagues away from the colorful "Godzilla" or "Kong." Yet, it is the ambiguity and formality of the name that inches its way into the brain and leaves goosebumps on the skin. Who are the monsters tethered to? Why are they hanging on?
The plural-pronoun title, the closeness lurking in the obscure name of the monsters and the thematic motif of family all work to create an atmosphere of togetherness. While the idea of intimacy initially delivers connotations of warmth, "Us" is a horror film, a fact that cannot be forgotten. Knowing Peele and his knack for interlocking terror with uncomfortable, worldly realities, the movie likely will turn a familiar scenario on its head. "It turns into this relentless nightmare that taps into [Adelaide's] deepest fears and ours as well — the idea that we might be our own worst enemies," Nyong'o told EW.
As the days creep closer to March, new details about "Us" will continue to flood in, though I don't believe Peele will reveal too much of anything. The appeal of "Get Out" was going into the theater expecting it be scary and coming out petrified by the wild possibility of it all. Each moment of the film was surprising, each scene carving an even deeper allegorical lament about the racism that plagues the country. "Us" may have more madness and monsters, but what made "Get Out" great was how unsettling it was in its nowness, and I'm sure Peele will carry that theme with him. For now, all one can do is sit and wait, and wonder what fearsome terror lies in me, you, and most importantly, "Us."