The film industry is an intense one. It is tough, crazy and difficult, all the while wonderful and rewarding to be a part of. When people think of the film industry, the first thing that comes to mind for most are the blockbuster films of the current season, but there is so much more beyond that.
Not to downgrade any film that falls under the category of eye-candy blockbusters — there are many hidden indie gems in the industry as well. Whether one finds solace in eye-candy films or the harder-to-find indie creations, their beauty lies in how any type of film can reach someone and bring people together.
That is what the third Annual Indie Meme Festival (IMMF), which is founded by Alka Bhanot and Tripti Bhatnagar, is hoping to bring to the table for willing audiences. First launched in 2016, The Indie Meme Festival's goal is to promote socially relevant independent cinema from South Asia.
The festival strives to influence social and cultural awareness, advance public awareness and encourage and facilitate dialogue. Indie Meme engages, educates, entertains and brings together different communities to promote cross-cultural understanding and build a globally conscious community.
The festival has been screening new-age cinema with unique and powerful themes in order to bring light to significant issues. IMMF was a project created in order to demonstrate not only the importance of South Asian cinema but also how film can bring people together and how the love of films can be truly universal.
It is a great opportunity to see diverse art from across the world and open one's mind to a world they might not be familiar with.
IMMF 2018 will be showcasing culturally diverse and socially relevant independent films from South Asian countries, including India, Pakistan, Nepal, Sri Lanka and more, between April 19 – 22 at Regal Arbor at Great Hill, Austin, Texas. There will be 10 feature-length films, three of which will have their U.S. premiere at this year's festival.
IMFF 2018 kicks off on Thursday, April 19 with a special screening of "Bhasmasur," the story of a 10-year-old boy and his journey with his debt-ridden father, for badge holders and Indie Meme members.
The festival then celebrates its official opening night on Friday, April 20 with red carpet arrivals and the U.S. premiere of "Turup" (Checkmate), a story of life in a chess-mad town, followed by the opening night party.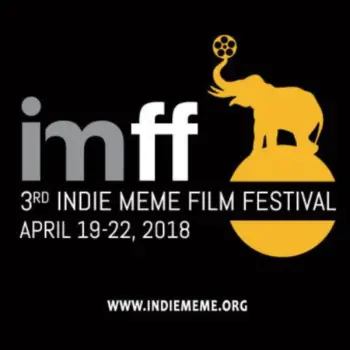 The festival is fairly affordable as well, with the opening and closing films being priced at $15 for members and $12 for seniors and students and every other film at $12 for members and $10 for seniors and students. And for those who are neither members, seniors or students, the prices for the film screenings still range from $12 to $15.
Since its establishment in 2016, the Indie Meme Festival has quickly become a haven for unique and powerful stories from South Asia, and it has grown further and further. IMMF aims to entertain and engage the community by showcasing different perspectives through the lens of art and provide a platform for post-screening audience and filmmaker discussions.
Filmmakers of the showcased films will either be attending in person or available through video conference for any questions or discussion the audience might have. The aim is to connect the audience with the makers of the films and celebrate them for their creative genius.
Each film showcased was carefully judged and chosen for the festival with a range of topics from oppression and freedom, such as "Barley Fields On the Other Side of the Mountain" — a story about a young girl from Tibet escaping Chinese persecution, her father having been taken away by Chinese authorities, to sex, such as "Ask the Sexpert," which focuses on a 90-year-old sex advice columnist writing about a taboo subject.
Each film unique, thought-provoking and touching on relevant and important issues. From across the world, they invoke a challenging discussion and bring to light the realities that filmmakers face in their everyday life.
Almost every single one of the films is also rated PG-13, making them accessible to a younger audience as well. There will even be a film dedicated to children, "Dhh," which tells the story of three friends finding their true potential with magic as a key factor. IMMF is open to everyone, audiences of all ages, with a curiosity of South Asian films.
A brand new addition to the festival, just as exciting and engaging as the rest of it, is the new Indie Meme Youth Initiative, a platform for high school and college students to showcase their short films, a wonderful opportunity for any filmmakers in the making.
The festival recognizes that there is a growing South Asian population of young adults with a unique understanding of their world, who are born to immigrant parents. As a result, the festival allows each student to turn in a six-minute (or shorter) film, the best of which will be chosen by a panel of judges for screening at the beginning of the festival.
IMMF has youth advisors that are willing to help anyone going through the process of creating and submitting something. Youth Advisor and filmmaker Tania Romero will attend this year's festival and be available for any questions or discussion.
IMMF is just barely taking on its third year as a festival but the amount of attention and recognition it has received in its first two years is astounding, being named the best international passport by The Austin Chronicle just in its opening year.
The innovative festival is bringing together filmmakers and audiences from across the world to celebrate amazing feature-length and short films that are really pushing the boundaries of what film can do. It is a treasure trove of those wonderful hard-to-find indie films, those that are worth looking into.
The four-day event is a treat for any film aficionado, and for anyone that wants a good discussion about, life, the world and, of course, film. For schedule and details of showcased movies, visit the Indie Meme Film Festival official site IMFF2018 and follow the festival on Facebook & Twitter.