Some Facebook users are still waiting for more details about the Cambridge Analytica scandal.
The social media company informed its users that a message would be sent out on Monday detailing how the platform has shared personal information with third-party applications. However, the platform only began sending messages Wednesday.
People who downloaded the personality quiz "This is your Digital Life," as well as those whose friends used the app, are beginning to receive notifications across the U.S.
Facebook believes approximately 87 million people were compromised in the scandal; however, the application that Cambridge Analytica used was created in 2014 and has been collecting information from Facebook users for several years, in addition to information from other apps.
According to the company, Facebook has records of how data was compromised as far as 2014. Its databases, however, are not capable of recovering information about data compromises that go back as far as 2014.
The app was created by Aleksander Kogan and was able to access both personal and public information.
According to the AP, "Facebook says more than 70 million of the affected users are in the U.S., though there are over a million each in the Philippines, Indonesia and the U.K."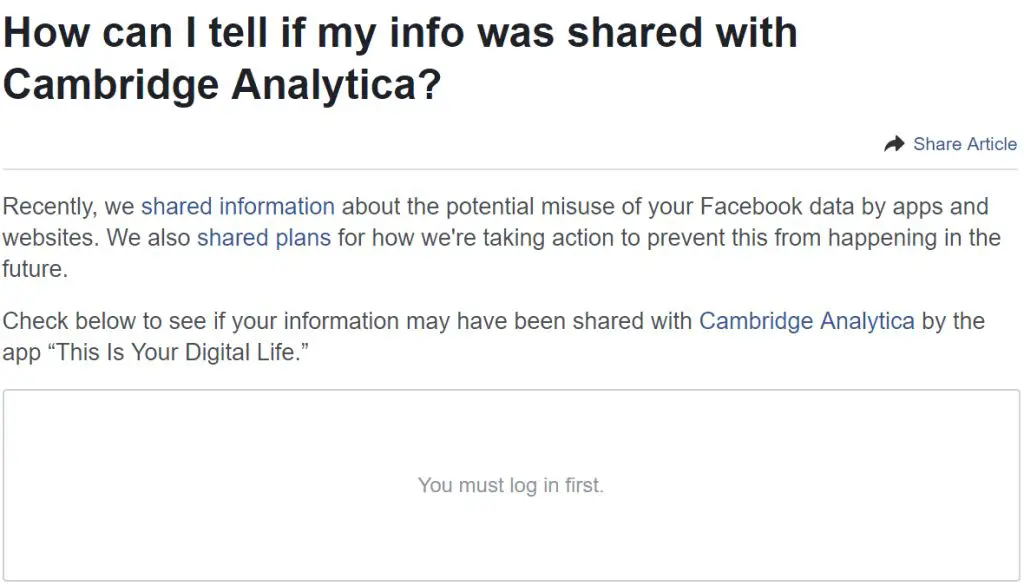 Although Facebook may not have the resources to determine the extent of data breaches on the platform, the public still holds the company responsible for allowing third-party applications to access personal information. One Facebook user, Anthony Bagnetto, said it is important that Facebook let users know what they are agreeing to.
"It shouldn't take the pressure off Facebook because people cannot be expected to be that aware of what they're signing up for," Bagnetto said.
After originally stating that he would be "happy" to testify but that another official may be better suited to appear in court instead of him, Mark Zuckerberg has agreed to answer questions in Congress and testified on Tuesday and Wednesday.
Skepticism about Facebook may make participants reconsider their use of the platform. It was recently found that Facebook officials deleted messages from Zuckerberg on the platform.
Facebook recently confirmed that Russia was involved in the Facebook scandals of 2016, and the recent data breach and the controversy that the privacy settings have caused could cause people to limit their use or use the platform less personally.
How to Protect Your Data in a Post-Facebook-Breach World
In light of the recent privacy breach at Facebook, millions of Americans have begun to finally realize the importance of their own data. Experts have referred to this decade as the beginning of a nascent mindshift where people understand that data is the new oil.
The problem with this is the majority of the public still don't know how to protect themselves adequately. The first step is education. Sites like Privacytools.io list all of the free sources of services, as well as information that people can use to protect themselves.
Despite the plethora of tools available, some service providers are still operating under somewhat nefarious terms. Owner and founder of Privacy Australia, Lucas Johnson, shows that over half of VPN software available to the public is either keeping illegal log files of user activity or operating in countries that don't respect citizens' privacy and actively spy on data.
The times are changing and people ARE becoming aware, yet there is still a long way to do. Breaches like the one that happened at Facebook this year are the first steps, albeit painful ones, that will help usher in a new era of global security compliance.