Back for its second season, Netflix's "Dear White People" is a witty look into the lives of black students at a predominately white Ivy League institution.
For the first time, their beloved Armstrong-Parker house, the black living hall on campus, is being integrated after a flurry of protests and riots allegedly leaves Davis, one of the many white residence halls, ablaze.
Their struggles and triumphs unfold pragmatically as the students deal with sexuality, racism and relationships head-on at Winchester University.
But, as real as each episode can get, the show still never loses its charming sense of satire, grounding it in an experience that is much like college itself: emotionally and intellectually challenging, but always redeeming at just the right moments.
Each character in the show is different and deeply complex, which is a large part of what makes the show so compelling. The protagonists are educated young black people who are just as charismatic as they are intelligent and successful, although that doesn't excuse them from their own challenges and failures.
Despite Ivy league status, they deal with the same racism that any black person would, whether that means being tokenized and fetishized by their white counterparts like Troy, painted as the "angry black woman" like Sam or even dealing with police brutality, like Reggie.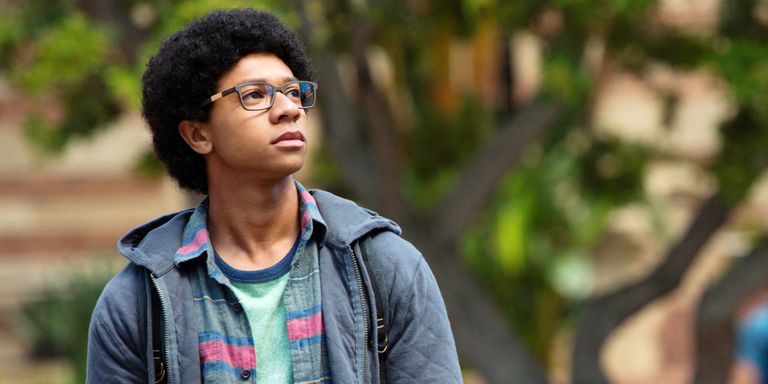 One of the main characters, Lionel, is a queer black male who deals with trying to understand his own intersectionality while also learning to navigate racist and homophobic spaces of society.
With the show's format of following a different character each episode, viewers begin to understand characters and their backgrounds more fully as the season progresses.
Thanks to this styling, the show is allowed to dive deep into issues like colorism when Joelle begins to appear alongside Sam on her radio show, "Dear White People," and is pinned on the show's flyer with a much smaller picture than Sam's.
It explores black male privilege and the plight of black women based on misogynoir when Joelle falls in, and then quickly out, of love with a "hotep" — a black male with a superiority complex over black women, who shields it in faux consciousness.
It even deals with black fatherhood as Troy and his dad, the dean of students at Winchester, slowly but surely begin to unpack the history of their relationship and learn to move forward from the pains of the past together.
The show even goes as far as touching on the institution's connections to black exploitation throughout history by way of historical anecdotes at the beginning of each episode.
Here viewers get to see that Winchester's generationally elite class, and presumably that of many others in academia, was formed on the basis of studying the scientific inferiority of black people, and in 2018, Winchester's black students are still dealing with the lasting implications of that work.
Essentially, "Dear White People" never backs down from tough conversations and confronts issues with refreshing abandon. As uncomfortable as it can feel, it's a necessary evil in understanding black campus life on a day to day basis for the viewer — both at Winchester and in real life.
This aspect is an effect that other shows have attempted to achieve but failed. Freeform's "Black-ish" spinoff "Grown-ish," starring Yara Shahidi as Zoey, looks at the challenges she faces as a college freshman navigating the puzzling world of university for the first time.
While light-hearted and intentional in essence, "Grown-ish" makes shallow attempts at reveling in commentary around identity, relationships and politics that "Dear White People" seamlessly embodies.
From its pilot, "Grown-ish" has faced backlash regarding its lack of dark skin representation and its failure to address colorism and other relevant issues within the show.
In comparison, the cast of "Dear White People" hosts a broad spectrum of black characters including those of a wide array of complexions, backgrounds and beliefs, which "Grown-ish" simply does not.
The show features short but memorable cameos from popular black media personalities, like Lena Waithe from "Master of None," YouTuber and drag queen Todrick Hall and Kid Fury from the popular podcast "The Read."
In doing so, "Dear White People" is able to juxtapose the world of Winchester with that of modern black culture and bridge the two, building a sense of genuine resonance and relatability without flaunting guest stars as a means of boosting its credibility.
Additionally, Tessa Thompson and Tyler James Williams, who appeared as Lionel and Sam in the original "Dear White People" indie-film from 2014, which the show is based on, return as political commentators offering opposing ideas about black politics in the show.
In an odd way, this connection seems to bring the movie and the show, both productions which are completely unrelated, full-circle.
After the film received mediocre reviews and the show's first season landed flat amongst critics, seeing both versions of Sam come to a head at one of the more climactic points in the season finale gave a sense of closure to the looming ending of the movie.
However, one aspect of the show that has never disappointed throughout both of its seasons is its soundtrack. With every moment it seems that the perfect song selection has been chosen to couple it, both pacing-wise and contextually.
For example, at the end of S2:E3 as Lionel begins to more fully show signs of being comfortable as a queer black male after breaking things off with his old crush, Sylvio, and sparking a new flame with Wesley, BrockHampton's "Face" fills the background as the credits roll.
Lead by queer artist Kevin Abstract, the rap group rose to prominence after their "Saturation" album trilogy and have been open about sexuality and queer identity in both their music and on social media ever since, making it the perfect selection to soundtrack Lionel's new revelations as the episode closes out.
Other music featured throughout the season includes tracks from Grammy-nominated rapper Tyler, the Creator, rising female rapper BbyMutha and R&B songstress H.E.R.
It's so rare for mainstream television and film to offer a forum that hosts black dialogues and intellectual debates as freely as "Dear White People" does. Its representations are unapologetic, varied and true to real black life outside of consistent trauma and stereotyping.
By telling stories that have historically been smudged, if amplified at all, "Dear White People" is the voice that has so long been asked for. Where season one may have failed, season two has gained its seat at the table.