For "Brooklyn Nine-Nine" fans, they're getting the chance to see their favorite characters back to the screen after NBC decided to pick up the series. The show was in its fifth season and had a relatively small but very devoted fan base — and the support of a few celebrities, including Lin Manuel-Miranda, Guillermo del Toro, Josh Groban and even Mark Hamill.
But now that NBC will be airing another season of "Brooklyn Nine-Nine," fans are focusing their energy on news about what the new season will bring. Thankfully, the cast and cocreator Dan Goor attended the Television Critics Association press tour on Wednesday and gave out some key hints.
Probably the most important question asked revolves around the changes that will happen on the new network. Goor assured fans that there likely will still be a "heist" episode, referring to the fan-favorite Halloween episodes in which the characters attempt to prove that they are the ultimate "human slash genius."
Because the schedule might not line up with Halloween as it has in the past, the episode may not specifically be about the October holiday.  However, the heist aspect will probably survive — and honestly, it would be sad to see those episodes go.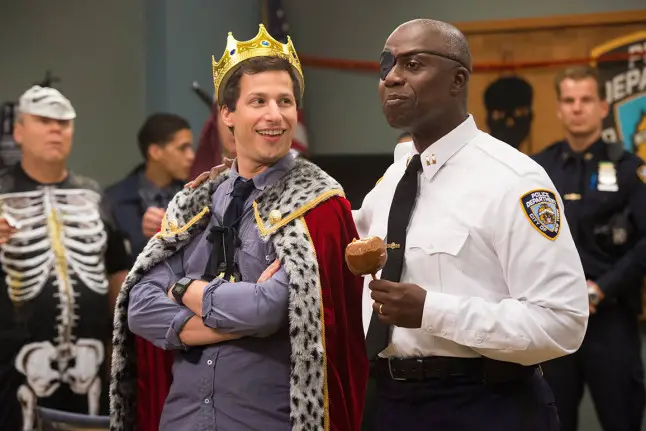 The other key topic Goor and the cast discussed was Rosa's coming out story. The character, played by Stephanie Beatriz, came out as bisexual last season (spoiler alert?). Goor assured fans that the showrunners don't plan to let that plotline drop. Apparently, the writers want to continue her journey, especially with respect to her parent interactions.
Storylines like Rosa's express why shows like "Brooklyn Nine-Nine" are so important in today's TV landscape. The show is a comedy, yes, but it's a kind comedy unlike so many out there. The characters don't find comedy through hating each other; in the end, there are funny situations, but few of them arise from stereotypes or even a bad attitude about any of the main characters.
The show expresses how a police precinct should run, and how it should have diversity and people who genuinely want to help their communities. The characters talk about racism, sexism and even transphobia (a topic not often breached on TV) and recognize it in the world outside of their precinct family.
In this vein, Goor also said on Wednesday that the writers will likely be creating even more episodes that address serious social issues (with the show's signature kindness, hopefully), such as season 5's "Moo Moo," in which one of the characters faces police racism themselves. So, prepare for a bit more crying and advocacy inspiration this coming season.
Fans of "Brooklyn Nine-Nine" seem like they'll be satisfied with the upcoming season, and there's something beautiful about the show coming back after its resurrection, perhaps stronger than it was before its cancellation. I may be biased, but non-fans should give the show a try before the season starts, if you haven't already.
Oh, and for veteran fans, here's a little more good news; apparently, the theme song is going to be the same on NBC. You guys can keep dancing along to it when you hear it; I know you'll be doing it.