What's the best part about fall?
Maybe it's the changing of leaves from green to yellow, red and orange, eating all pumpkin everything, feeling the crisp, cold weather or going apple picking with a few friends. Whatever it may be, there is one holiday that everyone looks forward to the entire month of October: Halloween.
It is the one night (or an entire weekend) of the year that you can dress up as whatever you want no matter how weird, scary or funny you want that to be. You could go classic and dress up as an angel equipped with the halo, wings and white attire. Or, you could go with what's trending in costumes at the moment like a minion or any celebrity that's easy to make a funny costume out of.
While those are fun options, it's definitely more fun if you and your friends dress up all together and do a group costume. Why is that more fun you ask? Because when you walk into that Halloween party, everyone will know that you and your squad are the life of the party right away. You took the time to coordinate and plan an awesome group costume that probably took only a week to make.
Here are 9 costumes that you and your squad can dress up as this year that are sure to win you any Halloween party.
1. Three Blind Mice
This is a classic trio costume that is super easy to do.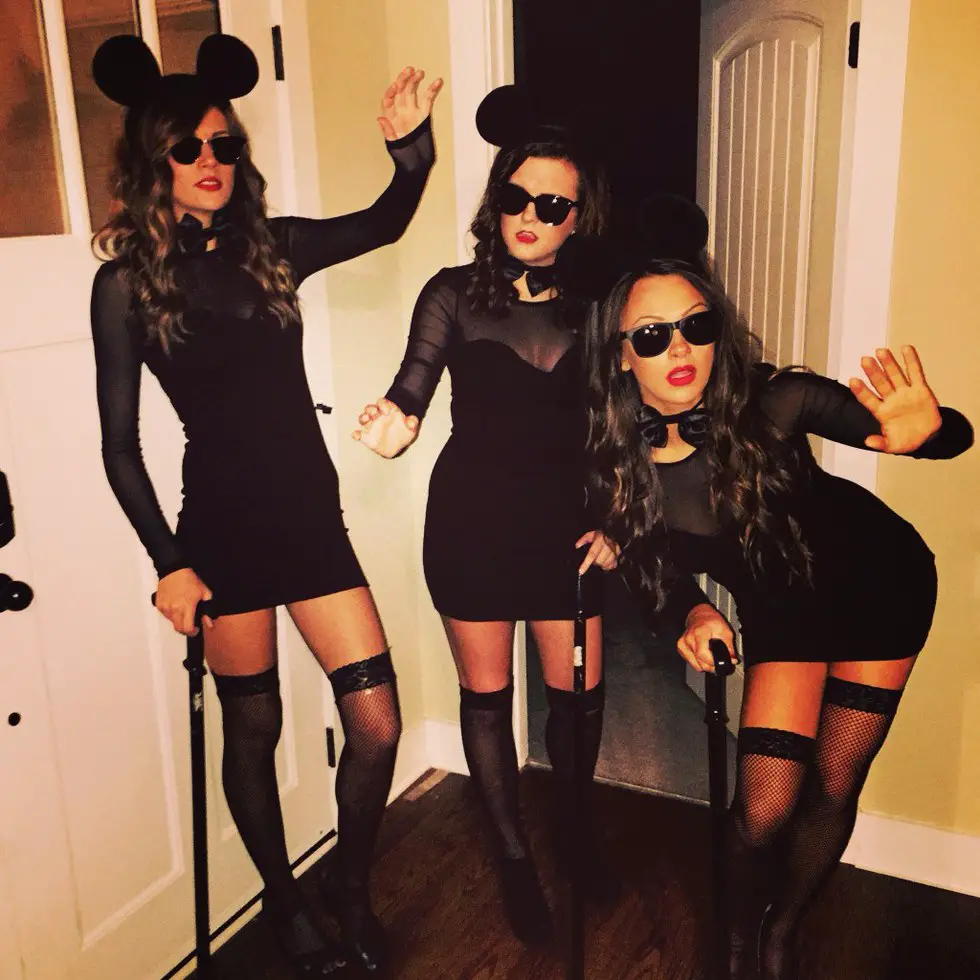 All you and your friends need are black mouse ears (which you can probably find at any dollar store), a black top, black jeans or purple tutus if you want to add a little pizazz, sunglasses and a walking stick. Not only is it easy, but it is also affordable for all the college students balling on a budget.
2. Angels vs. Devils
Angels and devils are classic costumes by themselves, so why not get your group of friends to go head-to-head with them?
Have a friend who is a little sassy? They can wear a devil costume. Or is another friend sweet as pie? They can dress up as an angel. This group costume will also give you awesome Instagram photos because you can have fun with it and pretend to actually battle it out or take a cute picture of all of you in your costumes.
3. Orange is the New Black
Turn an awesome Netflix show into a great group costume with one friend being Piper complete with an orange jumpsuit, blonde hair and a prison ID.
Everyone else can dress up as any character they want and go as either a prison guard complete with awesome shades or another prisoner dressed in a tan jumpsuit. Not only is this costume super comfortable, but it is also good for a large group of people.
4. "Spice" Girls
You're probably thinking of the classic 90s all-female British pop group when you read Spice Girls, but this costume takes a "punny" twist with it.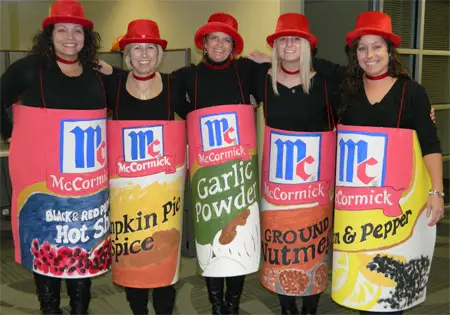 Instead of dressing up like Scary or Posh Spice, you and your friends can be literal spices. All you need to do is get an iron-on picture of a spice jar and iron it onto any white shirt you want. This costume is definitely simple, yet effective if you're looking for some laughs this Halloween.
5. Trolls
No, not the trolls you would see in a fantasy movie with boils on the face, but the cute Troll dolls with crazy colored hair.
This costume is great for a group of gal pals who want to be cute for Halloween, but also do something that isn't basic. All you'll need for this costume is a flesh toned dress, any flesh toned shoes and bright-colored wigs that you can mold upward with lots of hairspray for that wind-blown finish.
6. Fruit salad
Who doesn't love a good ole' fashioned fruit salad?
This group costume lets you and your friends dress up as their favorite fruit while still looking adorable for Halloween. If you love grapes, you can wear purple shoes, a purple dress that you can hot glue purple pom-poms onto and make a cute headband out of fake leaves. If you are more of a citrus fan, you can dress up as a lime by wearing a green dress and green lipstick.
Or, if you are more of a berry person, you can dress up as a strawberry and wear red shoes and a red dress with tiny white cutouts ironed on.
7. Mimes
This costume is super easy to create because all you need is black jeans, black shoes, a white striped shirt and a beret. If you and your friends want to go all out (which you probably do, let's be honest) you can wear mime makeup. All you'll need is white face paint, your favorite red lipstick, black eyeliner and black mascara.
8. The Breakfast Club
Bring it back to the 80s with this iconic group costume of The Breakfast Club that fits every classic high school stereotype.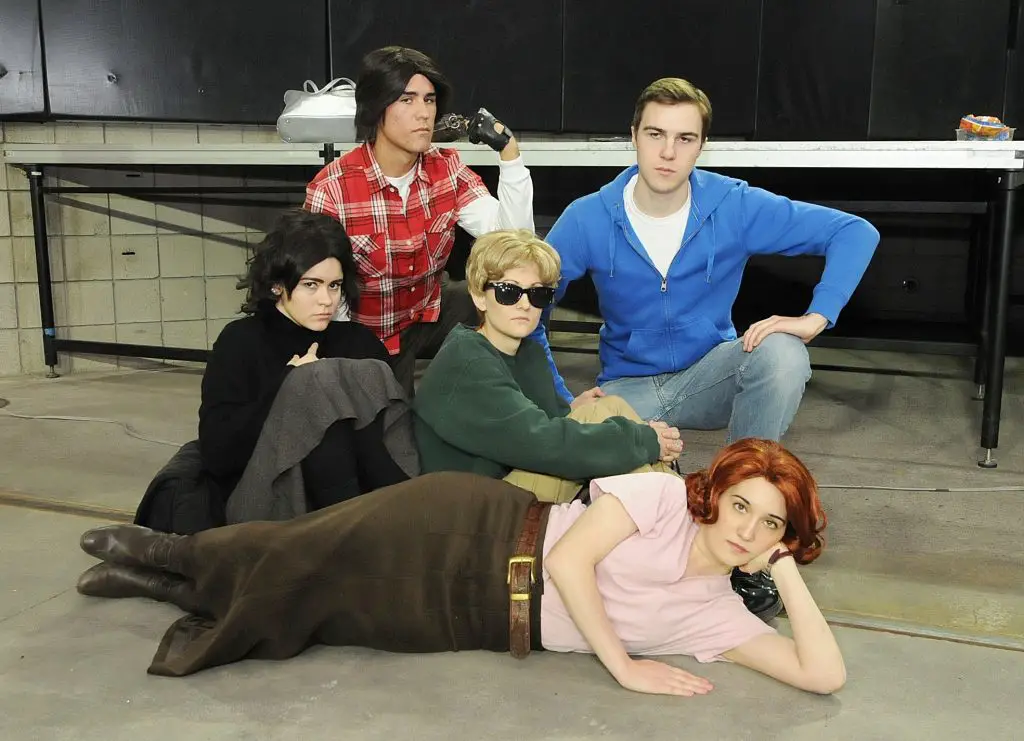 You have the loner, the jock, the nerd, the popular girl and the grungy, quiet girl. While you and your squad could dress up like classic high school stereotypes anyway, this costume is more fun because you can bring it back in time to the 80s complete with Chuck Taylor's, hair with lots of hairspray and oversized clothes.
9. Mad Men
You and your friend group will want to drink scotch on the rocks and martinis all night with this classy group costume.
One of your friends can be Don Draper with a nicely cut suit and tie and slick hair. Another squad member can be Betty Draper with a 60s-inspired shift dress, pearls, a cigarette in hand and a curled up 'do. Or, does someone want to be the office seductress and go as Joan Harris?
They can wear a slim fitting dress, a red wig if they want to really get into character or curl their hair up and wear a gold necklace for some flair. While Mad Men isn't on the air anymore, this costume is sure to be a hit on any Halloween party.