One of Netflix's biggest selling points is its original shows and movies. In addition to the incredible selection of content on the site, the original selection makes Netflix an entertainment powerhouse among streaming services.
Netflix already released a number of new shows this year, including "Lost in Space," "Requiem" and "Safe." The wide variety of content is set to appeal to any taste. Yet, Netflix is not done. Despite having over 700 original shows on the site, Netflix is set to release several more before the end of the year. One of the most exciting releases of the year is a dramedy series titled "The Good Cop," created by Andy Breckman, who also created and wrote the popular "Monk" series.
According to Breckman, "Many cop shows feature dark and provocative material: psycho-sexual killers, twisted, grim, flawed detectives. . . But the show I want to produce is playful, family-friendly, and a celebration of old-fashioned puzzle-solving." Based on the trailer, he's doing a great job at producing exactly that.
The storyline follows a contradicting father-son duo in New York City. Tony Caruso Jr. is the good, slightly nerdy cop on the NYPD's police force who follows every rule by the book and never takes a chance. Tony Caruso Sr., on the other hand, breaks every rule he can. After crossing too many lines while on the police force himself, Caruso Sr. was fired from his job and sentenced to seven years upstate — but that doesn't mean he's repentant. The two men form a comedic duo as they handle life and living together with conflicting morals.
The official Netflix trailer hints at a variety of hilarious events, such as Caruso Sr. bringing an attractive civilian woman to a working crime scene to impress her and bribing an organizer to get his son on the ethics panel. Caruso Jr.'s love life seems to be on the awkward side as well, promising a number of laughs at his puppy-loving expense.
Tony Danza will play the ruffian Caruso Sr., with his New York upbringing, accent and hard-knock attitude adding plenty of authenticity to the part. Caruso Jr., however, will be played by a rather interesting choice: Josh Groban.
The California native has been wowing audiences worldwide with his incredible singing voice since the early 2000s. In 2002, he performed at the Salt Lake City Olympics' closing ceremony, and in 2007 he was the No. 1 best-selling artist in the United States. Since 2001, Groban has released seven albums and sold over 35 million records. Not too shabby by any standards.
His eighth album, "Bridges," comes out on Sept. 21 following a short tour with the talented Idina Menzel. After almost two decades of musical performances, his singing career is obviously still going strong.
But what you may not have known (I certainly didn't) is that Groban has had a fairly successful acting career as well.
Back in 2001, Groban appeared on the season finale of "Ally McBeal" as Malcolm Wyatt. By popular demand, he returned for the next season to perform "To Where You Are." Since then, he's appeared on dozens of TV shows (mostly as himself) and held roles in several films, such as "Crazy, Stupid, Love," "Coffee Town," "The Muppets Most Wanted" and "The Hollars."
Obviously, acting isn't a new thing for Groban, though he's retained a fairly low profile with his roles thus far. The surprise factor for his new role as Tony Caruso Jr. is that it appears to be completely devoid of singing. It's an interesting choice for Groban's first long-term film project considering his musical reputation and past acting ventures.
Among Groban's previous television credits were cameos where he appeared specifically to sing a special number during an episode or two. Many times, he had no actual character to play, appearing simply as himself. Even his role in movies like "The Muppets Most Wanted" featured his voice, which would indicate that Groban wanted to present his talents as a package.
He solidified his music-acting combo when he made his Broadway debut in 2016 during a circuit of "Natasha, Pierre & the Great Comet of 1812," earning himself a Tony nomination for his performance. However, it seems that Groban wants to explore the realm of acting further and prove that his singing voice isn't his only asset.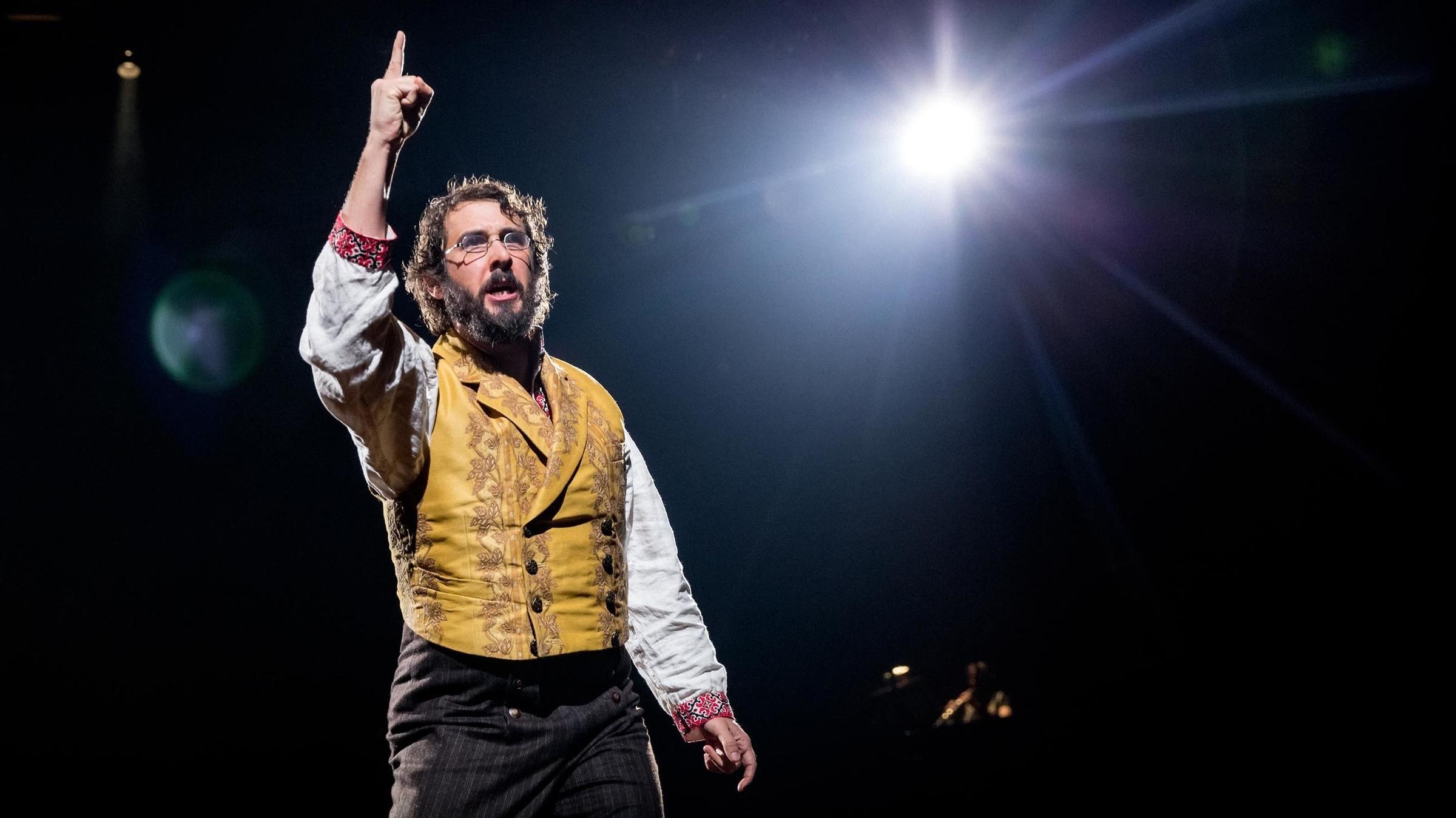 When Netflixed announced the upcoming "The Good Cop" series in June 2017, many were surprised to see Groban on the acting list and supposedly without a singing role. So what does Groban bring to the stage of a dramedy without his singing voice?
For starters, sarcasm. The trailer for "The Good Cop" features a handful of witty comebacks and laments from Caruso Jr. as he deals with his dad. Since Caruso Jr. is a serious, straightforward kind of man who never breaks a rule, dry humor is a perfect character attribute and one that Groban plays well. His ability to pull off the serious, sarcastic cop is a great blend for a crime show that has both the gritty details and comedic relief.  Between Groban and Danza, there is a strong balance of humor and attitude that really bolster both roles.
Groban also brings a perfect picture of innocence to the screen. While Caruso Sr. is a ruffian and a womanizer who tries to teach his son the ways of the world, the timid, glasses-wearing Caruso Jr. is the exactly opposite. Groban really pulls off the vibe of a man who only plays by the book and avoids all of his father's worldly habits.
Especially in the area of women, Caruso Jr. is presented as bashful and tentative; in all other areas, he covers his sentiments with that dry humor.  The result of the two men's moral contrast is a great blend of awkward and hilarious lines that "The Good Cop" seems to thrive on.
All factors considered, it looks like a good choice for Groban's first long-term role, singing or no. "The Good Cop" is set to release on Netflix on Sept. 21, the same day as Groban's new album, and will feature 10 one-hour episodes. Between the two mediums, it should be a pretty big day for Groban and all of his loving fans.