After a hectic week of work and studying, sometimes it's nice to give yourself a moment of relaxation by settling down to a movie you love — maybe "Deadpool" or "Shape of Water"? — in the comfort of your home. Or, if you don't have several hours at your disposal, another great idea is to enjoy an animated series of your choice.
However, if you're very busy and don't have the time to invest in a series at all, you might consider perusing some custom essays for sale; with them, you can find interesting opinions on concepts and situations that are presented in the different animated series, which are generally enriching stories based on family environments and friends, where pets serve as co-stars.
In addition to being entertaining, these series can give viewers important and useful reflections on their lives. So, whether you're looking to enjoy them in the company of friends or with family, all of the below animated series are great for both helping you de-stress and encouraging you to do some light self-reflection.
1. Rick & Morty
"Rick & Morty" is a television series made for adults. It's about the misadventures of Rick, a mad scientist, and his grandson, Morty. They share domestic life with intergalactic trips, in the style of "Back to the Future."
The show follows the basic dynamic of a grandfather taking his grandson on all kinds of adventures so that he becomes smart. Thanks to Rick's portal gun, they experience a host of inter-dimensional adventures, but they have to find a balance between their family life and their travels through different realities, which is not easy for Morty, who is unable to have a normal life thanks to his grandfather.
2. Archer
"Archer" is an American comedy for adults, set in the espionage agency ISIS in New York. The main character, Sterling Archer, works with his mother and his ex-girlfriend and is an international spy widely considered the most dangerous in the world. He is extremely egotistical and narcissistic, though he is talented with weapons and martial arts.
The series tells the adventures of how the U.S. government dissolves ISIS, which leads its former employees to then begin to traffic cocaine, forming a cartel in the mansion. Over time, they attract the attention of rival gangs and face problems as a result, all while trying to adapt to their new roles.
3. South Park
"South Park" is an animated series characterized by the satirical use of black humor to lampoon society, current events and American culture through stories that happen to the protagonists.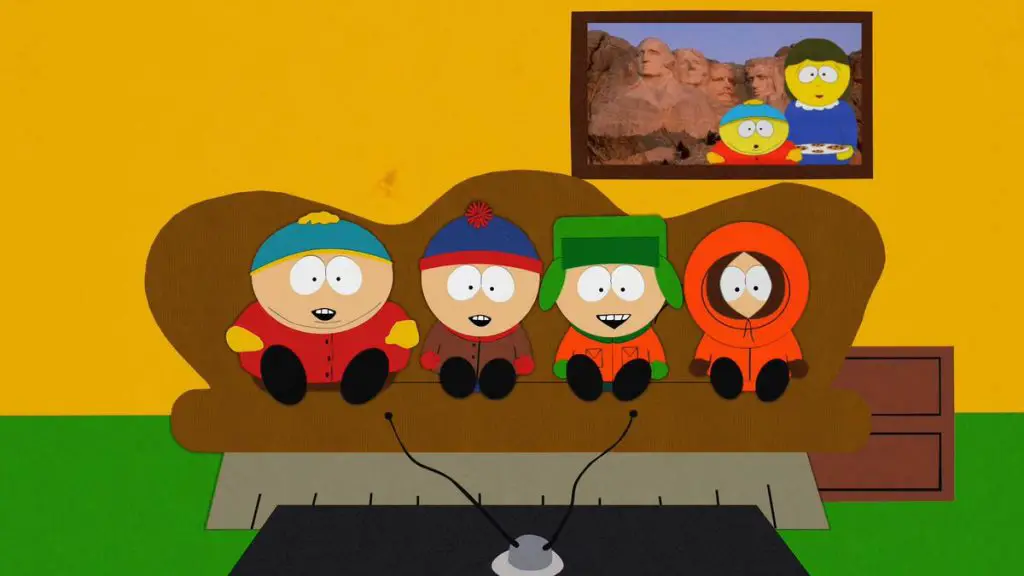 The show follows four boys who live in a fictional town in Colorado called South Park, where they encounter situations largely based on current cultural phenomena. At first, the group used humor to attack the traditional values of North America, but soon the writers expanded their focus to mock anyone and everything they found ridiculous. The show is characterized by its irreverent tone, scatological humor and foul language.
4. Gravity Falls
This Disney Channel animated series tells the story of two twin brothers, Dipper and Mabel Pines, who were sent by their parents to spend their summer vacation with their great uncle Stan. They stay in the Mystery Shack, which is a tourist trap for their great-uncle, in an Oregon town called Gravity Falls, which is known for the paranormal and supernatural events that occur there.
The brothers spend their days solving the enigmas that surround a mysterious newspaper. The series employs supernatural elements, obscure characters and a kind of humor that tries to entertain the whole family. Each day the twins solve the mysteries of Gravity Falls in the style of "Adventure Zone," and each story is part of a larger mystery.
5. Adventure Time
"Adventure Time" follows the adventures of Finn, a boy, and Jake, a dog with the power to change his form; together, they inhabit the post-apocalyptic Tierra de Ooo, an environment full of surreal characters and talking animals.
There, magic and high technology come together to create strange artifacts. As the story progresses, the plot becomes more complex, revealing certain revelations, such as the fact that a nuclear war ended human life on the planet and the resulting toxic pollution caused mutations that gave rise to the friendly inhabitants of Ooo.
The positivity in each of these series contains important issues for life, such as an awareness of the danger of pollution, the importance of family and what happens when you harbor negative emotions for others.
Lessons like these could be translated into a PaperLeaf essay with ease, which is just another reason to watch them.