On Sunday, a bar in England held a party aimed at fans of singer and former Smiths frontman Steven Morrissey (known just as Morrissey). However, this was a party not celebrating, but rather protesting the iconic musician.
The event, named "One Nation Under a Groove" after a Funkadelic song, was organized by DJ and writer Dave Haslam, and took place in Morrissey's hometown of Manchester. It celebrated diverse music, with DJs playing reggae, funk, soul and disco, and also raised money for the anti-racism charity Love Music Hate Racism. It was billed as an alternative for a live Morrissey concert happening on the same day; the concert was later canceled.
Haslam said on the event's Facebook page: "Manchester is our home, it's a city built on immigration, a city with an amazing legacy of great bands and wonderful clubs. How do we counter the hate? Let the music do the talking."
Many attendees were fans or former fans of the man they were rejecting. It's reflective of a trend: more and more people are beginning to turn away from Morrissey, disillusioned by a person they used to idolize.
Recently, the Smiths frontman has proclaimed support for For Britain, a British political party who are infamously intolerant of immigration and Islam. He also came to the defense of Tommy Robinson, former leader of the far-right English Defence League, who was recently arrested for potentially prejudicing a court case. On the surface, it's a weirdly sharp turn for a singer who became famous for his lyrics about Oscar Wilde, poetry and critiques of the monarchy and conservative government. How did we get here?
For indie music fans across generations, Manchester-based, '80s post-punk band the Smiths stood out. They presented a unique voice, speaking to sensitive, bookish or angsty teenagers who found it difficult to navigate adolescence and the wider world, with lyrics like "I was looking for a job and then I found a job / and Heaven knows I'm miserable now" and "You stand on your own / and you leave on your own / and you home / and you cry and you want to die."
Morrissey provided an alternative for normative masculinity in the era of "Top Gun" and "The Terminator," often performing with a bunch of flowers in his hand or pocket and singing about romance and literature. On top of that, his pained lyrics on sexuality — for instance in "The Boy with the Thorn in his Side": "How can they see the love in our eyes / and still they don't believe us" — are particularly poignant for many LGBT fans, who have long speculated on the once-celibate Morrissey's sexuality (he confirmed a long-term relationship with a man in his 2013 autobiography).
I personally have always been a big fan of the Smiths, mostly because of their lyrics — all written by Morrissey — which are at times incredibly witty, at times merely miserable, but always absolutely beautiful. They informed my teenage identity and my formation as an adult. I even agree with Morrissey himself on some things, such as his condemnation of the meat industry, police brutality and the British monarchy.
In his time in the Smiths, Morrissey represented the outcast. But it was after he left the band that things started going downhill.
In 1992, as Morrissey was embarking on a solo career, he was accused of "flirting with disaster" for wearing a British flag to perform in front of an audience that included members of the National Front, a far-right party founded by a member of the British Union of Fascists.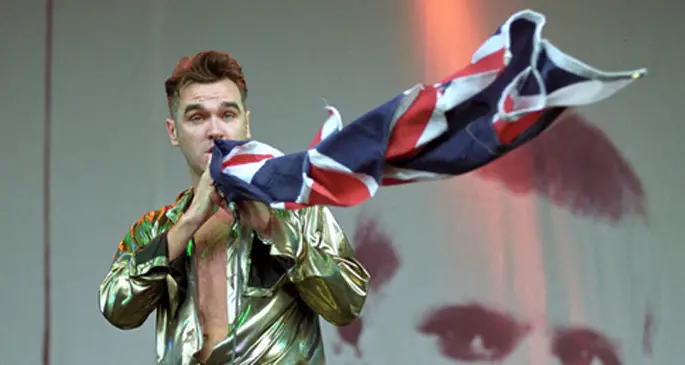 In 2007, he sued music magazine NME for defamation after his apparently re-ordered comments in an interview were used to imply he was racist: comments such as "England is a memory now. The gates are flooded and anybody can have access" and "if you walk through Knightsbridge on any bland day of the week you won't hear an English accent." Responding to the article, he said "I abhor racism." But then in 2010, he suggested that Chinese people are a "subspecies" because of poor treatment of animals in China.
These were seen as instances — a grumpy guy getting older and grumpier, saying controversial things for attention. Morrissey's comments were brushed under the rug by people who didn't want to admit that their idol was dead, that all that was left underneath was an unpleasant, bitter, nationalistic attention-seeker. But this year it became harder to ignore.
It's always been clear that there's a stark divide between the mythical, almost imaginary Morrissey of the Smiths, who wields flowers and Oscar Wilde T-shirts, and the person who once said that reggae music promotes "black supremacy." It's easy to claim the distinction — I for one am guilty of shrugging it off by saying "I love the Smiths but Morrissey turned into a twat" — but it's not enough.
The reactionary, nationalistic politics that Morrissey seems to engage with are part of a serious wider threat, contributing to our world of Brexit and Trump. This year he ranted about UKIP at a concert and proclaimed support for For Britain. He reacted to last year's Manchester terrorist attack by criticizing immigration, despite the perpetrator not being an immigrant. He claimed halal meat has to be certified by "supporters of ISIS," and that Muslim mayor of London Sadiq Khan doesn't condemn ISIS. "We are all called racist now," proclaimed the singer this year. "The word is actually meaningless."
It's especially disheartening because of the amount and diversity of people his music has resonated with. There are fans in all corners of the globe; notably, he still has a big following in Mexico and within the Mexican diaspora. Yet Morrissey is preaching borders and divides between people. He seems to have turned his back from the values his music taught to people: kindness, gentleness and willingness to stand up to injustice.
The problem here, though, isn't just Morrissey's racism and xenophobia. It's that people have been ignoring it for so long, continuing to give the singer a huge platform. It's true that in the past year, the floodgates have opened and Morrissey's political views are no longer merely ambiguous.
That's why Sunday's party felt timely and right — people are not standing for Morrissey's views any longer. But as the previous examples show, this has been going on longer; Morrissey's fans have just not wanted to believe it about someone they once admired so much. I'm included here.
But as Smiths fans and former fans of the man himself, we need to accept that Morrissey is no longer the person that so many of us felt spoke to our experiences and inner lives. More likely, he was never really that person. He has abandoned the spirit of Smiths, but more importantly utterly betrayed his non-white, Muslim and immigrant fans.
The Smiths used to be loved by people who felt alienated. The least former fans can do is ensure already marginalized people aren't alienated even more. It's especially important in the international political climate we're in right now, ruled by the border logic of Trump's wall and Brexit. In this world it's vital not to contribute to a hateful climate.
That's why events like "One Nation Under a Groove" are so important. Music fans need to make ourselves heard over his voice and show solidarity with anti-racism. Perhaps this party could even be the start of something big and amazing within the indie music scene. In the words of Smiths song "I Know it's Over," "It's so easy to hate, it takes strength to be gentle and kind."