For those who grew up with the "Archie" Comics, the popularity of the CW's "Riverdale" might come as a shock — who ever expected the teenage population to fall back in love with those old newspaper characters? If "Riverdale" can prove anything, it's that anything can come back into vogue once given a little refreshing with an attractive group of people — and some steamy make-outs.
Betty Cooper, the girl-next-door of the "Riverdale" gang, is played by 21-year-old Lili Reinhart. Reinhart was a relative newcomer when she was cast in "Riverdale," as were many of the main teenagers. Since Reinhart and her co-stars shot to fame last year, they are media and Instagram fixtures. Reinhart and co-star Cole Sprouse (who is also her rumored boyfriend) even went to this year's Met Gala!
At this point in her career, however, Reinhart is known for more than just being Betty Cooper: She has been recognized for her honesty and openness with the press. Back in February, Reinhart and her "Riverdale" co-star Camila Mendes were featured in Cosmopolitan. After the Filipino version of the magazine took stands, Reinhart took to Instagram to set the record straight about issues with the photos.
Mendes' and her body were Photoshopped in ways neither of the stars were comfortable with. After posting a long stream of Instagram stories about the issue, she ended with this statement: "…we aren't going to hide behind Photoshop to conform to beauty standards."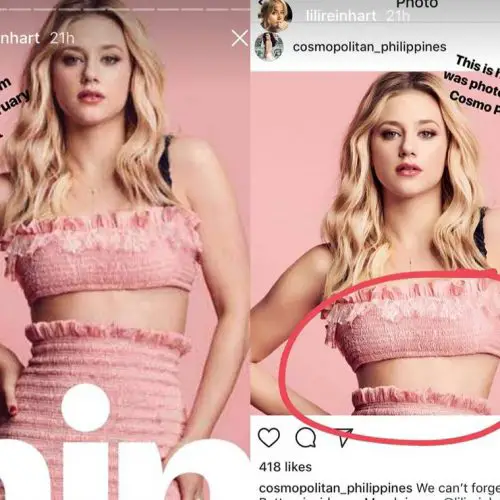 This incident was one of the first in a long series of outspoken opinions voiced by Reinhart. Fans once posted a photo comparing the actress's body to a model's, to which she responded by saying that fans who want to talk about the show's girl power but also post photos comparing two female bodies are hypocritical.
In May, fans began to ask if she was pregnant based on a photo Sprouse took of her. In a recent interview with "Harper's Bazaar," Reinhart explained that she feels fans expect her to be "on" 100 percent of the time, which does not mesh with who she is. She also brought up the pressure she feels to be a "flawless person."
After seeing this interview, a Twitter user told her that since she was "built like Gigi Hadid," she shouldn't have a platform to discuss body acceptance. In a long series of tweets, Reinhart told the dissenter, "Do not encourage this behavior. It is destructive. More destructive than you'll ever realize. You may not understand someone's insecurity — but respect it."
On top of all the body image barrage, Reinhart and Sprouse seem to be pretty much constantly bombarded with questions about the nature of their relationship. The two have made it clear in the past that they are not comfortable telling fans the whole story and the relationship has never really been confirmed.
In the recent Bazaar interview, Reinhart was quoted saying, "I don't act to be famous. I'm just a performer. I'm not okay talking about my relationship. I'm not going to tell you my love story. That's just not appropriate right now."
Though sometimes controversial, Reinhart has established herself as one of the best role models for celebrities and fans alike right now. She approaches her fame with an inspiring honesty, and I'd love to see other celebrities follow in her footsteps.