The Metropolitan Museum of Art's annual Costume Institute Benefit, otherwise known as the Met Gala, has been named as fashion's biggest night. As celebrities participate in the annual "Party of the Year," many struggled to incorporate this years controversial theme of "Heavenly Bodies: Fashion and Catholic Imagination" into their unorthodox outfits.
Designers such as Versace, Gucci and Louis Vuitton incorporated these religious undertones into outfits to showcase the exhibits theme and while some celebrities executed the designers creations as some made fashion statements in simple attires.
The 2018 Gala has been named the year of the best outfits, so naturally it seemed fitting to compile a list of the best dressed celebrities. Below are few of the many looks that caught my eye and continue to make headlines with their avant garde choices in costume.
1. Blake Lively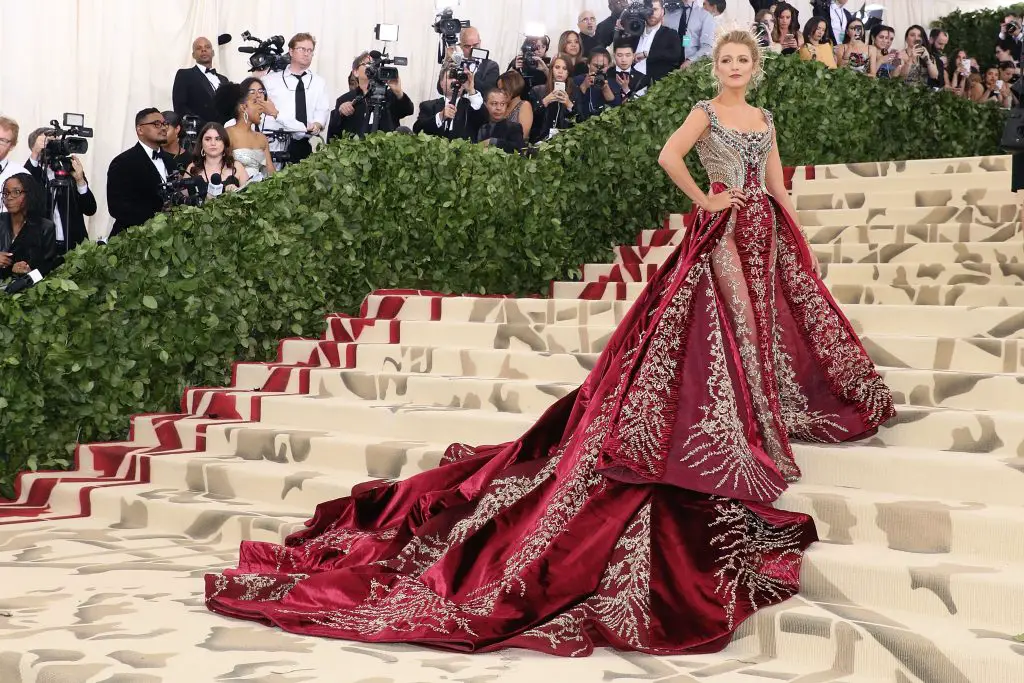 Giving some serious Serena Van der Woodsen vibes from her Versace gown, the former gossip girl star stole the show at this years Met Gala arriving in a red ornate gown. Her dress, which took over 600 hours to make was not the only part of her ensemble that stole the show. In addition to her embroidered bodice, Lively's staple accessory pieces demanded attention too.
Lively wore a combined total of $2 million in jewelry from Lorraine Schwartz's jewelry collection and topped her look off with a custom Judith Leiber Sacred Heart clutch. Since Lively attended the show solo, she made sure to incorporate the initials of her children and husband in a family crest on the side of the clutch.
Blake Lively might live a much more private life compared to others on this list, but watch out upper east siders because Miss Van der Woodsen has made her comeback.
2. Lana Del Rey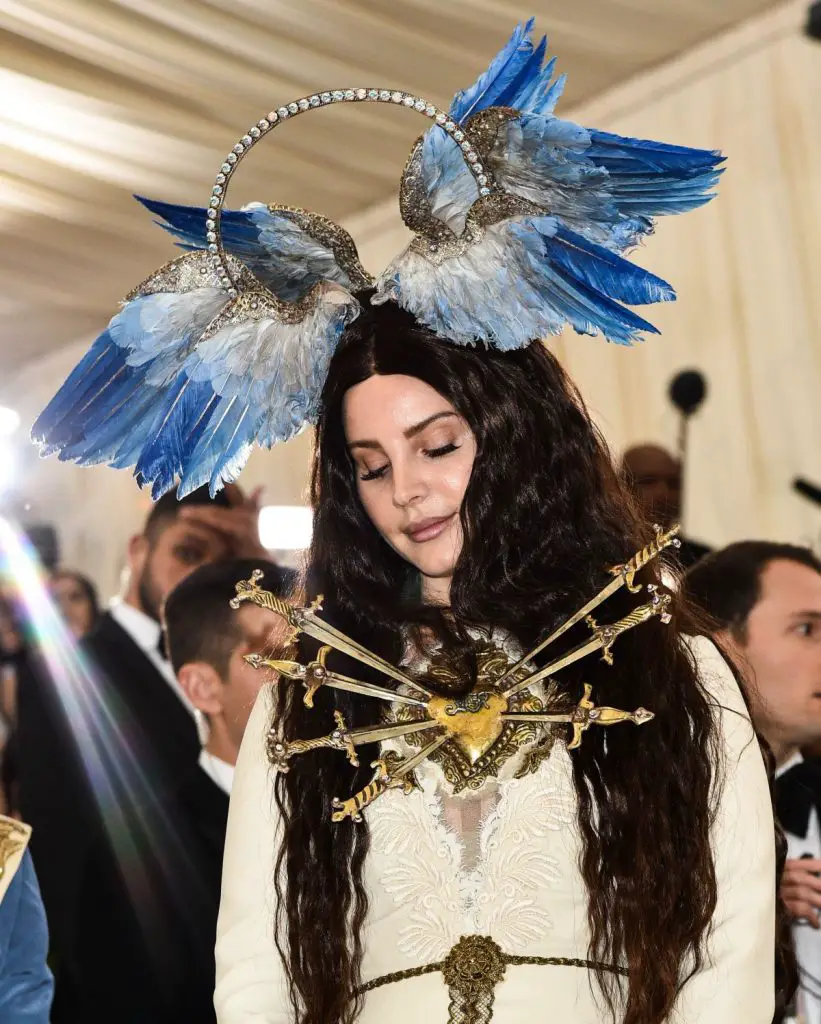 Famous for her sorrowful heartbreak songs, Lana channeled her sorrows of her own relationships in a custom Gucci gown. Inspired by the catholic figure of Mother Mary, Lana's gown included a gold heart at the center of her chest with seven daggers puncturing the organ to represent the seven sorrows Mother Mary faced in her life.
Lana might have been the most influential in incorporating the theme into her outfit as religious iconography was stitched along the seams to add to the heavenly characteristics of the exhibition. As if Lana's voice wasn't enough proof of her angelic presence, her large halo headpiece with six blue bird wings proved the "Young and Beautiful" singer is nothing less than a saint.
3. Jared Leto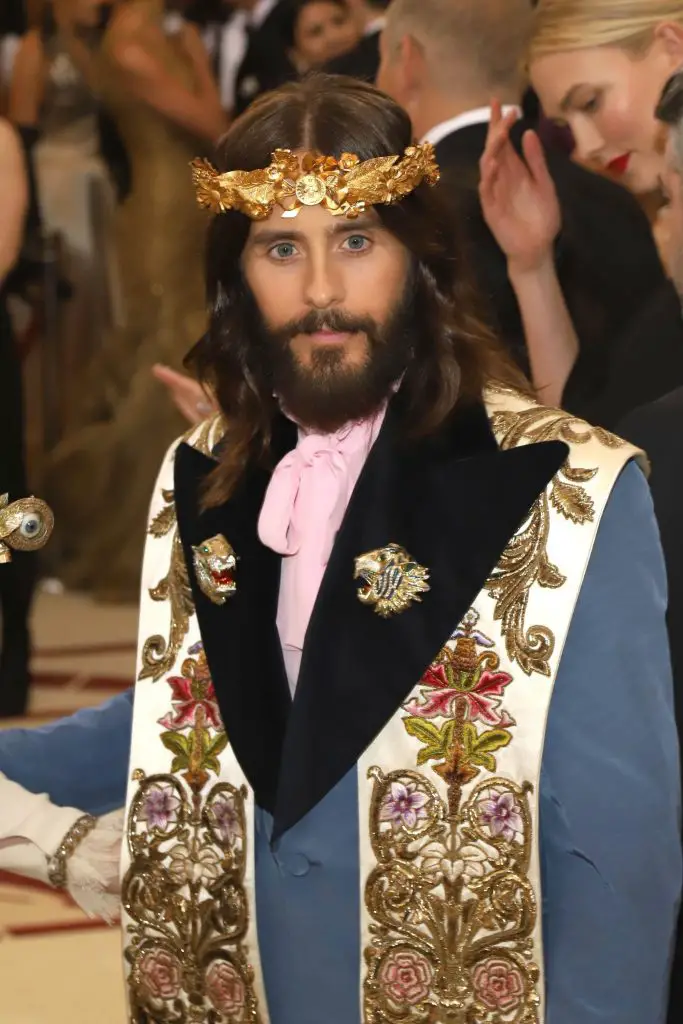 After praying to the fashion gods for Jesus Christ himself to arrive at the "Heavenly Bodies: Fashion and Catholic Imagination," Jared Leto answered. Arriving in a light blue Gucci suit with navy lapels, Leto matched in Gucci with No. 2's Lana Del Rey. Appearing heavenly in blue, his suit included an ornamented stole that reminisced clergy stole priests, who often wear similar attires.
The Gucci God's look would not have been complete without a gold crown over his structured curled hair to give off serious Jesus looks. After putting Twitter in a craze over his commitment to the theme, its safe to say that Leto singlehandedly set a new standard for men's fashion.
4. Rihanna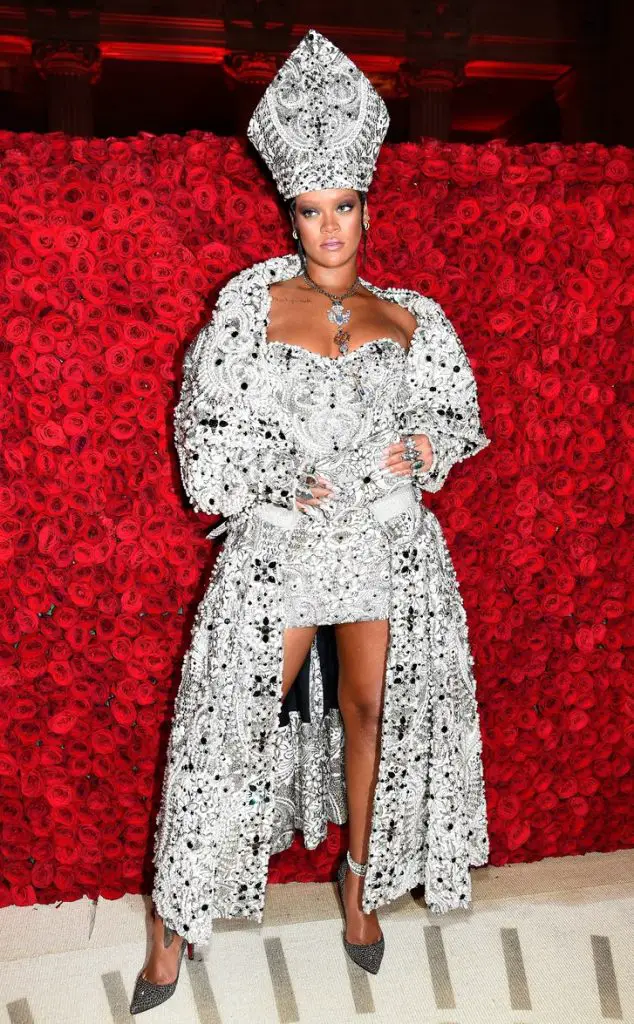 Bad Gal Ri Ri has always been my queen and based off her notorious track record for stealing the spotlight at the Met, I expected her outfit to live up to her "Best Dressed" title. As always, Rihanna exceeded my expectations arriving in a Pope-inspired ensemble as co-chair of the event.
Her iridescent pearl embellished jacket designed by Maison Margiela took over 500 hours to embroider and slit open beautifully to reveal her matching corset mini skirt.
In addition to the gown, her accessories did not lack in incorporating the theme by making sure to include a bejeweled crucifix necklace and matching pearl anklet. If there's anything fans know for sure about the Fenti beauty entrepreneur, it's that all of her outfits incorporate lavish aspects.
To complete her Pope ensemble, Rhianna wore a $15,000 beaded bishops hat to signify the Vatican's role in catholicism. Rhi's outfit might have been reminiscent of the reigns that Popes hold in the catholic religion, but also reminded fans she's the true queen of R&B.
5. Kim Kardashian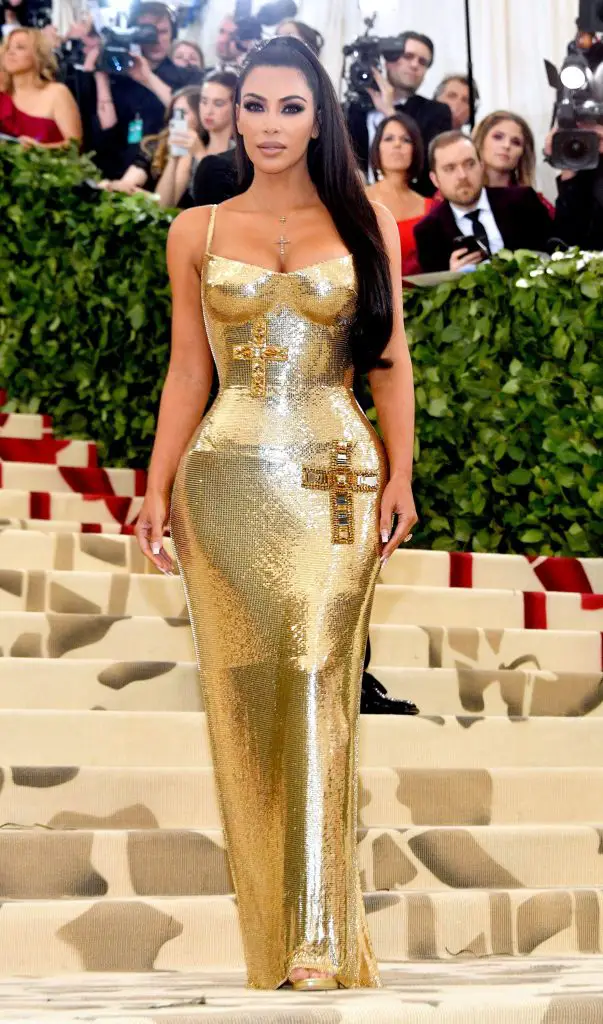 Kim Kardashian always makes it a priority to Instagram her designer outfits and with her close relations with Donatella, I expected nothing less than extraordinary in her Versace gown.
Although her body sulking chain dress appeared much more simple compared to others on the list, the subtle detailing of crosses on her bodice and hip made her hard to ignore. Her gown perfectly captured her classy yet edgy style she incorporates into her typical outfits and seemed to allude to her new perfume bottle that displays her famous curves.
Although Kanye couldn't attend the event, the Yeezy designer made sure to approve Kim's Versace staple piece via Twitter. Her gown wasn't as intricate as others, but her simplicity turned heads throughout the evening. The fashion icon has yet to make a bad outfit choice and if I'm being honest, Kim could've arrived in a trash bag and still made it look good.
6. Chadwick Boseman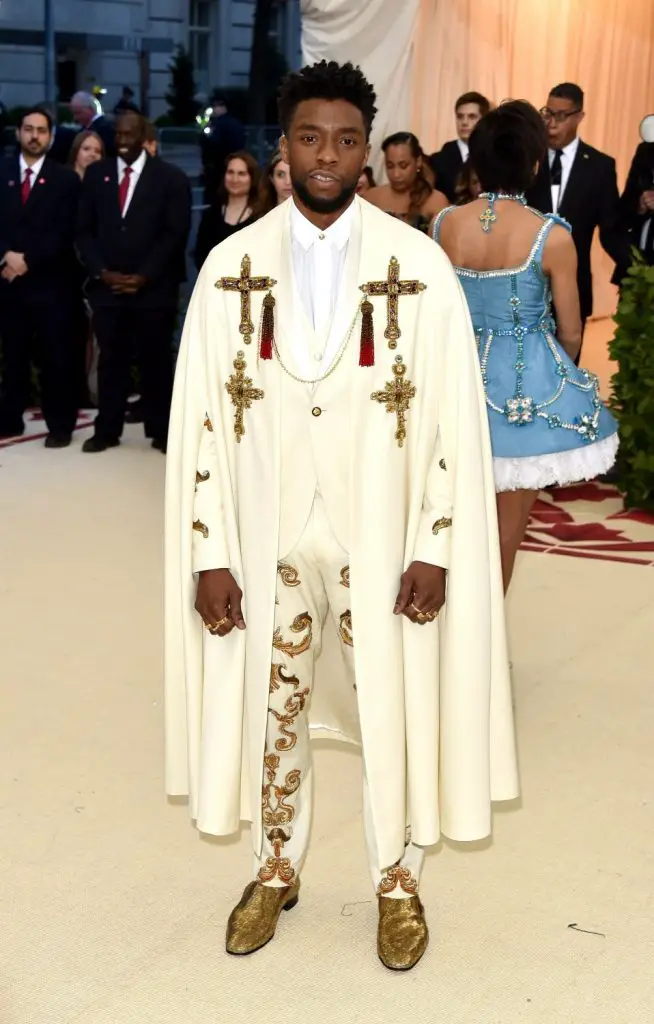 There were only a handful of male celebrities who participated in the theme this year and "Black Panther" star, Chadwick Boseman arrived at the Met decked out in Versace. Boseman channeled his role of royalty as King of Wakanda in an ornate three piece suit.
In comparison to other suits on the beige carpet this year, Boseman took an unparalleled approach to his fit incorporating a white cape with gold crosses on both sides that connected by red tassels and a gold chain.
While many other celebrities receive media attention for pricey accessories, Bosewick's shoes seem to lack the recognition they deserve. I mean really, can you name any other male celebrity bold enough to wear gold shoes and a cape? Didn't think so.