On Friday, the longstanding passive-aggressive rivalry between Cardi B and Nicki Minaj came to a violent conclusion when exchanged insults at a New York Fashion Week party escalated to Cardi becoming physical with Minaj.
Based on footage of the incident, Cardi repeatedly said, "Say something about my daughter again," after rushing toward Minaj's bodyguards in a failed attempt to grab the "Chun-Li" artist.
Although the video does not show any physical contact between them, Cardi sustained a large bump above her left eye, where she was accidentally struck by the elbow of a Minaj bodyguard.
https://www.instagram.com/p/BneHETAjUSE/
Representatives of Cardi claim that she had no intention of starting the fight, but the videos captured are much more condemning for her than for her rival.
Worsening the situation, Cardi also threw her shoe at the entourage, frustrated by her inability to reach Minaj.
By the conclusion of the incident, it was Cardi, the aggressor, who left the party without her shoes, missing parts of the back of her dress and a large chunk of her dignity.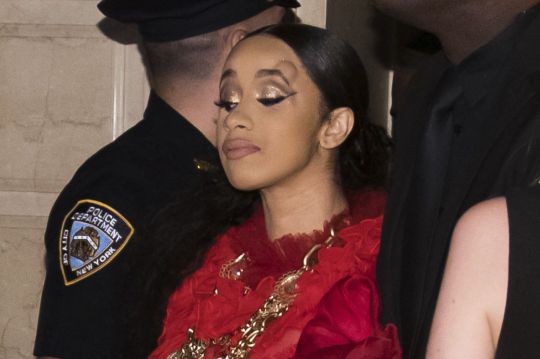 The words exchanged that fueled the attempted catfight are unclear, but Cardi's since-deleted Instagram post suggests that Minaj criticized her ability to be a mother and commented inappropriately about Cardi and Offset's new baby, Kulture.
Specifics about how Kulture was brought up are not yet available; however, Cardi's Instagram post, which did not explicitly name Minaj, brutally clarified the emotions leading to her attempted assault on the artist.
"I addressed you once in person, I addressed you a second time in person, and every time you copped the plea!!
But when you mention my child, you choose to like comments about me as a mother, make comments about my abilities to take care of my daughter is when all bets are f—ing off!!"
In the same post, Cardi also implied that Minaj had previously made a habit of attempting to sabotage her career. "I let you sneak diss me, I let you lie on me, I let you attempt to stop my bags, f— up the way I eat!
You've threatened other artists in the industry, told them if they work with me you'll stop f—in [sic] with them!! I let you talk big s— about me!!"
Prior to the fight, the majority of the feud between the rappers was simply implied, despite both artists making well-tailored disses in their tracks, which fans loved to attribute to a secret rivalry.
The first hint of real trouble was in 2017, when Minaj appeared to like a social media comment insulting Cardi's rapping ability. Last year, Minaj was also believed to have made underhanded jabs at Cardi in Katy Perry's "Swish, Swish and London On Da Track's "No Flag." Then, when the two were featured on "Motorsport," Minaj claimed that Cardi did not give her the respect she deserved as a rap veteran.
During an interview with Tidal, Minaj also explained there could be no real rivalry between the two. She said, "It's silly now to compare me to women, because there's no women that can come in right now [and] realistically can put up the stats."
The vague insults, both in lyrics and through social media, have continued to present themselves in current releases, such as Minaj's "Queen" album, which viciously claims her right to being rap's ruler.
In fact, the brewing high-point preceding the physical altercation is heard and felt multiple times throughout the album.
Ultimately, neither rapper wishes to press charges, and after staying to enjoy the remainder of the Fashion Week party, Minaj was photographed smugly blowing a kiss for the paparazzi.
Nicki Minaj Blows Kisses After Cardi B Attacks Her at Fashion Week Party https://t.co/OK08YN1YW6

— People (@people) September 8, 2018
Minaj has yet to comment on the encounter and seems to be taking the high road — perhaps the reaction of someone who truly believes she is the queen of rap.