Another day, another Kardashian scandal. Today's drama isn't directly from the Kardashian in question herself, but from what others are saying about her.
Kailyn Lowry, of "Teen Mom 2," was a guest on Heidi and Spencer Pratt's podcast "Make Speidi Famous Again." On the podcast, she made some remarks about Kylie Jenner and baby Stormi, saying, "I mean, I don't want to hate her because obviously she's so successful. But when you're that young and you have that much money and you're able to kind of have a nanny and have a lot of help and you still do all these things, I think that shows that it's kind of glamorous to have a kid so young."
She continued, "I mean, she wasn't a teenager. Obviously, it's slightly different … I would not agree that our show makes it glamorous, but with situations like Kylie, they don't realize that, you know, she has millions of dollars and she has a ton of help and she, you know, she can still go out and party and do all these things. So, I think that makes it look slightly glamorous."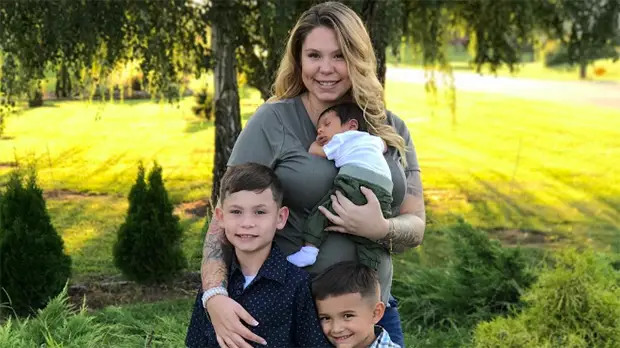 In February, Jenner and rapper boyfriend Travis Scott welcomed their daughter, Stormi. The birth of Stormi was a slightly expected surprise for Jenner's fans, who had been speculating and following the news of the 20-year-old's possible pregnancy for months. Never confirming or denying anything, Jenner later detailed her daughter's arrival and her preceding pregnancy via an 11-minute-long video.
Since the reveal, Jenner has posted many photos and videos of Stormi on social media. Insiders have told the tabloids that Jenner adores being a mom and is very "hands on." Still, Lowry definitely has a point. Other women who get pregnant at Jenner's age may feel pressured by their circumstances to abort or give the child up for adoption. Many of the reasons behind such distress involve a lack of money and time, neither of which Kylie is limited by.
Things were more difficult for Lowry. When "Teen Mom 2" found her, she was 17 and living in Whitehall Township, Pennsylvania, with son Isaac. She and Isaac's father, Jo, had recently split up and were working through a volatile break-up. The show followed her struggle to get along with her ex's family, navigate her way through her new
Whether or not your feelings about "Teen Mom" are positive, Lowry has a point. Kylie Jenner is unbelievably influential, and when it is as easy to raise a happy, healthy kid for everyone as it is for her, then Lowry can stop complaining.