The Ugg boot first impacted America in the 1980s, the Decade of Greed.
In the nascent swirl of Reaganomics, increased interest in luxury consumption and a near-universally gilded view of Wall Street, Australian-born Brian Smith made his way to California. He was looking to find success by bringing over American products that had not yet broken through in Australia.
Settling in Venice — a popular surfing destination — Smith came to the realization that the product he was looking for would not be American made. In fact, he recognized that the market gap he could fill would not be in bringing an American product to Australia, but by introducing a long-kept Australian secret to Americans. As a teenager on the southern coast of New South Wales, Smith regularly saw surfers wearing sheepskin boots, donning the shoe to dry and warm their feet after returning to land.
Smith contacted an Australian leather company that produced the boot and arranged a deal in which he would exclusively sell them in America. Ugg was a common name for the boot in its homeland, but because the story of this particular shoe has always been about something old being made new in America, Smith trademarked the name and took it on as the moniker for his newly established company.
Focusing primarily on his surrounding area, Smith had a hard time convincing stores to carry the boot. They might have been popular for surfers in the beaches of Australia, but a fur-lined boot was a more difficult sell in sunny Southern California.
Nobody needed a pair of Ugg boots, so Smith had to figure out a way to make everyone want one, to make something common seem extraordinary. The first issue: Visually, Uggs resembled a fur-trimmed paper bag origami-folded into a rudimentary shape resembling a boot. That is to say, they were ugly. They had a simple purpose, and this would continue even in their American translation. Ugg boots were never fashionable because they were never meant to be.
Next, the early models Smith was attempting to sell closely resembled the ones found in surf shops and gas stations dotting the Australian coasts. Unsurprisingly, a shoe that could once be exchanged for a couple of low-denomination bills, that could be found on the same shelves as bottled water or jumper cables, was proving a tough sell in the land that birthed Hollywood. So, Smith worked to retool the Ugg — a cheaply produced product, meant to be picked up last-minute by surfers on the way to the waves who left theirs at home — in the framework of luxury.
Now produced with high-quality sheepskin and rubber on its soles — as it continues to be made to this day — Smith was finally able to sell the boot to stores. In the middle of balmy Southern California, in the midst of the Decade of Greed, Ugg began its reign as one of the most divisive representations of America's fascination with luxury.
The boot had a quiet popularity throughout Southern California, where the comfort and convenience melded easily with the region's laid-back lifestyle, as well as its surfer population. The boot's wave of adoption slowly crept eastward, as well, gaining traction with the country's skiers and snowboarders. But by 2000, a little over 20 years after Smith arrived in California, Ugg had its watershed moment.
The Ugg boot was listed as one of Oprah's "favorite things" for that year, and would make repeat appearances on the list for the following seven years. With the power of a daytime television empire behind her, Oprah, whose monolithic fame can be wielded just by uttering her first name, had enabled the spread of the boot. Uggs, once a soft-soled secret held by West Coast surfers and teenagers, had became coveted nationwide. By 2003, the company saw yearly sales of nearly $40 million.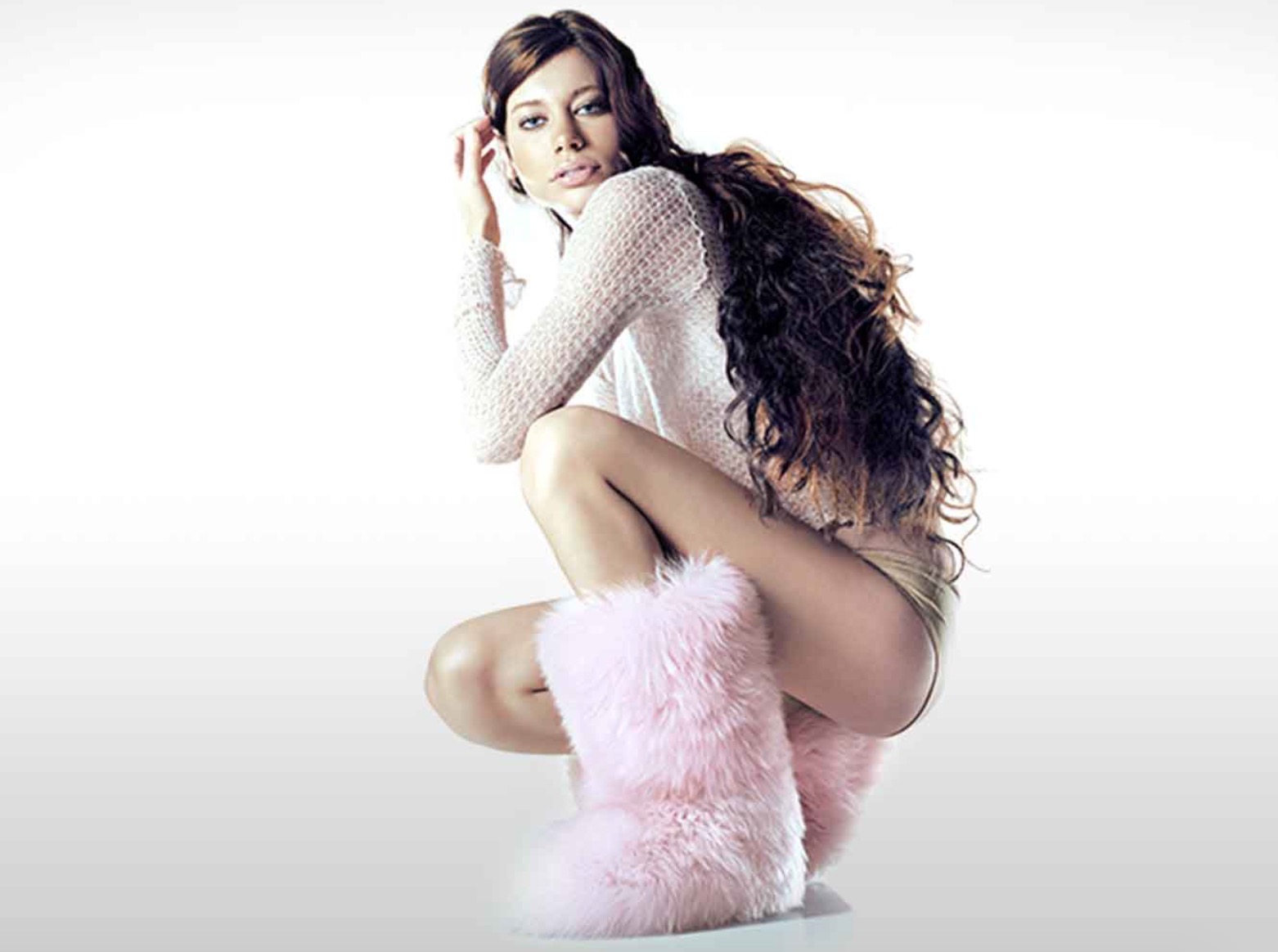 From nearly nothing to one of Oprah's "favorite things," the ascension of Uggs had still yet to reach its fever pitch. The boot's ubiquitous height would only be shepherded in, as is almost American tradition, once celebrities began showing interest.
The boot was inescapable on tabloid turf. Britney Spears with a new baby on her hip, wearing sweats and a pair of Uggs. Blake Lively shuffling around the set of "Gossip Girl" in the boot. Paris Hilton browsing through Kiston in her well-worn Uggs. Sarah Jessica Parker, whose most iconic character was essentially built around being fashionable, was constantly sporting them while walking around New York City.
There they were, America's favorite stars wearing what would soon be the country's favorite questionable fashion choice. The stars, glamorous and untouchable in any other situation, in shoes that sold themselves on their comfort and could be found in nearly any American mall. Shoes that could be worn by everyone.
Uggs offered their wearers the chance to be someone by looking like anyone. For such a shoe that built itself on being easy and inconspicuous, owning a pair of Uggs was shaping up to be pretty conspicuous. They sold out in stores across the country as teenagers and their parents scrambled to snag a pair. Notably, the shoes were not cheap, especially considering the frequency in which people were attempting to buy them. The shoe's pattern has to be hand cut and each pair is made with over 40 pieces of sheepskin. Currently, the classic boot in chestnut retails for $160. A bustling counterfeit market has led to the company claiming it's seized over 2.5 million pairs in the last decade.
Wearing Uggs meant something. An easy, lovely existence. A life so cushy you could swath your feet in genuine sheepskin. Pockets deep enough that you could drop more than $100 on a pair of shoes to mindlessly pull on before heading to the grocery store.
The American public had to have them, and so they were everywhere.
A typical Ugg wearer began to take shape in America's mind. The unofficial-official uniform included a black North Face fleece, Lululemon leggings, each a relatively pricey purchase in their own right, to be worn, without fail with the classic Ugg boot in chestnut. Drawing some not-so-subtle derision across social media — Is there a greater humiliation than becoming a meme? — the boot became associated with a distinct lack of personality. It was the foremost footwear choice for anyone dull enough to want to fit in.
By 2012, Ugg saw an 11.6 percent decrease in its worldwide sales. Part of this drop can be blamed on an Australian drought, which led to difficulty obtaining quality sheepskin, but it also coincided with the peak of America's Ugg derision. The trend had seemingly passed through its maturity and was now in its decline. Similar fad footwear such as Crocs and Tevas had experienced a similar trajectory, and it seemed the Ugg boot was ripe to face the same fate. The shoe that had been everywhere, zapped from the American zeitgeist.
But once again, the story of this particular shoe has always been about something old being made new in America. In 2017, the brand announced a collaboration with designer Jeremy Scott, who emblazoned the boot with his signature ostentatious designs, including covering the boot's entire body in flames and embroidering the words "UGG LIFE." Soon after, luxury fashion labels Y/Project and Sacai incorporated manipulated versions of the Ugg boot in their runway shows at Fashion Weeks in 2018.
Uggs had never gone away. They had simply gone dormant in the country's cultural consciousness, only to be reborn in the realm of high fashion.
What came next was a new wave of 2018's very famous people wearing what had transformed into a very noticeable shoe. Rihanna, who would exist as the entire overlap in the Venn diagram of celebrity and fashion, attracted attention when she wore a pair of Uggs at the airport. And again, when she incorporated a thigh-high pair into one of her outfits at Coachella. Another zeitgeist-capturing celebrity, Cardi B has previously shown off pairs of Uggs sent to her baby daughter in her Instagram story. By the end of the year, Bella Hadid was seen wearing a pair of the Jeremy Scott Uggs in a Christmas picture with her family.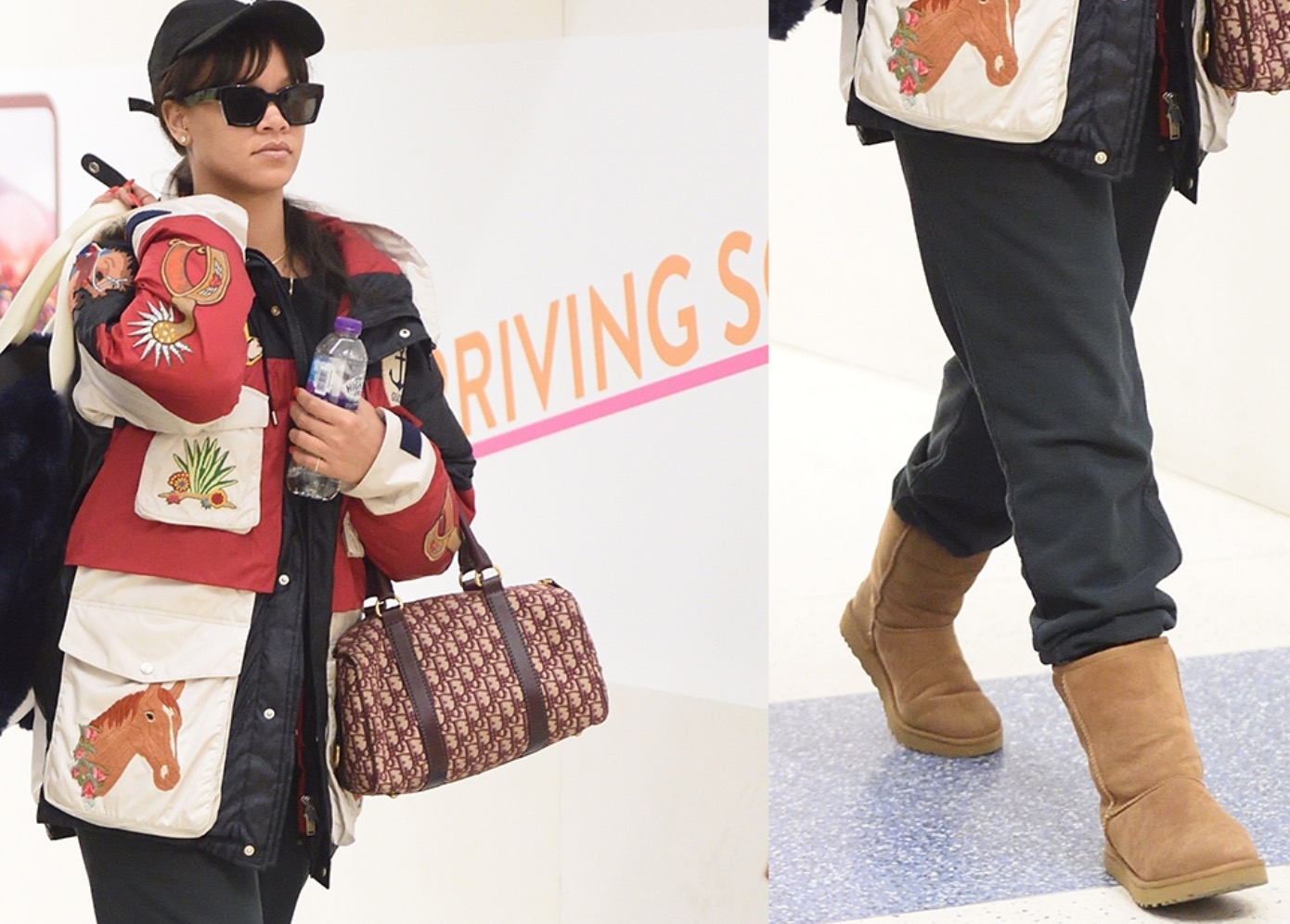 There are several possibilities behind the revived fascination in Uggs. The boot is steeped in nostalgia for an era of simpler fashion trends and a more temperate political climate. Fashion's current vanguard, the young trendsetters seated front row at every runway show, who would have been Ugg's target customer at their peak, may have been spending time looking back. Uggs have also maintained huge international success, especially in Asian countries, meaning the boot's return could serve as a response to the fashion industry's increased desire to go global.
Or, maybe the boot just fit too easily in fashion's current obsession with being cozy to remain buried. Nothing dies in fashion, and a fur-lined boot, often compared to stepping on a cloud, is the perfect complement to modern day dressing. No matter the reason, this perfect storm has been kind to the Ugg boot. A late-2017 quarterly report listed a 4.3 percent increase in sales to over $730 million.
From common to novelty and back once more, the shoe had found success by proving itself again as something you didn't need but desperately wanted. Steeped in the country's historic love of excess, Ugg's arrival in Reagan's America was a harbinger of the boot's surprising longevity into the ensuing decades. Uggs have become the shoe fad that refuses to die by being the thing you never knew you needed.