If you're running an eCommerce business, you need to be providing your customers with the best shopping experience possible. This can lead to more sales, improve your reviews, lead to more word-of-mouth recommendations and more.
Lucky for you, there are steps you can take to help! In this article, we're going to outline how you can improve your customers' shopping experience.
Ensure your website is easy to use and navigate
First things first: Your site should be easy to navigate! If it's difficult for someone to find what they need, they won't stick around long enough to make a purchase.
A positive user experience (UX) can be good for your search engine optimization (SEO) as well. In short, Google likes to send its searchers to helpful and relevant websites — one of their metrics for figuring this out is through a user's dwell time. This is how long a viewer spends on your website before returning to the search pages. If your website is genuinely engaging and helpful, this should result in a longer dwell time, and Google will take note.
Start by ensuring your website loads quickly. You can do this by optimizing your files, compressing images, and removing unnecessary characters (hyphens, spaces, commas) from your code. You should also make sure that your website is accessible and that it displays well on all devices and browsers.
One of the best ways to work out whether your site offers a positive user experience is to ask friends and family to try it out for you. Ask them if your navigation is intuitive, your search bar provides helpful results and if anything is confusing. Third-party viewpoints can be very helpful here.
Create content that will help people make the best purchase possible
It's important that you create and publish content that will help your customers make the best purchasing decisions possible! Posting things like buying guides and comparison pieces on your website will help with this and help you attract more customers. Not only will this save your customer service team time, but it will reduce the need for refunds and help you earn better reviews.
For inspiration, let's take a look at some websites that do a great job of providing comparison content for their customers.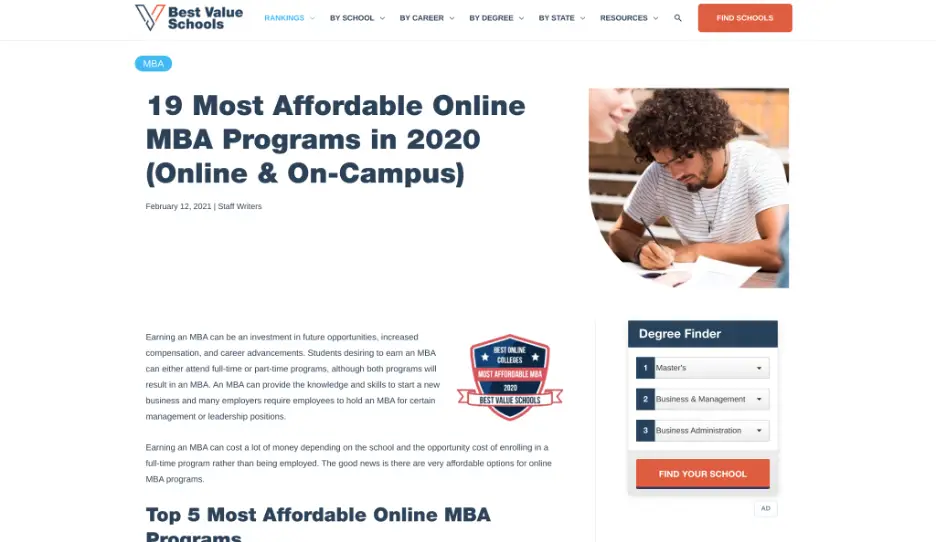 Best Value Schools is a fantastic example. Choosing a college is a huge deal — courses are expensive and require a large time commitment. So, Best Value Schools helps prospective students to make the best possible decision to suit their needs by creating round-ups that explore the likes of the most affordable online MBA programs. They list all of the different options, the most important details, and provide links to where people can sign up for the courses they most like the sound of. This approach can work for a lot of different types of businesses.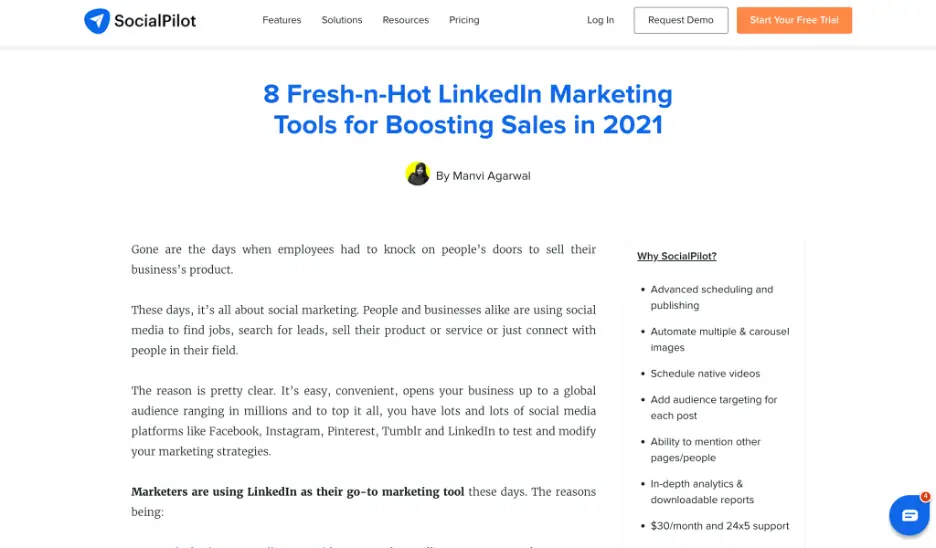 Similarly, SocialPilot, a social media marketing tool provider, helps their readers choose what LinkedIn marketing tool is best for meeting their sales goals in a similar round-up. In the article, they outline eight different tools, their pros and cons, and their prices. This is a really helpful article that provides the reader with a better understanding of these products, and thus a better shopping experience.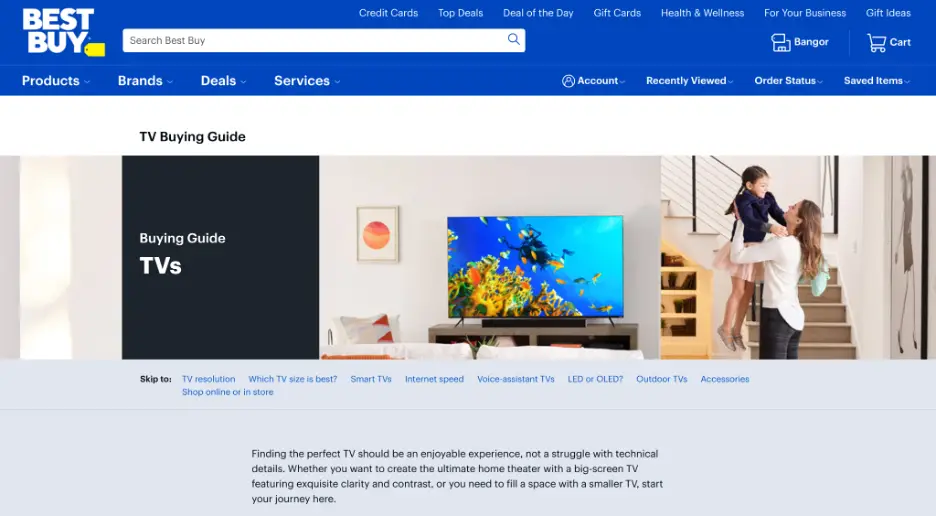 Or take a look at how Best Buy helps their customers with their TV buying guide. Outlining their selection of TVs, they break down different sizes, resolutions, SmartTV software and more. This type of buying guide is helpful, clear and likely to keep customers on their website and help them to make the best possible purchasing decisions, improving the online shopping experience.
Make it incredibly easy for people to get in touch with questions or concerns
When people come to your website to shop, they might end up having questions or concerns about your products or services. To help move them through the buying process, you want it to be as easy as possible for them to contact you. Keep in mind that different types of customers will want to contact you in different ways; for instance, older customers tend to gravitate toward email and phone, while younger people like to use live messaging or social media.
For inspiration, let's take a look at how some different companies provide different contact options depending on their audiences and services.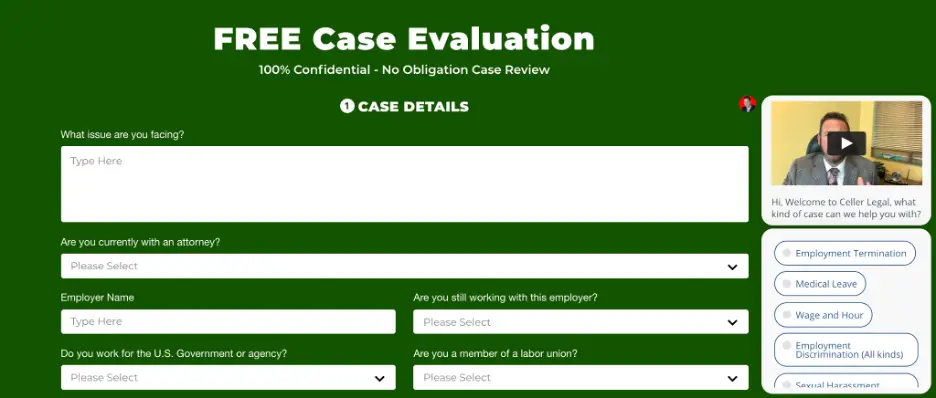 Notice how Celler Legal, P.A., a Florida-based employment lawyer, provides a variety of different contact options. Right on their homepage, they have a phone number, a contact form for a free case evaluation, and a live chat option for general questions. Giving such a variety of options will help to provide a positive experience for as many prospective customers as possible and help to move them through the sales funnel.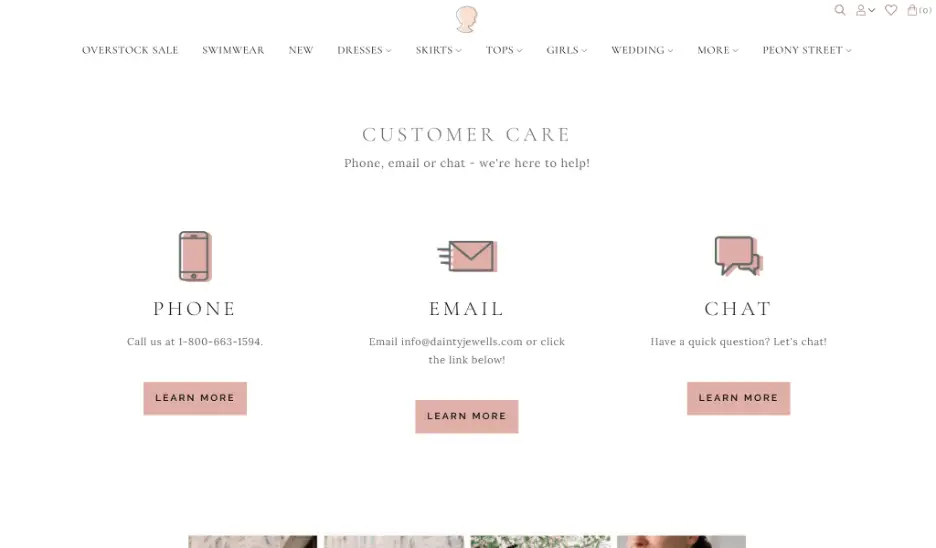 Dainty Jewells is different in that it's a product-based business, but it also offers a number of contact options, which are phone, email and live chat. In addition to this, they also have a range of comprehensive customer service resources, where website visitors can learn about everything from their delivery options to their rewards program. This means the chances of a customer having a query are reduced but, if they do, they can easily get in touch through their preferred channel.

Social media can also work well as a customer service channel. Take inspiration from how McDonald's provides customer service through their Twitter page. By scrolling through mentions of their name and their products, they can answer any customer complaints, comments, or questions. This makes them more approachable and helps the customer feel heard! This particular customer, for instance, wants more Tropic Berry Sprite; McDonald's reassures the customer that it could come back in the future, and to keep an eye out.
Show off your reviews so new customers know what to expect
People tend to trust other people's opinions — this makes word-of-mouth recommendations powerful! Replicate this effect by adding customer reviews to your site. 72% of customers want to read reviews before taking any action so, by showing reviews on your website, you can help your customers feel more confident when buying from you and help set expectations, improving their experience.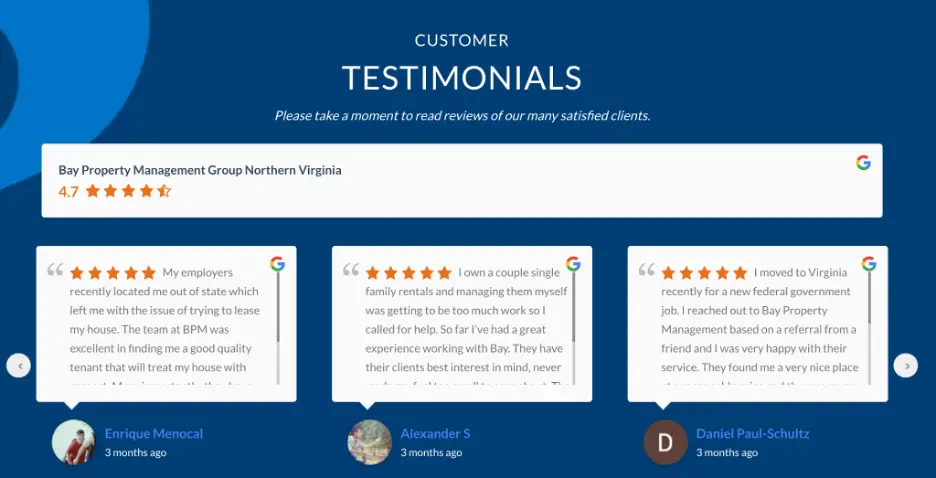 Bay Property Management Group does this well on each of its service pages. Because they have multiple locations, every page has a carousel of Google reviews tailored to them. Because their reviews are localized to a certain area, they're more relevant and trustworthy to the customer. This is something you should consider if you have multiple physical locations or serve a number of areas.

OptinMonster, a digital marketing company, uses reviews as well. They put together a case study outlining how they helped a client increase their conversions by 2100% using onsite retargeting. At the end of the article, they show off a quote; this is a unique way to incorporate customer reviews that provides a positive shopping experience by describing exactly what you can do to help.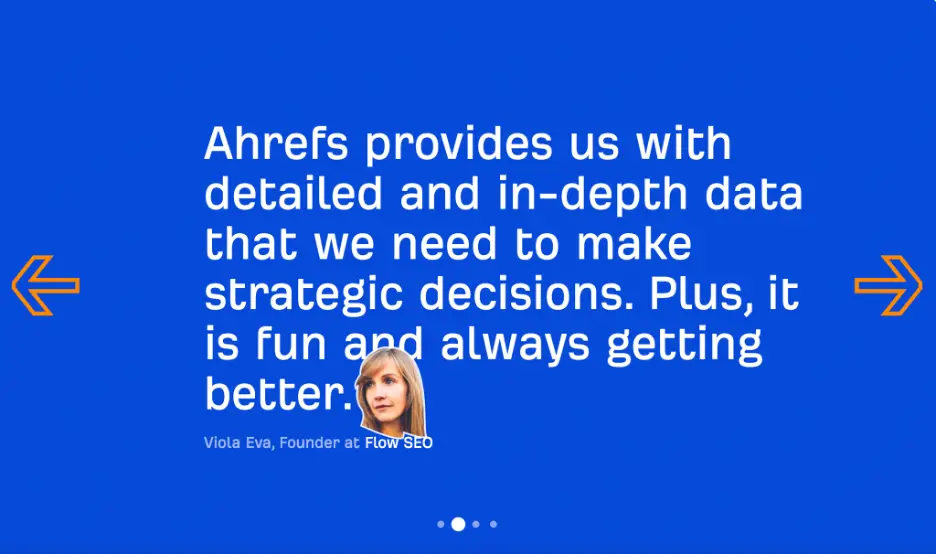 Ahrefs, a respected leader in SEO, uses testimonials as well, but not from just anyone — at the bottom of their homepage, they have a carousel of positive testimonials from other respected leaders in SEO. This helps show that they're an authority in their field and builds trust with customers. If you have worked with other experts in your industry, consider adding them to your page to show off your expertise.
Make sure your checkout process is quick and easy
Cart and checkout abandonment accounts for a 70% loss in sales on average. Help ensure you seal the deal on your sales by making sure your checkout process is quick and easy. There are lots of different ways to help with this!
For instance, a SaleCycle study found that 23% of customers abandoned their cart because they had to make an account first. Make sure that you have a guest checkout option to prevent this. Additionally, for your customers that do have accounts, ensure that it's easy to reset forgotten passwords if necessary. You can also consider offering a social media sign-in option through Facebook or Google to speed up the checkout process.

It can also help to provide visuals that tell the customer where they are in their checkout journey. This helps customers know how close they are to finishing the process and encourages them to continue. Amazon uses this technique, and it could be just one of the reasons the company is so successful.
Lastly, make all fees or shipping costs clear from the very beginning so customers don't arrive at the checkout stage and realize that their purchase is going to cost more than they expected. Even a small shipping charge can put people off if it's introduced late in the buying process.
Summary
Without a positive and seamless shopping experience, you'll lose customers. So, make sure every aspect of your customer journey is optimized.
Don't let your customers abandon their cart or leave your website before purchasing. Take the time to improve your website experience using our tips, and you'll build trust with customers and get more sales.
---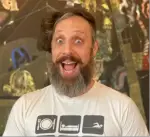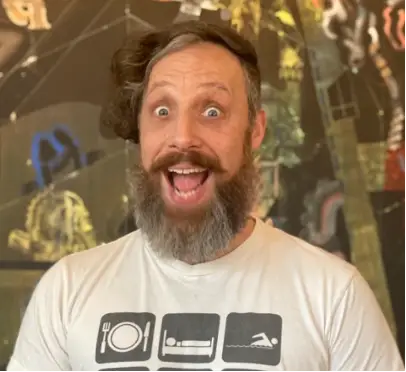 Aaron Haynes is the CEO of Loganix, an SEO fulfillment partner that supports marketing agencies and professionals. The company specializes in helping businesses to improve their online visibility and ultimately make more sales. The Loganix blog has a lot more information and advice, so make sure you check it out if you found this article helpful.