A nineteen-year-old University of Colorado (CU) Boulder student is taking diversity by the buffalo horns. When she's not studying biology, Mercell Enayat is planning big events for the Middle Eastern Student Association (MESA) at CU Boulder such as the club's latest event: a hijab fashion show.
Enayat and a couple of her friends decided to start a club to represent students and staff from the Middle East as well as those who wanted to learn about the region. We asked Enayat what her motivation was to start MESA, and what it was like to plan a fashion show.
Megan Bender: How long has MESA been active?
Mercell Enayat: January 2017 is when we held our first event.
MB: What made you decide to start this association?
ME: I felt the need for diversity on campus. I thought a lot of Middle Eastern students on campus weren't being represented as well as we could have been. So, by forming a student association we were able to form a community and promote solidarity on campus for people who are interested in the Middle East and for Middle Eastern culture.
Specifically, the timing of the formation was correlated to the presidential election. Because of the political climate, I thought it was really important for Middle Eastern students and staff to have a safe place where they can express themselves and share how they feel; that was a really big part of it.
MB: Whose idea was it?
ME: It was I who founded [MESA] and had a couple of friends who joined, and now we are an association with about two hundred and fifty members as of this semester.
MB: What's that been like? How has it been to see everything come together?
ME: It's been really great. I feel like it's been a big accomplishment for me just because I started the club and I've kept it running for the last three semesters. It's been a really good feeling knowing that I've been able to make a difference for other students on campus who may have felt like they needed to meet new people, get involved or learn more about Middle Eastern culture.
One of the biggest accomplishments was giving people an opportunity for open discussion and a platform during our meetings to share what they want. Things that people want to share about the culture or current events, anything like that. Last year, at the end of the year, we actually won the New Student Organization of The Year Award for outstanding events and for building a community on campus. It was really nice to see that my hard work had paid off in helping other people on campus.
MB: What were the requirements for starting the club?
ME: You needed to have three members who would join and then you had to come in, fill out paperwork, do a couple of meetings with the Center of Student Involvement explaining what kind of club you wanted to have. And then, of course, there are financial aspects that go into starting a club as well.
Everything worked out and it's actually been going really smoothly. At CU Boulder, we have a really strong office for that. They're really supportive, great advocates for student associations and they try to help us as much as they can.
MB: How many events have you done so far?
ME: Last year we planned about three events. Two of them were smaller and the hijab fashion show was our biggest event last year. That was a super successful event; we really enjoyed planning that. This year we're working on planning one major event which will take place this semester. We decided that we weren't going to prioritize small events. Instead, we are just going to focus on doing one big event; that event being a Middle Eastern culture night, which is going to take place on November 10.
Last year the events we planned included a screening of a Persian movie, and then a Henna Fest where we taught students how to do henna tattoos. The last one we did was the hijab fashion show.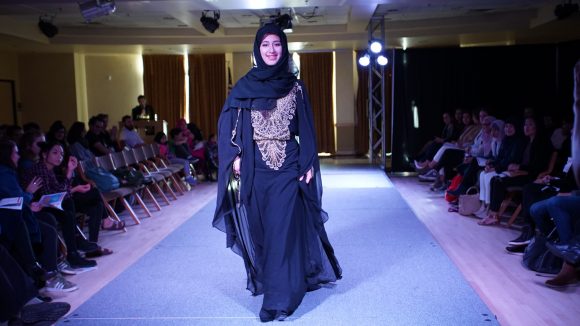 We actually won the New Student Organization award a week before the hijab fashion show. I would base our success off the other two events. We had very high attendance and a lot of members who were looking to get involved with planning, which was really great and afterward people felt that they had learned a lot about Middle Eastern culture.
It is such a broad subject, the Middle East, just because there are so many different countries with so many unique traditions. So, we really tried to emphasize that and represent each country in the Middle East. After the fashion show, the Vice Chancellor of CU Boulder—who attended the show—said it was "by far one of the most educational student programs that she's attended at CU." So, it was a great feeling to know that we made such an impact, even on administration.
MB: Was it your idea? Did it come from everyone in the club?
ME: It was a collaboration between the Dennis Small Cultural Center and MESA. We co-hosted the event together, and I worked on the event from both sides. I worked on recruiting models, getting rehearsals scheduled and coordinating all the outfits with the songs. I took on most of the planning that went into the event.
I also found a DJ and planned a lot of the logistical stuff that goes into planning an event. We had thirty-four models who represented about twenty-five different countries. Those countries ranged all the way from North Africa to East Asia. MESA has a lot of members, so all the models were MESA members and they represented their own country so we could maintain authenticity which is really important to us.
We didn't have every single country represented but most of them were. We also had countries like Japan and the U.S., who are not part of the Middle East but still showed their support for the Middle East. They represented the alliance that we share and that was really important for our show.
During the show, as the models were walking out, we had our DJ announce the models' name, what country they were from and what diversity meant to them. One of our mission statements for MESA is to promote diversity on campus.
It was really insightful to hear what all the models had to say and what diversity actually meant to them. We also described the outfits and each model wrote a blurb about how their outfit is culturally significant to their country. So it was really informative and super interesting.
MB: Was this a new idea? Did the inspiration come from somewhere else?
ME: It was a completely new idea for us, we kind of just thought it would be cool. The reason we decided to do a hijab-themed fashion show is because of the current political climate. Because of the political climate, I thought it was really important for Middle Eastern students and staff to have a safe place where they can express themselves and share how they feel.
We were planning this event for a few months and we wanted to show that the hijab is not a sign of oppression, but a sign of beauty, modesty and purity for Muslim women and it should be normalized in America. Especially in universities because we want to be open and inclusive to everybody. That was one of the biggest reasons that we decided to go with this event.
MB: What did hosting this event mean to you and your association?
ME: The event was a great way for our club to get on its feet a little bit since we were a new student organization. Sometimes it can be difficult to host big events like this, but planning the event and seeing how great of a turnout we had really gave us the confidence to start planning bigger things this semester and doing it with more devotion and commitment than ever.
We know how much of an impact that event had on the CU community and how much people appreciated it, so it just gave us the motivation to plan more events like that. And now we know that those kind of things are what CU Boulder is looking for and how it really does pay off in the end.
MB: Did it turn out how you wanted? Would you do anything different?
ME: We did get the turnout that we wanted. We weren't expecting that many people since it was our first big event, but we had about two hundred people attend. It was just great to see the number of people that were pouring in.
In terms of doing things differently, I think for our first time it was really successful and I love the way that everything turned out. However, in the future I would love to include more countries, especially from the Middle East, maybe doubling that number from twenty-five to fifty countries. Also, including some more parts of Middle Eastern culture such as dances, food and music, not just fashion.
MB: The next step is this culture event, will you be able to incorporate these extra themes in this event?
ME: That's exactly what we're doing now; just making it a bigger event. In the upcoming event, we are having dance routines, musical instruments, poetry, artwork and of course, our fashion show. However, we want to save our Hijab Fashion Show for the spring semester just like we did last year.