When Chapman University student Hannah Richardson went on a family trip to Corn Island, Nicaragua back in 2012, the last thing she expected was to be one of the only people swimming in the ocean. After all, the land was surrounded by water and the weather was scorching hot almost every single day. It didn't make any sense—until she learned about a drowning incident concerning a young local. "The little girl didn't know how to swim," Richardson says, "and hearing that was heart-wrenching for me because everyone in my California hometown learned how to swim growing up."
Her shock didn't end there. After asking around the island, it turned out a majority of the islanders had no swimming experience. And with Corn Island being an environment filled with beaches, swimming seemed a necessary skill to have in case of an accident or emergency.
So when it came time for Richardson, a girl scout, to propose a service project for her Girl Scout Gold Award, she immediately thought back to the people on Corn Island. "I realized that creating a swim school on the island would be something that'd truly impact the people," Richardson says. "It would withstand time and offer the islanders a skill that'd be beneficial to have for the rest of their lives." And in December of 2013, the Big Corn Island Swim School began providing swim lessons for children and teenagers on the Nicaraguan island.
Getting Started
Before the islanders could sign up for the swim school's services, Richardson had her hands full in the development stages. "Since I was creating the school for my Gold Award, I had to fill out a huge application with a whole plan in place for my service project, months before I went back to Nicaragua," she says. The application had a long list of requirements, including making a financial plan for the school and finding an advisor to oversee everything. Not to mention all the tasks Richardson needed to get done for her particular project, such as creating lesson plans and obtaining her lifeguard's certification. But she took all the tasks in stride, and was grateful for how prepared she was when she returned to Nicaragua to open the school.
The Chapman student was also grateful for all the support she received toward making the school successful in its first year. Her project advisor and Corn Island hotel owner, Darcy, was able to provide the colored badges the students receive every time they complete a new swim level. "The badges act as an incentive for the kids to keep trying hard," Richardson said. "Plus, they really love them." Another contributor was her community in Brentwood, California, which provided swimsuits and swim gear that the students could use. "I literally brought over 100 donations," Richardson says.
But as months passed, one problem regarding the school's management kept arising. "I only had Darcy, who helped me with my Girl Scouts project, teaching for me, and since she was very busy, it was hard for her to teach the kids on a consistent schedule," Richardson says. As for Richardson herself, she was only able to go down to Corn Island one to two times a year, and needed to think about how to keep the swim school running when she was back home in the United States.
Luckily, it didn't take her long to come up with a solution. "I ended up approaching two of my top swim students after they completed their last level and told them that if they taught every Saturday while I was away, then I would send them to private school on the island," she says. And as much as granting the students scholarships ensured that her swim school would have regular instructors, she was happier about finding another way to give back to the Corn Island community. "The public school options in Nicaragua aren't the greatest, and the kids that attend them don't really learn a lot," Richardson says. "The private schools are much better and I'm really glad knowing the scholarships have allowed some of my students to get a good level of education."
Classes in Session
As soon as the Big Corn Island Swim School had a regular staff, it became much easier for the swim classes to have a specific structure and roster in place. "Lessons are 30 minutes long and there are about 6-8 kids in each class so the instructors can teach them in an efficient way," Richardson says. During lessons, each student is aiming to fulfill the level requirements so they can go on to the next one. However, there are times where Richardson has to make sure the instructors are aware they can't just pass their students and are following the standards she has implemented. "If they're just passing the kids through the levels and the kids aren't performing well, then that's just not going to be beneficial for anybody," she says.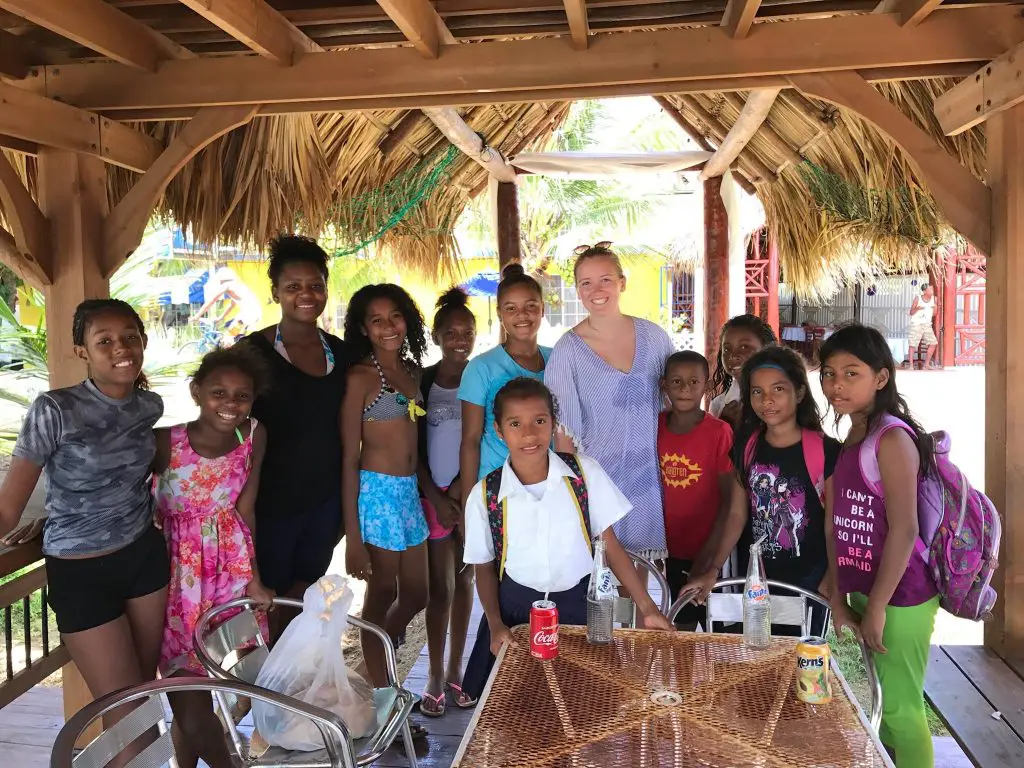 With the different standards in place, Richardson has really gotten to see the students grow from level to level into strong swimmers. And while the lessons are focused on teaching children swim and safety skills, she admits she also has a lot of love for her students as individuals. "Every time I go to Corn Island, the kids always ask, 'Are you going to come next time?' 'When are you going to come back?' Connecting with them is definitely something that keeps me going, and I feel like I have a family relationship with most of them now."
Ripples of Service
Although the Chapman sophomore has taught over 175 kids on Corn Island how to swim, her service work in Nicaragua doesn't stop there. "In the past two months, I just made a non-profit called the Corn Island Children's Foundation," she says. Unlike the swim school, the foundation focuses on raising funds to send more children on the island to private school, as well as providing other services that will allow them to accomplish any goals they have.
One service happens to be a girls club, where the members talk about what they want to be when they're older and encourage one another to chase their dreams. And already, the club has helped girls realize their potential. During one of the first meetings, a girl named Angelee mentioned to Richardson how Corn Island didn't have a library and there was nowhere to go if you wanted to research things for school or look up something you were curious about. After they talked more, Richardson suggested that they should try to make it happen; and a few days later, she received an e-mail from Angelee saying she talked to the mayor about her idea, and he ended up donating a building for the library. "When I heard, I was like, 'Whoa, that's crazy!'" Richardson says. "But even better, Angelee was able to see that if you just ask for something, the worst someone can say is 'No.' And now, the island is getting a library that the non-profit hopes to get up and running."
But more than that, the islanders such as Angelee inspire Richardson to keep doing good on the island, from expanding the girls club to sending more kids to private school. "The people on Corn Island are just amazing and not only do they want me to help, but they want to help along with me," she says. "I want to keep making a positive influence over there." And as long as she continues to encourage and help others, there's just no telling how far she'll go.