Most people take their education and the world that they live in for granted, however, that isn't the case with Rasiga Madhavan. She's a sophomore at Christ University in Bangalore, India, and has excelled in her studies, thanks to her time at Shanti Bhavan, a boarding school that raises children from the lowest classes and helps them break the generational cycle of poverty.
Humble Beginnings: Life in Tirupattur
Madhavan comes from a small village in Tamil Nadu called Tirupattur. Both of her parents worked humble jobs as tailors in a small shop. She also has three sisters; her two younger sisters are both studying in the tenth and eleventh grade and her eldest sister just graduated with an Engineering degree. At the age of four, Madhavan's family was given the opportunity to send her to Shanti Bhavan, a boarding school in Bangalore that covers all tuition and fees for the lowest-income students in India.
Her family made a bold decision in allowing Madhavan to go to Shanti Bhavan. "I joined Shanti Bhavan at the age of four because my parents were unable to pay for my education…My family was very sad at first to leave me in the hands of people they barely knew, but they understood that for me to become a knowledgeable and successful person they had to let me go," says Madhavan. While she was in the eighth grade at Shanti Bhavan, her father passed away. Her mother continues to provide for the family, working as a tailor.
Flourishing at Shanti Bhavan
Madhavan is one of a unique group of students that has set foot in Shanti Bhavan. This boarding school, which was recently featured in a Netflix docuseries called "Daughters of Destiny," sets itself apart because it takes in children from the lowest-income towns of India. Sixty percent of Shanti Bhavan's students come from rural villages, while the other 40 percent are from urban slums, and 95 percent of students are from the lowest castes in India. Even though India's caste system had been eradicated decades ago, classism is still extremely prevalent. The mission of Shanti Bhavan's founder, Dr. Abraham George, is fairly simple: educate and raise children from impoverished homes so that they can break the cycle of poverty.
For students like Madhavan, studying at Shanti Bhavan is the opportunity of a lifetime. "Studying in Shanti Bhavan was the best opportunity that anyone could have ever given me. I was given a high-quality education, I was taught to speak and write English, taught to accept people irrespective of their caste or religion and I was taught all the virtues that Dr. George embodies. Shanti Bhavan has had a huge impact on me as well as my family. From a family full of girls they only saw me as a burden, but with the help of Shanti Bhavan they now have faith in me to bring them out of poverty. If it weren't for Shanti Bhavan I wouldn't have had an education, I would have followed in my parents' footsteps," says Madhavan.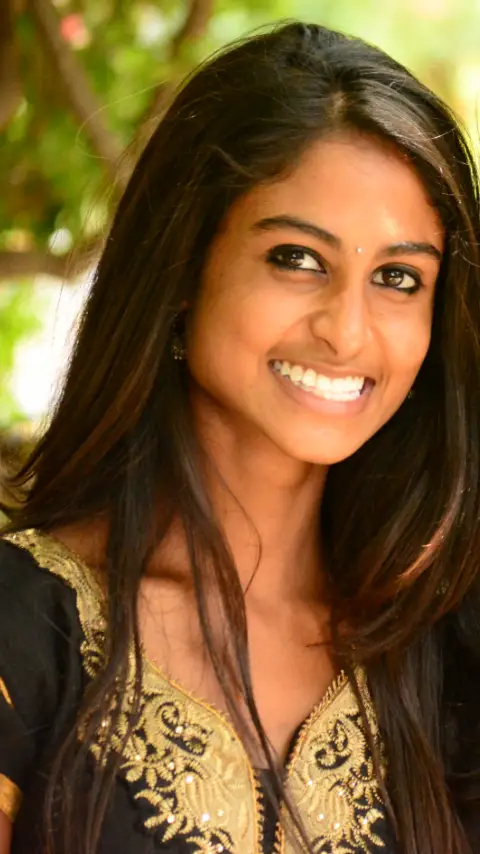 Another unique aspect of Shanti Bhavan is that it teaches their students how to be leaders and stand up for the values they believe in. For Madhavan, this is imperative. "Shanti Bhavan has made me the strong and confident young woman that I am today. I can stand up for myself, my voice can be heard by people all around the world and this is because of the care, love and guidance that Shanti Bhavan showed me. They showed me that girls are equal to boys, we are as strong as them and we can achieve anything if we put our heart and soul in it."
As a student attending Shanti Bhavan, Madhavan and students like her have to deal with living in a setting radically different from their home community. "My childhood was unlike anything my sisters would have experienced," says Madhavan. "I was surrounded by love, care and a huge family to support and provide for me while they had to struggle for money and food."
Despite having constant support from her family, her hometown of Tirupattur doesn't share the same sentiments for lower-income girls like Madhavan. "In my community, girls are looked down on and everyone believes that we can't achieve anything great in life. People never acknowledged our family due to our status in society. After fourteen years of schooling at Shanti Bhavan, I proved all of them wrong; I am a confident young girl who can speak fluent English and is studying in one of the best colleges in Bangalore city. My family is proud of me, and they have faith in me to become a successful woman in life," says Madhavan.
Even though she loves her family dearly, Madhavan considers Shanti Bhavan her home. "My favorite thing about Shanti Bhavan is the people, from all my friends who kept me smiling all the time to the teachers who guided me in the right path and the aunties who took care of me when I was sick. In college, no one is there to tell me it's time to study or time to eat; no one cares about anyone but themselves. Shanti Bhavan is a place made from love and they are my family and they are what makes Shanti Bhavan the best thing that happened to me. Without the people, there would be no Shanti Bhavan."
College, Career Choices and Coming Home
Madhavan currently studies at Christ University, one of the top universities in Bangalore. As a sophomore in college, she's working on her Bachelor's in Science, with a degree in not one, but three different majors: CMS, which consists of Computer Science, Mathematics and Statistics. Despite what people from her community may think, STEM is her passion. "I took this course because I enjoy writing programs in computers and solving problems in math," says Madhavan.
"Right now, I'm still not sure what I want to do in the future regarding my career. Although I took science in college I plan to do my MBA abroad, maybe in Germany. I'm still deciding if I want to go into the business stream, finance investor or stay in the science field," says Madhavan.
Despite not knowing exactly what she wants to do with her future, one thing is for sure: she wants to give back to those who have given her so much. "One of my dreams has always been to continue Dr. George's dream, build another Shanti Bhavan and give people like me an opportunity to help change the world. So, I see myself working very closely with Shanti Bhavan in the future because it is my dream to help nurture a hundred more children from poor backgrounds, giving them the opportunity that I was given to prove to the world that they too are capable of achieving greatness," says Madhavan.
Madhavan's life has been impacted in a big way by the generosity of others. Despite the obstacles she's faced as a girl in a discriminatory society that would rather have her keep quiet, she encourages others to keep pushing forward, regardless of where you've come from. "Keep trying, and never give up. A lot of opportunities will come your way if you just keep working hard. A wise man once told me that hard work and determination is what helps you achieve greatness and this statement is true. No matter how many times you fail, no matter how many people tell you that you are incapable of succeeding, if you set your mind to something then you can achieve anything, the sky is your limit."