From Carly Rae Jepsen's "Emotion" to Netflix's "Stranger Things," the styles and sounds of the '80s have returned. There's something in the wavy current of synth and the sharp kick of a drum machine that evokes a deep nostalgia.
After running through countless iterations, Michael Fenuccio and Andrew Novoa have, as members of the synthpop project Souvenir, latched on to this au current sound, and their timing couldn't be better. The pair met in 2014 in the University of Miami's Frost School of Music and have been collaborating ever since. After releasing a few singles here and there, they released the "Neon Dream" EP in June 2017.
The pair began recording in Novoa's dorm room, experimenting with different sounds for a few years before deciding on the buoyant, energetic feeling of synthpop, producing a sound similar to that of Troye Sivan and Years & Years. During their process of creating new music, the two take a collaborative approach, though each has a specific role.
Novoa stays behind the scenes, working on production and instrumentation, while Fenuccio serves as both songwriter and lead singer. "We've always been co-writing and collaborating," says Fenuccio. Defining their perspective liberated them from the cycle of trial and error, allowing Souvenir, as it is now, to form. "All of the other genres we had been writing in had been an act," says Fenuccio. All that was left was to start production.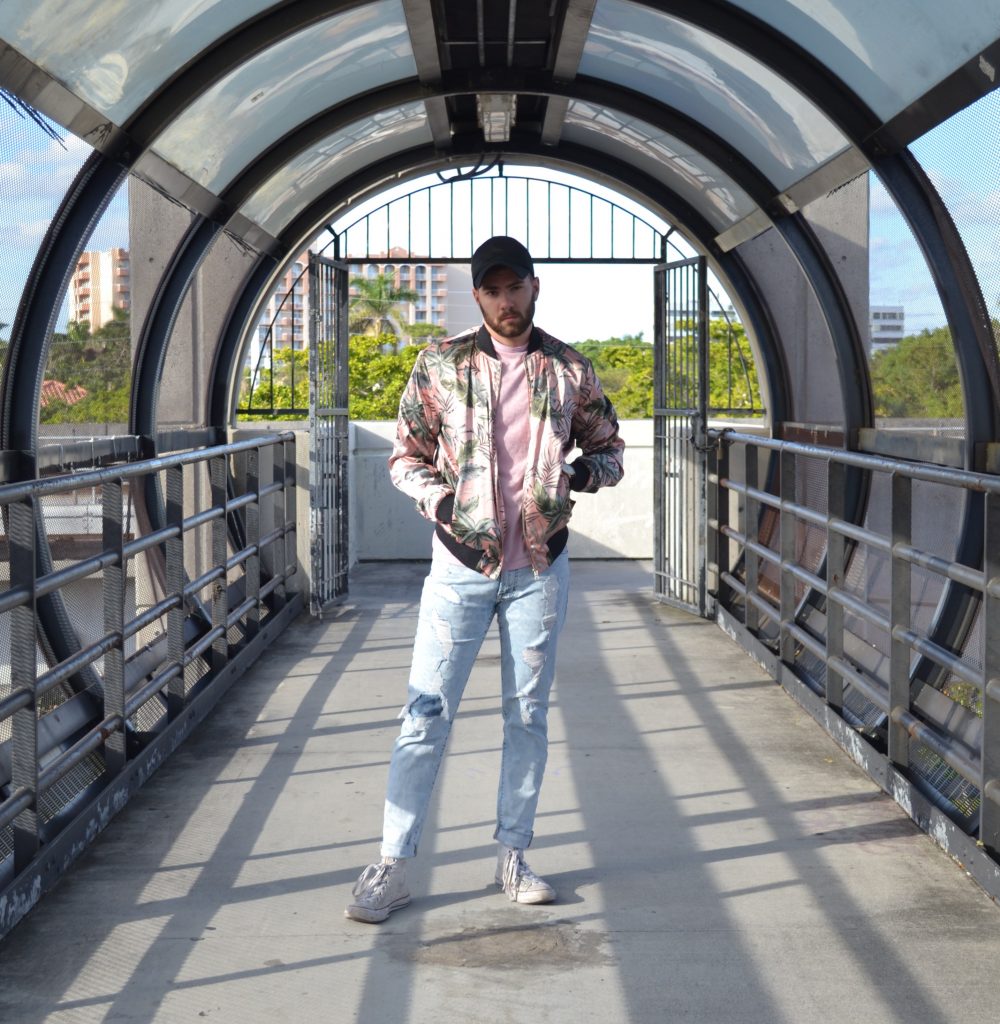 Progress was slow yet steady—an intentional move by Fenuccio and Novoa. The pair got the first inkling of the direction of "Neon Dream" after Fenuccio wrote "Chase Me Down." The track progresses deliberately and evenly, as Fenuccio croons over the thumping of muffled beats, before bursting into a theatrical chorus. Verses like "Touch me, velcro / Oh, it hurts when you let me go," demonstrate the economy of language that is essential to effective songwriting.
The duo was pleased with the result of "Chase Me Down," and set a path for the release of an EP. "We wanted to build a more cohesive idea, so over the next year we wrote the other tracks and tried to get a nice variety so we could make a statement about who we are," Fenuccio says. It didn't take long for Fenuccio to write "Neon Dream," the track that would solidify the direction of the release.
It's not hard to tell why "Neon Dream" blazed the trail for the rest of the EP to follow. As an assortment of synths and chimes subtly complement the froggy ribbets of the bass, Novoa shows that he can borrow from the library of '80s sounds without ever being derivative. Fenuccio, too, exhibits his talents as a vocalist with melismatic runs and as a songwriter with smart lines of verse. "Neon Dream" shows the best of both Novoa and Fenuccio. Their years of collaboration and teamwork shine through.
As the primary songwriter, Fenuccio is given a lot of creative control, which is something he doesn't take lightly. "Songwriting is different every time for me, sometimes it's work, sometimes it pours out," he says. Upon reflecting on "Neon Dream," Fenuccio plans to be more open about his identity on future works. "Being a gay artist is always something I've wanted to shine through as a musician. It's becoming more and more important to me."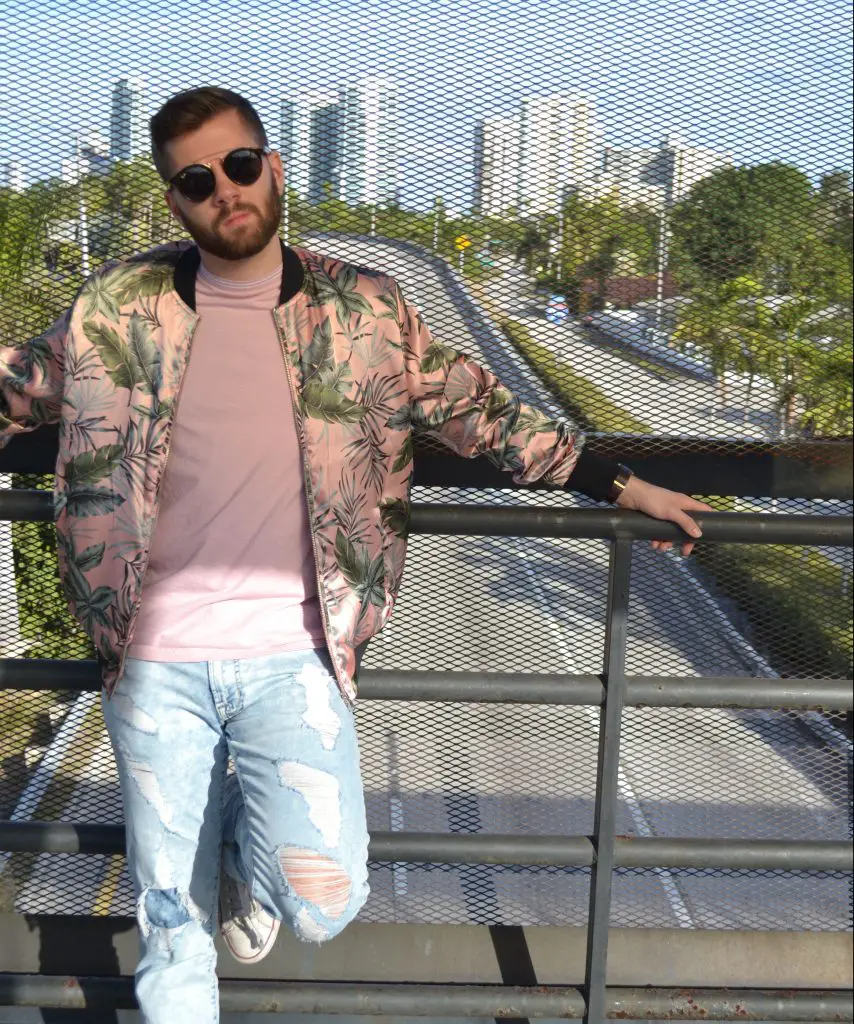 In the songs he writes now, Fenuccio attempts to be more forthcoming as an LGBT artist. "None of the lyrics on 'Neon Dream' clearly referenced my identity, and that's why we ended up writing 'Something Good.' The songs that I have been writing since the release have been much more about my identity." Thankfully, Fenuccio's push for self-revelation has never been at odds with the mission of Souvenir. While the group is deeply collaborative, the frontman also embraces the name as an individual performer. "Sometimes Souvenir is my solo moniker, sometimes it's the collective group."
While Novoa and Fenuccio haven't been able to play live as Souvenir very often, that is beginning to change. "We're at a really exciting point right now. For the last few years, so many of these songs have lived in the studio, or we were doing shows where it was only him and me, but we finally put together a full band," says Fenuccio. "We've been booking shows all around Miami for the winter and spring. We're going to get a chance to give the full experience as Souvenir."
In addition to their future plans to perform, Novoa and Fenuccio are back in the studio, working on new material. As a major in music business at UM, Fenuccio writes songs for homework fairly often. Despite the personal triumph of defining a sound for "Neon Dream," he is still seeking a new and interesting sonic palette to experiment with.
"It was a big thing for me to do a cohesive project, but as soon as it was over, I was itching for the next new thing," he says. "Andrew and I have started a couple new Souvenir tracks. We're hoping by the end of the school year, we will have two or three new songs we can roll out as singles." With the momentum and talent behind Souvenir already, the future looks bright.