The Fruits of Her Labor
Lamdin, a junior at Mission College, thinks modern health should utilize modern science.
By Rae-Kwon Andrews, Saint Leo University
---
Sarah Lamdin, a nineteen-year-old fitness trainer and student at Mission College in Santa Clara, California, refuses to put her dreams on hold just because she's in college.
In addition to being a full-time student, Lamdin is also a licensed professional trainer. Unlike others in the field, her interest in fitness has been a recent development, not a lifelong obsession. In fact, when she was a kid, Lamdin might have been the last person you would pick to follow a physical fitness route. "I was actually the kid that hated PE," she says.
Then, during high school, she got into exercising as a way of avoiding boredom. "I got into fitness when I was sixteen," she told me over the phone. "It gave me something to do after school. I didn't like working out at all though, until I discovered weightlifting."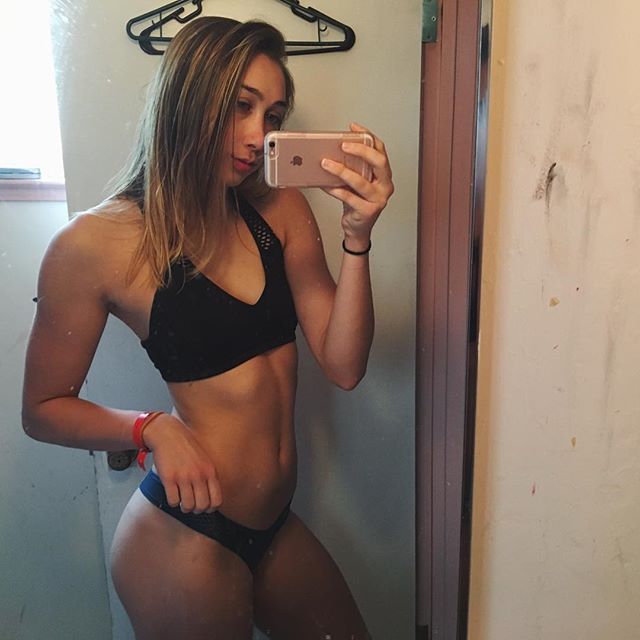 Once she started weightlifting routinely, Lamdin began to realize that working out never bored her, it was just that she had been trying the wrong exercises. After she began weight training, the college junior discovered how much she enjoyed the intensity of having only to compete against herself; the burn in her muscles and the physical strain that discourages others is exactly what keeps her interested. "I started asking myself how people that work nine to five are able to go to the gym," she says, and her line of inquiry eventually led to her pursuing a career in the field of fitness.
Says Lamdin, "I want to be in the gym. I want to be involved in fitness, and the first thing I thought of was just being a personal trainer." At the time, she was working out constantly, and so she had a few connections with local fitness buffs. Lamdin ended up getting her first training gig through a mutual connection. "A guy I knew was a trainer at a really tiny gym that wasn't very good, but they said they were looking for female trainers," she says, so she applied and was immediately brought on board.
The job was good because it helped her become certified as a trainer, but the reality was that the other employees there had only a middling interest in health and wellness. The apathy of her coworkers turned her off, but Lamdin was intent on pursuing her goal, even if it meant calling a slight audible. After getting certified, she transferred to 24 Hour Fitness, and there she has found an atmosphere centered around growth, both physically and holistically. "All the trainers are really passionate and knowledgeable about their craft," Lamdin says.
Still, the one thing she hasn't been able to find is a business expert, someone to show her the ropes of marketing. No matter how well she improves or how masterful of a coach she may be, Lamdin is not a businesswoman by nature.
"It's really just a hit or miss, and it's just being able to deal with the rough times of not having much business," Lamdin says.
Thankfully, inconsistency hasn't been too detrimental for the young trainer. A lack of business can be frustrating, she admits, especially when it persists for long stretches of time, but she has the perspective to know that she is new to the game, and that success doesn't come easily.
In addition to her physical workouts, Lamdin is adamant about learning about what health means across the spectrum, including emotional, psychological and social health. In her efforts to improve her overall mindset, Lamdin has embraced veganism. As someone who works around bodies all day, she has become convinced that you can't separate what you eat from how you feel.
To further enforce her philosophy, Lamdin is constantly reading books and watching documentaries about the benefits of a plant-based lifestyle, as working at a gym puts her in contact with a lot of naysayers about her diet choices. To win them over, Lamdin uses her own gains, physical and academic, to prove points. While she does not incorporate veganism into her training routine, she is happy to talk about the diet if invited.
While she works to improve her personal fitness, Lamdin is also going to school on the side, pursuing a degree in Kinesiology that she thinks will complement her work experience. "My main goal right now is to finish college," she says. "Long term I want to focus more on the nutrition side of my job."
Ultimately she would like to own her own gym, where she could train vegan athletes and debunk myths about protein consumption and omnivorism. She has even entertained the idea of becoming a dietician. In the end, she just wants to help as many people as she can be as happy with their bodies as possible.