Shooting with Savana Ogburn
The talented nineteen-year-old is already being commissioned by 'Nylon' and 'Rookie' for her eccentric eye.
By Ashley Wertz, University of Pittsburgh
---
Savana Ogburn is only a freshman at the Savannah College of Art and Design (SCAD), but her resume is already impressive.
She's worked on a photoshoot for "Nylon Japan" and has become a regular contributor for "Rookie Magazine," both thanks to her Instagram presence. In April 2016, Ogburn also created her own online zine, "Sonic Blume Zine," which serves as a place for those who don't quite fit the mold of music-related content, "A Not-Too-Serious Zine for Music and Art."
The zine features interviews with up-and-coming musicians, curated playlists and even DIY guides that tell you how you can support your local music scene. I was able to steal some of Ogburn's valuable time to speak with her over the phone, and I learned that her personality is just as vibrant and warm as her creations.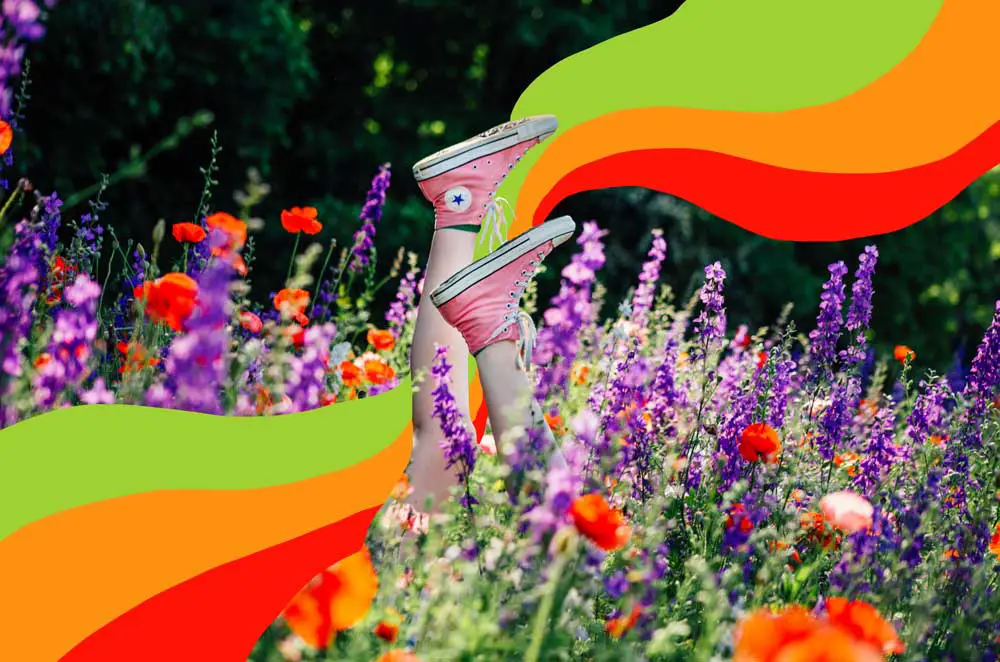 Ashley Wertz: To start off, where do you go to school, and what do you study?
Savana Ogburn: I go to the Savannah College of Art and Design (SCAD), and I'm a Photography major.
AW: When did you start taking photos, and how did you get into it?
SO: I started taking pictures when I was twelve or thirteen, because I'd seen really cool stuff on Facebook from older girls who were taking pictures and editing them on Picnik.
I thought it was the coolest thing, so I started taking pictures with my mom's Canon Rebel, and I would edit them pretty badly. I would post them on Facebook, and people kind of liked them. I guess they were being nice about it, so I kept doing it, and it grew from there.
AW: What is your favorite subject to shoot?
SO: My favorite is portraiture. I like working with new people and being able to fully develop a concept and work with set design. Drawing out pictures and collaging things works better with portraiture because, with live music, you have very little control over what's happening.
Most of the magic of my live work is in editing, which is still fun, and I love music, so shooting it is sort of perfect, but ideally, portraiture is my favorite.
AW: Has living in Atlanta had a big influence on your work?
SO: Yes, I've always loved being in the city. I lived in the suburbs my whole life until this school year. I guess it's less being in the city and more my environment that's really impacted me.
I like being surrounded by like-minded people who are willing to drop everything, make art and collaborate. I've literally shot more here than I have in one year at any other time. And the city is busy, which makes me want to work a little bit harder and do more.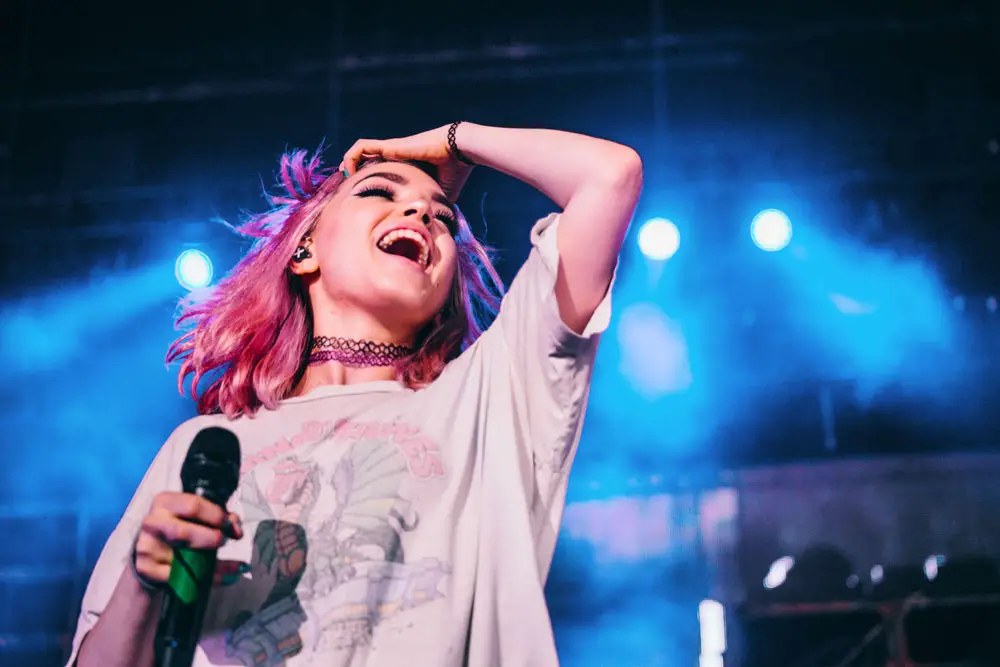 AW: When you live in a rural or suburban area, you have more down time, but the city is always in motion.
SO: I'm so much closer to things that are inspiring and cool, which is nice too.
AW: You also created the "Sonic Blume Zine." How did that start?
SO: I had been shooting music for a couple of publications, and I felt like there weren't many that accepted crazy editing and collaging. I felt like there wasn't a place for that in the music industry.
There wasn't a place for experimentation or somewhere for young people to discuss music in a way that isn't super professional and, technically, perfect. I had seen a number of people starting their own zines, so I bought the domain and did it.
AW: Is "Sonic Blume" mostly just music-content?
SO: "Sonic Blume" is just for music, but we publish music-related anything. Recently, we published a photoset inspired by David Bowie. We've actually posted a lot of those. We publish playlists, written bits, music recommendations, live photos and reviews.
AW: You also work with "Rookie Magazine." I saw your article on the dinosaur earrings, which is so fun! How did you get involved in making content for them?
SO: I've been reading "Rookie" since I was a freshman in high school, and it's my favorite site/magazine. It shaped so much of my feminism and confidence as a human being.
I was a really big fan, and I had been posting stuff on Instagram (this was about two years ago), and I made a "Girl Power" prayer candle, which had Tavi, the editor of "Rookie," on it. So, I tagged her in the picture, and I was like, "Yeah whatever, I'll just tag her." She saw it, e-mailed me and asked me to contribute photos, so I said yes. I've been working with them for two years now, and I love it.
AW: Social media is such a huge part of creativity these days. It's one of the best ways to get yourself out there, and obviously, it's worked well for you as a creator.
SO: For sure! I pay a lot of attention to my internet presence and what I post on Instagram.
I've gotten people saying, "Oh, it doesn't really matter. It's just social media." And I respond, "Okay, but I get jobs based on this." It's not as silly as you think it is.
AW: There's a stigma with social media, as if it's not "real life." For a lot of people, though, it's a lucrative way to get in touch with people you want to work with.
SO: Right, you may think I'm just posting selfies, which is cool too, but I'm growing my business.
AW: Is there a certain way you want people to feel when they look at your work?
SO: I think a lot of my work is designed to be crafty. I'm into surrealism, so I try to pull that through in a kitschy kind of way.
I love it to be colorful and glittery, and I realized the other day, when I was collaging portraits, that I want my pictures to look like they came from Party City or something.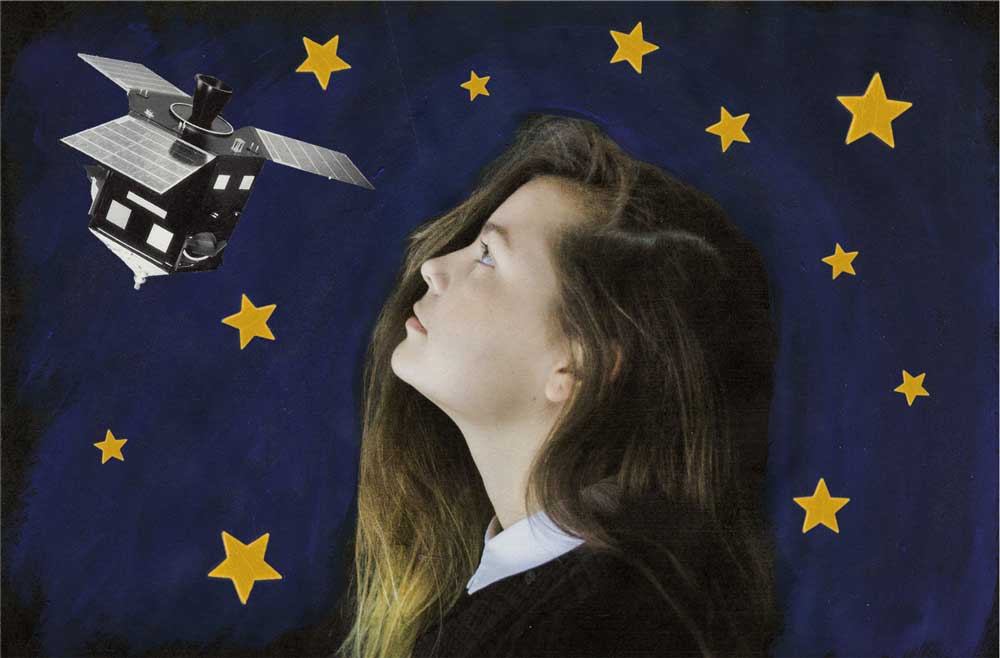 AW: That's the perfect way to describe it! I saw your recent work with "Nylon Japan," which was definitely a colorful photoshoot. Did they reach out to you, or have you worked with them before?
SO: It was out of the blue. I got a DM from their photo editor on Instagram. I had never worked with them, and I have no contacts with them. She just found my Instagram.
AW: What was the photoshoot process like?
SO: I actually shot them in a studio in Atlanta. I didn't travel, and all the people who worked on the shoot are my friends, so it was very close. My mom helped a lot too. It was the most work I think I've ever put into an editorial shoot before. I did everything from the ground up.
My mom and I worked on set designs, and she had these huge boxes of silk flowers, so I hauled them all to school. We made clouds, dyed a backdrop, strung up tinsel and styled it with stuff from The Clothing Warehouse in Atlanta. I had friends helping me do makeup, hair and little styling details, but it was awesome!
AW: What's been your favorite photography experience?
SO: I definitely loved "Nylon." We shot for about five hours, and the photos came out really well. I'm happy with them, and being able to work with friends is great. It was cool to have that opportunity and have everyone with me, but I've also done a lot of shoots for "Rookie" that have felt like that as well. I can't pinpoint a specific one.
AW: I also saw you have a "Diary" section on your website. What inspired that section?
SO: I'm always carrying around a 35mm-film camera and have a roll of film going. I kind of use it for documentary purposes. I don't like carrying around a digital camera because I tend to take too many pictures that I have to sift through later.
With film, it has to be more mindful, and it ultimately helps me take better pictures. Plus, it costs money, so I use that to document daily stuff that I find cool or inspiring. I've been taking pictures of my friends a lot, which is also nice. I put that section on my website because I felt that I had built up enough photos that I was proud of.
AW: It'll be interesting to look back on those photos years later.
SO: I was thinking today, "Wow, I have a lot of negative to archive." It's really bad.
AW: What inspires you when you make art?
SO: I find a lot of inspiration in the music I listen to, as well as lyrics and visuals that musicians post. The lyric video for "Answer My Text" was cute, so I love stuff like that. Lyrics inspire me a lot, like "Florence and the Machine." She has super vivid lyrics, and her songs are dreamlike and mystical.
AW: Who do you click with most when it comes to creativity?
SO: My friend, Armando. He did the makeup for the Nylon shoot, and we've collaborated a lot. He does drag too, so I've taken a lot of pictures of him. We're different, creatively, but we collaborate all the time and totally click.
Lauren Tepfer does a lot of atmospheric, nighttime photography, so we collaborated on some pictures she did for "Rookie," which went up a couple days ago. Our creativity is very similar, and I love working with her. There are a lot of contributors for "Sonic Blume" whose artistic visions line up with mine really well, like Megan Schaller. She does a lot of cool Microsoft Paint drawings.
AW: What do you see for the future of "Sonic Blume?"
SO: Someone asked me about my goals a while back, and I kind of blew it because I was like, "Um, I don't know?" Ultimately, though, I want to run ads on the site, as lame as that sounds, so we can pay contributors. That's important to me, but it's something I can't do right now.
We did a print issue last year, and I would love to do another one, but it's labor intensive. I really like the way it's going now, and I want to keep it going and create a comfortable spot for people to contribute music work without worrying about experience or perfection, which is hopefully how it feels now!
AW: With summer coming up, do you have any goals?
SO: I'm trying to shoot for a bigger variety of publications by the end of summer. I want to contribute my work to more places and do more shoots that aren't specifically assigned to me.
I just had my Spring Break, so I went to my grandparents' house and shot a series of self-portraits in their house, and it was completely personal work, which is freeing.