Practice makes perfect, and in the world of Division I collegiate golf, perfect means becoming the NCAA Division I Women's Golf National Champions. On Wednesday, May 24, 2017, the Women's Golf team at Arizona State University clutched the 2017 title, which is the record eighth national title for the university.
The incredible feeling of winning a national championship title sticks with you forever, but for athletes, you just move on to next season, clear your mind and work toward achieving a new goal.
Olivia Mehaffey, current sophomore, is one of the returning players from the National Champion team. Mehaffey came to Arizona State University specifically for golf, all the way from Northern Ireland, and is majoring in sociology. At the age of 6, she knew golf was her passion. She began competition at age ten, played for Ireland internationally at age 13 and has been achieving goals since before her days as a Sun Devil golfer.
Mehaffey describes herself as a golfer in three ways: dedicated, focused and disciplined. Now as a collegiate golfer, she strives to maintain those characteristics while representing her team. But what brought her all the way from Northern Ireland to Arizona?
Mehaffey explained, "I chose Arizona State as the weather is perfect all year round. I love the campus, facilities, the team's ranking, the coaches and the program, and the history as it has produced some of the best players in the world both on the men's and women's side."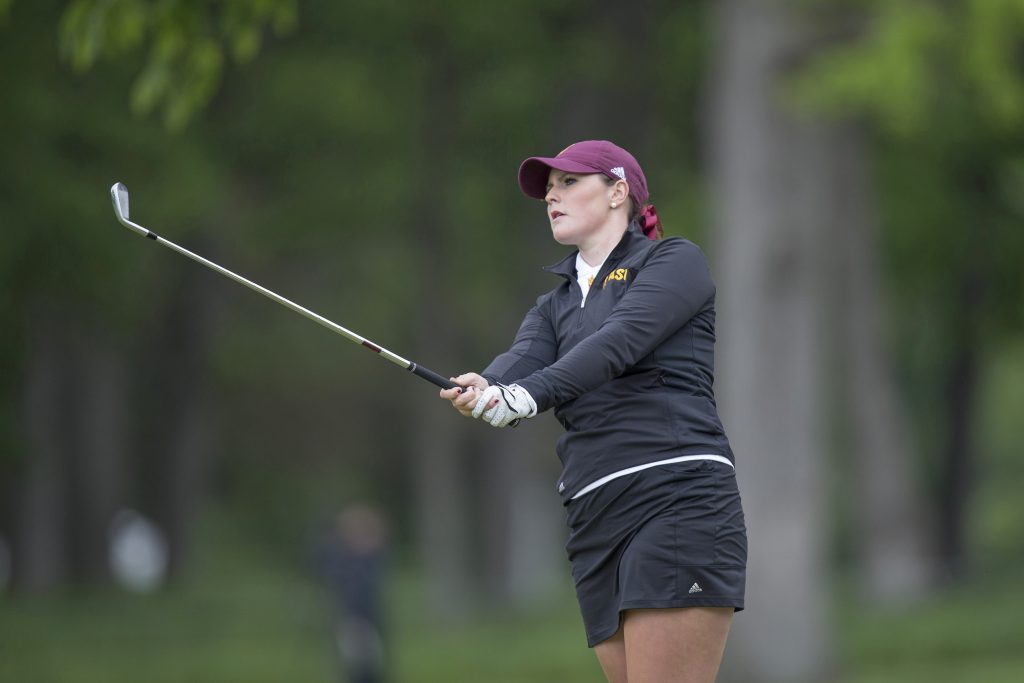 Mehaffey began her collegiate golf career just over a year ago, but she didn't hold back. Although the team's fall didn't go as they hoped, they didn't let that affect their overall goal for the team. Leading up to the NCAA Championship, Mehaffey focused on maintaining a positive environment on and off the golf course.
Although she didn't change anything from her typical practice, she continued to work on the areas she felt were important for her personally while encouraging a strong team bond. Keeping dedication and commitment to their goals in mind, the team's mantra was "all in 17," which meant they were fully committed to May 24, the final day of Nationals. She explained that "every practice or workout had a purpose," and that purpose led to their main goal: obtaining the national title.
After months of hard work and dedication, Mehaffey and the Arizona State Women's Golf team captured the crown over Northwestern in the final match play. "My favorite part of the entire NCAA experience was being with my team. My teammates are like my family and getting to win a national championship with them and my coaches was the best feeling. We had so much fun on and off the course and those memories will last forever," said Mehaffey.
"We are all like sisters, which is key for being a successful team."
But what happens after all the excitement settles down? When it comes to achieving a goal, most series of chain reactions afterwards are affected by the win getting in their head, but the Sun Devils have handled the aftermath well. The team has had the spotlight on them since claiming the national title, and between being recognized and reaching their goal, the team's confidence has increased. They know that, with hard work, the team can accomplish their goals.
Although they are feeling more confident, their mentality stays the same and the way they look at it is: this is a new year. Mehaffey explained, "My mindset has not changed as this is a new season. It was great we won in May, but we are starting fresh now. We have to prepare and get ready to do it all over again." And so far, the current fall season has been going well as they play as the "top dogs."
"This fall, we only finished outside the top three once and had a win. Our coach has prepared us to keep striving for the top and I think this shows in our attitudes this fall" and personally, Mehaffey has felt positive about how the season has gone so far. As a team, their atmosphere continues to be close and they work like a family. "We are all like sisters, which is key for being a successful team."
Mehaffey continues to be a strong member of the Sun Devils golf team. Her top keys to success involve her environment and work ethic. "I have always had good coaches and team around me who push me to get better," said Mehaffey. "I also work extremely hard; it is easy when you love your sport. I love nothing more than practicing, which makes this entire process easy for me."
Although Mehaffey believes that everyone has something different for them when it comes to the key to success, she strongly recommends practicing situations under pressure so you become comfortable when the time comes. "I believe dedication is important to be fully committed to your goals," she said. Mehaffey plans to obtain her degree from Arizona State and then hopes to play professionally on the LPGA.
Whether you set a goal personally, academically or professionally, commit to reaching your ideal results, achieve it and move onto the next. Congratulations to the Arizona State Women's Golf team for earning the 2017 NCAA Division I Women's Golf Championship title.