Textbooks, pom-poms and stuffed animals might not have anything in common except for Nicole Spillane. This Metropolitan State University of Denver junior finds herself juggling life, college, motherhood and her job.
Spillane has made a life in Colorado with her boyfriend and one-and-a-half-year-old daughter. She always knew she wanted a degree but wasn't in a rush to finish college until she found out she was expecting her daughter. The unexpected news was the push she needed to finish. "My daughter gave me this motivation I had never felt before to do well in school and graduate," she said.
She is taking a full course load on campus to pursue a Human Services degree with a concentration in high-risk youth and maintains a 4.0 GPA. She decided this path after she worked as a paraeducator in a local public high school in the Severely Special Needs (SSN) Program. While in the program, she helped students in their classrooms with everyday tasks such as eating, taking notes, breaking down classwork and toileting needs. Her prior coaching job led her to that position, and now she is working part-time as a cheerleading coach there.
With a non-traditional student status, Spillane is among the 26 percent of college students who have children. There are challenges accompanied with the title of a student parent and she knows them all too well. "I have had a really hard time staying on top of household chores and staying organized. While I do keep our family's schedule on point, I often can't remember to do little things such as pay the credit card bill," she said.
Despite a messy house, Spillane knows the importance of self-care and aims to have fun from time to time. "When I have free time from my hectic life, I enjoy painting, crafting and reading books. I also enjoying attending concerts of all music genres," she said. Spillane is not picky when it comes to music, "I love all kinds of music. Everything from oldies to electronic to country to hip-hop to alternative rock." The number of concerts she has gone to is "more than she can count" and they span a wide variety of artists. Some of her favorites were Lynyrd Skynyrd, The Fray, Counting Crows, Atmosphere, Lil Wayne and Usher. She started going to concerts at the young age of fifteen wither her sister and she hasn't stopped since; luckily, Red Rocks Amphitheater is basically in her backyard so she can see concerts frequently at the "absolute best place on earth to see a concert," as she said.
When she isn't jamming out at concerts, spending time with her family or focusing on classes, she is coaching high school cheerleading. She has been coaching at a local high school for about 2 years. It just started as a part-time gig but she discovered something dear to her heart during her time as coach. She got started on a group called Glitter Girls at the beginning of the last school year but really got the ball rolling around this time last year. "My original idea for this program started when I was a paraeducator in the SSN room. A few of my students showed an interest in cheerleading and wanted to be part of our team," she said. She got some ideas from a nearby school's cheerleading team, Sparkles. However, her inspiration really came from her students, "I was blessed that I had these wonderful girls that had no doubt in their mind that they had the skills needed to cheer and I couldn't have agreed more."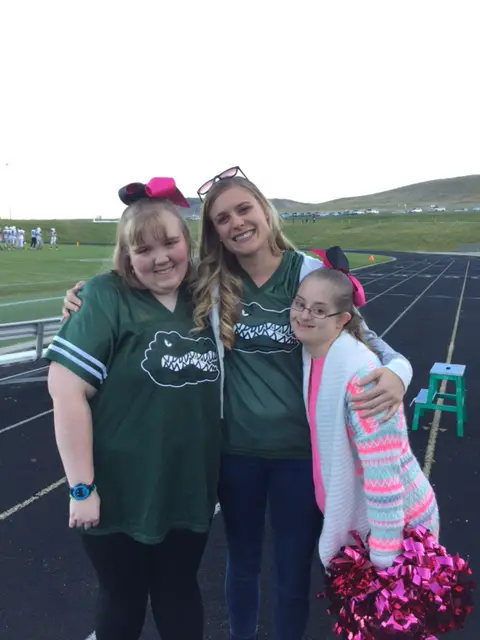 Glitter Girls is a cheer team specifically for special needs students. Every week for an hour and a half, the girls would attend practice with the competitive cheer squad. During that time, the competitive squad spends time leading each of the Glitter Girls in cheers and activities with guidance from the coaches, and they all love it. "As I knew that the Glitter Girls would have loved to learn from me, I also realized that they adored their growing fondness and relationship with their ever-so accepting peers," said Spillane. The Glitter Girls go to each football and basketball game and cheer up the crowd with the competitive girls. They don't compete with the other girls but they do have their own routines they perform at school functions.
Although Spillane has faced some hardships during the process of starting the Glitter Girls program such as tough communication with parents and lack of financial support, the outcome has been very positive. Spillane beams about her girls, "The school and our competitive girls have been incredibly supportive of these wonderful students. The community has loved watching these beautiful girls smile and cheer their hearts our, right alongside their peers. They really can light up a crowd." She has goals to grow the program into a non-profit program and she is taking a non-profit course this semester and writing up a mock set-up so it can take off. Spillane has big aspirations; "My end goal would be to start up a non-profit program that would aid with starting up unified sport programs in public schools. This program would provide coaches, uniforms and events for the unified programs to compete in."
Spillane has mastered the art of being a non-traditional college student and relies heavily on daycare and an effective schedule. One day a week when she doesn't have classes, she sends her daughter to daycare so she can work on homework, housework, grocery shopping and all the things that are almost impossible with a toddler running around. She also has family and friends around that help out, too. It really does take a village and Spillane has hers. But with a busy, chaotic life, she still manages to sleep, "That's what keeps me sane!"
Spillane will soon start a practicum and internship, and she wants to work with students who have disabilities as well as those recovering in a rehabilitative center or restorative justice center. She has noble ultimate career goals, "To be in a position where I am helping others and making a difference in their life situations in a therapeutic or behavioral way."