Myya D. Jones is, in a word, a powerhouse. The 22-year-old student is currently about to graduate from Michigan State University with a degree in management and minors in Arabic and African-American & African studies.
The girl's resume is overflowing with enough accomplishments and accolades to make you break a sweat from just reading it. She has been a Google student ambassador, intern for Congresswoman Brenda Lawrence, board member of her university's Sexual Violence Advisory Committee and even went to six countries to study abroad.
Oh, yeah, and she's running for mayor of Detroit. No biggie.
That's right, Jones hasn't even touched a diploma yet, but she's reaching for an accomplishment that, if all goes as planned, will crown her as the youngest and first female mayor of Detroit, the city she grew up in.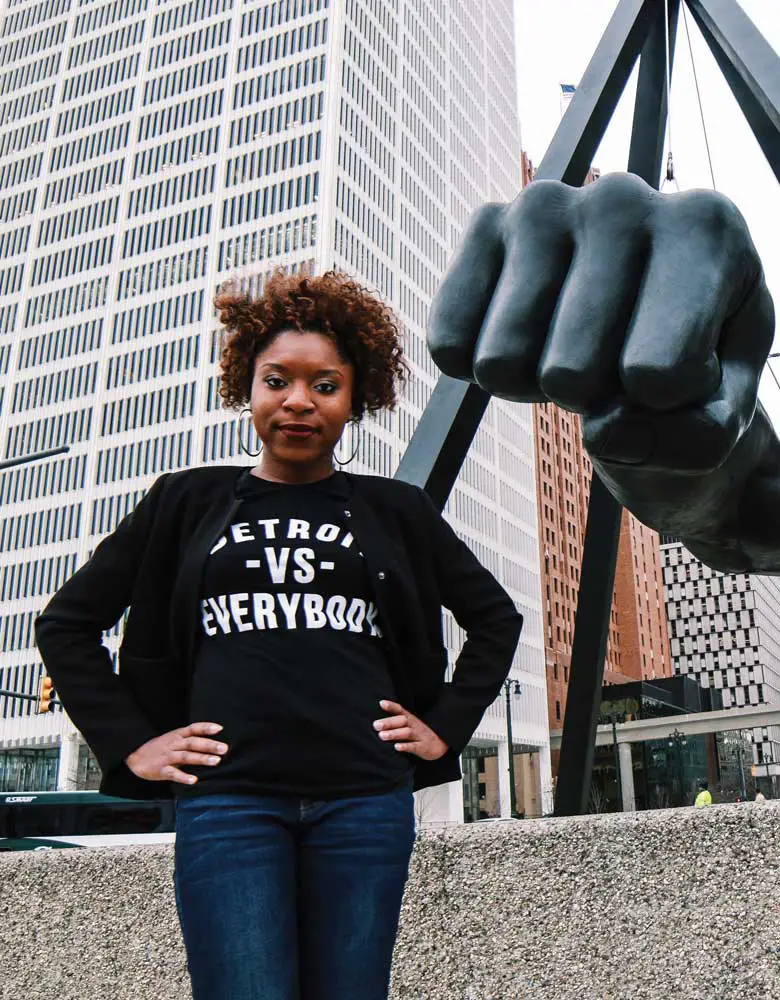 Jones's interest in providing change to her community and being civically engaged is what originally inspired her to reach for the mayoral position.
"I make sure everything I'm doing I am passionate about," she tells me over the phone. "That way, I won't ever have to find work in it."
Jones originally announced her bid to become mayor of the city of Detroit on New Year's Day. With her first campaign fundraiser kicking off mid-March, things are getting pretty serious, pretty fast.
"Campaigning has been a mixture of emotions, but I would say exciting is the number one word to use," Jones says.
On top of everything else she has to balance as a full-time college student, Jones says running for mayor is just like another extra-curricular, in that she has to figure out when and where to devote her time.
"In all honesty, balancing [the campaign] with everything else is a learning process," says Jones. "I have to learn when to study, how to study. Prioritize my time, 'ya know? Luckily this past semester hasn't been too difficult."
Jones hasn't always been this strong. Her childhood wasn't ideal and didn't make growing up any easier. Jones' mother struggled with bipolar disorder and depression. This ended up causing Jones to have to help care for her five siblings. After dealing with other family issues, a sexual assault and mental health issues such as bipolar disorder, Jones' life slowly became a coming-of-age story.
"It took many failures for me to get where I am now," she says. "It wasn't just automatic success for me. I hope no one ever thinks that."
One of her hardest moments involved learning a very painful truth.
"The most difficult memory for me was finding out my dad was not my biological father," says Jones.
Yes, that's right. For the majority of her life, Jones didn't know that she had no biological relationship with the man who raised her. This, she says, was one of her deepest wounds.
"As a self-assured person, it was the first time in my life I had to question my identity," she says. "Over time I was able to understand that my last name did not determine who I was, my character or the relationships I developed over my lifetime."
Today, Jones has risen above her painful past and says she no longer deals with serious mental health issues.
"I mean, I struggle with the normal college stuff I think everyone goes through," she says. "Some days you want to curl up in your comforter and not get out of bed. I think that's just the way it is."
Just because she has moved on though, doesn't mean she disregards her past or doesn't take those struggling with mental illness seriously. She says this is why making sure that Michigan residents have access to mental health resources is one of her main political platforms for her campaign.
"I am in a different environment now than when I was when I was younger," says Jones. "There were a lot of triggers that got me going back then, but I will never forget those days."
In today's standards, to admit that you're hurting or suffering from a mental illness can turn you into a laughingstock amongst colleagues gossiping at the water cooler. You're taught through social situations that you're supposed to grin and bear the emotional pain until your heart can't process one more superficial beat. That's just the way it is, right?
To Jones, this isn't acceptable.
"Everyone has struggles. I've never understood why some people choose to deny help just because they want to be stubborn or because they are too embarrassed to be viewed a different way amongst their peers," she says. "If you lose your house, you'll be depressed. If your family falls apart, you can suffer from anxiety. For people to say they don't have struggles, they're lying. You have to embrace you're human."
But, for Jones, it's important that there are more resources available for those that are hurting. She says that sometimes just admitting there's a problem isn't enough. Through her campaign in Detroit, she is hoping there will be more psychologists, psychiatrists and other healing opportunities available.
"You have to talk to people, but sometimes that might not be enough," she says.
"You need more training in different areas so people know how to get professional help. I'm not a psychiatrist or a counselor or a therapist, so I can't counsel you, but you can get ahold of those who are trained to actually help you through whatever you're dealing with."
Throughout her campaign, Jones has faced tough situations. Most of these have to do with the public prejudices and misperceptions about her on a very superficial level.
"I've been experiencing a lot of sexism since I've started running," she says. "And not just regular sexism, but sexism as a black woman, which I think can be worse."
It's true that if Jones wins the campaign she will be the first female mayor of Detroit. She also knows sexism and racism are both touchy subjects across the entire nation, not just in Michigan. For this reason, Jones says she would never want to be the first president. For now, she says, running for mayor is just enough.
"After going through this, I just know that would be too much pressure," she says.
Paradoxically, Jones says a lot of the racism she experienced occurred in February—Black History Month.
"I think it's pretty ironic that a lot of what was happening to me during February was the opposite of what the month stood for," she says.
While racism was a problem from Jones, she says nothing comes close to the sexism she faced during the past few months of campaigning.
"There are a lot of old-school people out there doubting me because of my skills and my efforts," she says. "People will mansplain things to me, but obviously if I'm running for a position, I've already know how to do the things they are trying to explain. It's frustrating."
Jones says that it isn't just men voicing their negative opinions, either.
"There's also been a lot of women who are not black who are doubting me," Jones says. "A lot of them aren't used to other women—especially black women—stepping out."
Jones says she doesn't let the haters get her down.
"I don't let people get me down because I know my skills," Jones says. "I know my worth."
But Jones says she never really cared what other people thought. Even through her tough childhood, she knew she had to hold her own head high to get through it all.
"It was me guiding myself," Jones says. "I'm not quite sure if I'd had a role model, and I didn't have an older sister, so I don't know. I was mainly just looking at myself and focusing on what I was doing at the time."
Not only was Jones her own role model as a child, but she's noticed that through her efforts of becoming mayor, she has become a role model for many other young girls as well. She says this is sometimes what keeps her motivated.
"The thing that keeps me going is that I know there are little girls that are looking at me," says Jones. "People reach out to me and tell me that their daughters are doing projects about me for school. That means so much to me, and it's part of the reason why I do what I do."
Even though she is grateful that young girls admire her, Jones says they should do so with a grain of salt. When it comes to role models, her painful past has taught her that at the end of the day, sometimes you only have yourself to rely on.
"You really have to believe in yourself," Jones says. "If you don't believe in yourself, you won't have anything."
A wise person once said, "Be the Leslie Knope of whatever you do." Jones is doing just that.
She has taken a tough situation and turned it into something to be proud of. Similar to "Parks and Recreation" character Leslie Knope, Jones cares about local change on a small level.
According to her website, other than mental health, some of Jones' policy visions include public safety, economic development, quality of life, child wellness, accountability and transparency. She also hopes to take what she's learned from life, her classes and from her awesome internship at Capitol Hill to seek positive change in her community.
"To me it seems like we aren't progressing, and if we are, we're doing it too slowly," Jones says.
Within the past year, Michigan has received a lot of publicity for a number of issues. In Flint, Michigan, high levels of lead in the drinking water brought strife to a town already facing issues of troubled youth (which levels of lead can, scientifically speaking, stir up). And it doesn't help that Detroit is an area that has been preceded by a reputation of violence for generations. To Jones, the main issue lies within education. She says without a strong foundation of education, these issues will only get worse.
"With the education system going down," says Jones. "If we don't have a plan, the future will just crumble."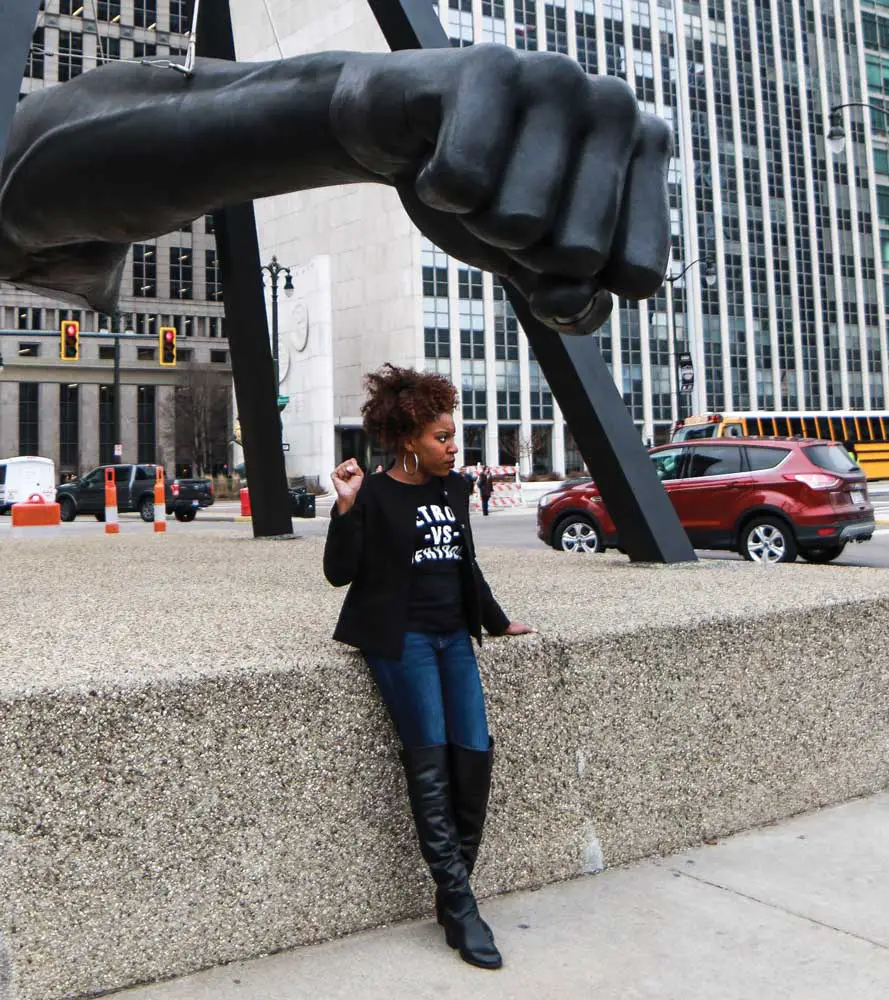 Back in February, President Donald Trump selected Michigan's own Betsy DeVos as secretary of education for the United States. Many people have since expressed their discontent and fear of DeVos' appointment, because they feel as though she is not the best pick for the position.
In an interview with "Teen Vogue," Jones responded to a question pertaining to this issue, as well as a response speech given by Dannah Wilson, a 17-year-old girl who is also from Detroit. Wilson went viral after giving a speech against DeVos during a hearing. Jones says she was inspired by this speech, especially because her and Wilson are both young women who share the same feelings.
"I know Dannah; she really touched so many of us because that is a narrative of so many people who grow up and actually live in Detroit," Jones told "Teen Vogue."
"I feel like our schools in Detroit have been left behind. We have great teachers, we have great students, we have so much talent in Detroit, and because of the lack of investment into our [public] schools, that's just going away because they want to bring charter schools to Detroit and they weren't really regulated. So [Wilson] really echoed a lot of our sentiments."
But, when the sun sets in Detroit, Jones is still a regular twenty-something woman. When she's not out there campaigning, or following her dreams, she likes to spend what little free time she has catching up on missed birthday celebrations, enjoying a scoop of ice cream from Cold Stone Creamery, going on sushi dates or catching up on sleep—which usually involves more dreaming about political policies (and more food).
Even when she's sleeping though, Jones is awake to the issues Detroit and the rest of the U.S. is facing, especially when it comes to strong women in their respective career paths. Through her journey, her biggest lesson has been strength. She says women—especially young women just starting their lives—must stay strong, and she hopes her campaign can be self-evident of that truth.
To learn more about her campaign and what Jones is doing, find Jones on Twitter @MyyaDJones or donate at www.myyadjones.com.