Spartan Skiers
For members of Michigan State's Water Ski Club, the hardest part is picking a lake.
By Gwynn Lyons, Stanford University
---
For members of the Michigan State Water Ski Club, waterskiing is life.
The club consists of skilled and novice waterskiers whose love for the sport propelled them to the top three in Midwest Regionals and earned them a spot at Nationals this year.
The club competes in three events: slalom, trick and jump. In slalom, competitors ski on one ski around buoys for as long as they can while the boat speed increases and rope length decreases. In trick, they perform stunts such as 180s. In jump, they try to cover as much distance as possible while airborne.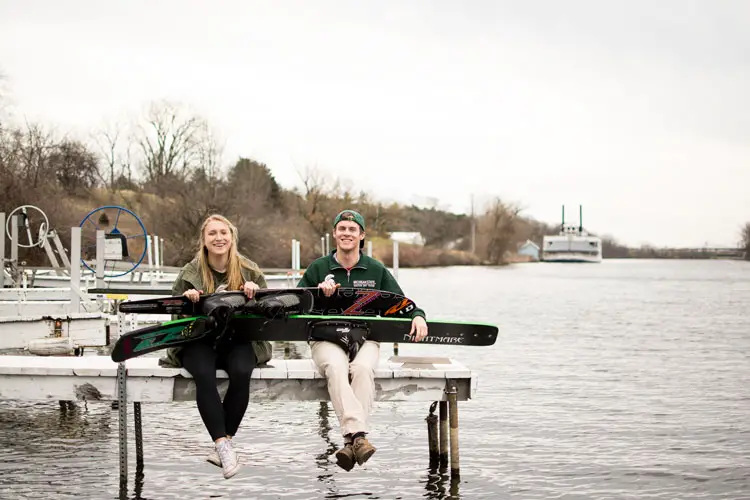 Jump is the most dangerous out of the three events, says President of the Michigan State Water Ski Club Jessica Carr. Even though skiers wear helmets and padded suits, they can still get injured. Carr once split her face open during a failed jump, but loves the sport despite its risks. "I've fallen very hard for water skiing," she says.
Waterskiing is a common recreational activity for natives of Michigan, a state whose more than 11,000 lakes provide opportunities for them to do water sports practically in their own backyards. The men's captain of the Water Ski Club, Alex Clark, first started waterskiing as a child.
"My family has always had a passion for water skiing. Our summers were spent on the water, so it was really a way of life," he says. "When I got to MSU, I joined the team on a whim since I had never competed. Since then, my passion for the sport has only grown."
One of the club's greatest appeals is its camaraderie. "There is no greater feeling than skiing a personal best and having your entire team sprint down the lake to be there when you get to shore," Clark says. "It's so rewarding to have all of your closest friends so genuinely excited when your hard work pays off." Many members who come to the team with no experience learn from older members. Team members in the same major help each other with schoolwork when the team has to take time off school to travel.
The Water Ski Club's sportsmanship got it recognized in 2015 at Nationals, where it received the Spirit Award. "We were out there in green and white, yelling for each other," Carr says. "The Spirit Award showed how much we love skiing and MSU."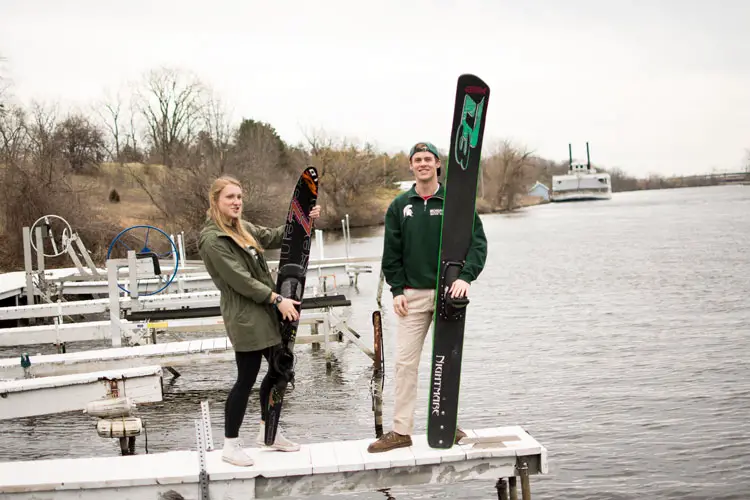 In order to sustain its success, the Water Ski Club has had to face several challenges, including money issues. The group does not receive sufficient funding from the university and alumni to cover its costs, so members have to pay out of pocket. According to Carr, this year the team needed money for a new boat but was unable to afford it. "It causes a lot of chaos," Carr says, adding that she contributed $1,500 to the team last year.
Another issue is the time commitment during competition in the fall. Carr says it is difficult to recruit freshmen, because they are often wary about spending most of their time with a group they just joined. Once they are recruited, they often experience great growth on the team. Next year, Clark hopes this growth will enable the Water Ski Club to capture first place at Midwest Regionals.
"Above all else, we hope to keep the passion for water skiing on a high at Michigan State," he says.