Liberty Zoo is a funky, all-embracing five-person band from New York City that welcomes the creation of layered music, incorporating tap dancing, loop pedal, rapping, flute and more into their playful grooves. Upon living in the same hippie space, known as the Potluck House, the band formed in fall of 2014, and began put on shows for their bra-throwing friends.
Liberty Zoo won Columbia University's Battle of the Bands last year, opened for Big Sean at the school's Bacchanal spring show, was highlighted in "Billboard" magazine and released an EP entitled "Small Things" in March of 2016. Headlining venues like the Knitting Factory in New York, Liberty Zoo's dreamy dance vibes will continue to inspire an "anything goes" approach to performing and lyric writing.
Bri Griffith: Tell me about the Potluck House.
Liberty Styles: It's a special, communal space—everyone in there is so unusual.
Jonah Hemphill: Weird, free-spirited folks.
LS: Every year, Potluck has a big party where everyone pre-games and meets at the subway at midnight. Four train cars are completely packed with people—we're all really drunk and smoking on the trains. We get off at Coney Island and run naked into the water. That's the vibe of Potluck—chaotic, fun and ridiculous.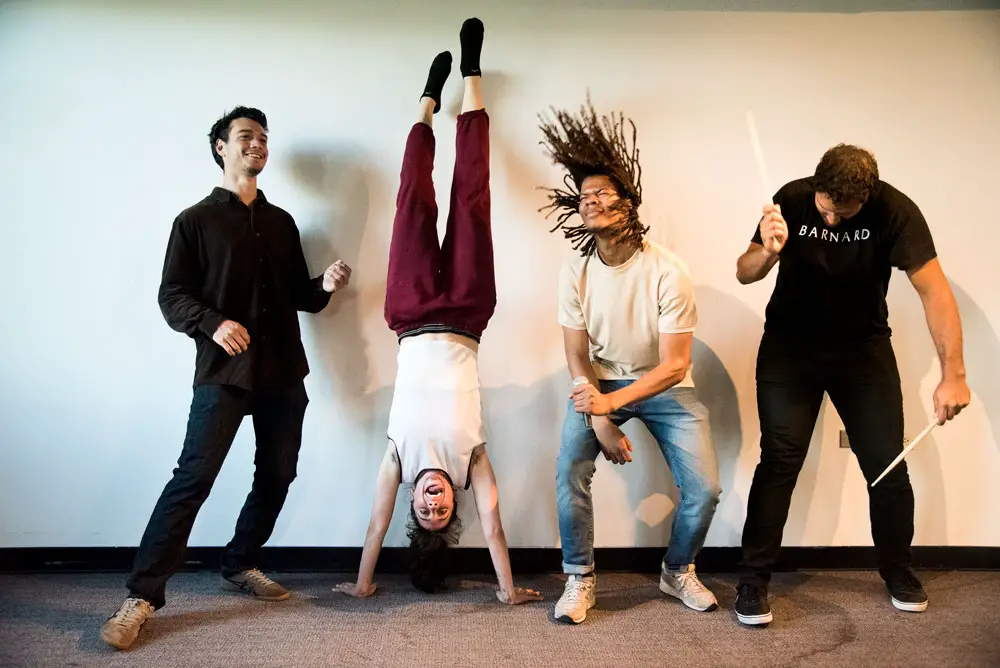 BG: Where did the name Liberty Zoo come from?
JH: Originally the band's name was Liberty Styles. After a while, it was weird getting questions like, "Are you in Liberty Styles?" People would come up to her, and she'd be like, "That's my name." As the band became more collaborative, we decided to change the name, and settled on Liberty Zoo.
LS: Liberty Zoo is crazy, chaos and freedom. Like a zoo, we're a bunch of characters.
BG: What inspired your "Small Things" title and cover art?
LS: I did the cover art [with help from] my friend Sasha Hill, who's a really cool artist. I like to draw small animals, and I have a style to my sketches. Sasha did all the water coloring. It ended up looking really bright, colorful and it's confusing—a rat dog with fins.
It doesn't make any sense, which I thought was appropriate. "Small Things," was a little bit of Talking Heads. In "My Life," we used a clip of David Byrne saying, "I like to write about small things." Talking Heads songs are seemingly simple, but then end up gaining a whole new level of meaning.
JH: We ran through a bunch of titles, and with "Small Things" it was instant, we didn't have to think about it. A lot of our songs talk about aging, motherhood and life, but we're chill—it's not too heavy, so it's ironic.
BG: How has being students affected your writing process?
LS: I took this Jazz Literature class, and it focused on how Jazz musicians talk about life in their writing. We learned a lot about splicing, rearranging and how thoughts are interrupted in conversation—a cut and paste approach to music.
JH: Our guitarist Sam [Klein-Markman] was in Cuba last fall. He listened to Cuban music and was studying Cuban percussion. Now that he's back, he's got that flavor. Our new stuff will be influenced by that—his soloing's got more flare.
BG: Being in a band, what would you say challenges you the most?
LS: Organizing. We don't have a manager, so getting all the shows together, and everyone in the same room—it takes a lot of emailing. [It's been tough] getting everything moving along [recording] while still trying to be a student, improving my own music and having enough time to do everything.
JH: We're students, we have jobs, so getting everybody in the same room at the same time. We need rehearsals to sound good for shows to sound good, [and] we all have different schedules.
BG: What advice do you have for other college musicians?
LS: I'm guilty of this, but don't sit on your shit too long. Just get your stuff out there, because nothing's going to happen unless it's out there. Obviously it's important to want to polish [your work], but you can always send out second drafts. Be fearless, and let things go.
JH: Networking—see who's coming to your shows. Enjoy the music, and everything else will kind of come with it if the music is good.
LS: Make sure the music is what you want it to be, not what you think someone else wants it to be.
Check out Liberty Zoo on SoundCloud