Business major Mariam Chubinidze, a student at Hofstra University in New York, manages to juggle academic success and a social-media fitness personality with more than 23,000 followers on Instagram. Though she will be the first to admit that her account, and her life, are far from the picture-perfect collages of other fitness accounts, her relatability is one of the biggest sources of her popularity. Her feed is filled with all kinds of pictures, not just acai bowls and legging-clad squats at the gym, which makes it clear that Mariam is a student first and a fitness guru second.
Still, she has a knack for social-media networking, and has managed to reach thousands of women through the platform, all of whom she inspires with her real, down-to-earth mentality toward fitness. I was able to talk to her about balancing social-media fame with all the demands of being a student, let alone her rigorous fitness regime.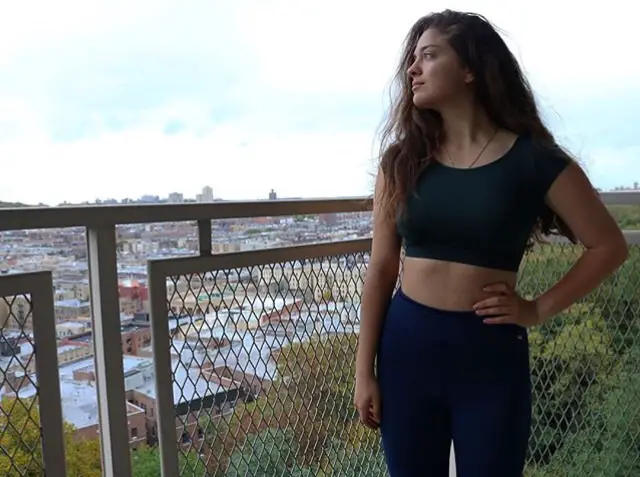 Kristina Fernandez: Where did you get the inspiration for your Instagram?
Mariam Chubinidze: After seeing @badgal_rahrah and her transformation on @Kayla_Itsines' Instagram account, I made an account to hold myself accountable while doing BBG. Leah's a college student, like myself, so I figured that if she had time to work out in her busy life, then I had time as well.
KF: From the start of your Instagram, how have you seen it change over time?
MC: I have seen both mental and physical changes, even some emotional changes. I've grown a deeper understanding of self-love by adding fitness into my life, and I realized that once I started prioritizing myself, I felt happier by the minute.
Physically, I haven't had a dramatic transformation, like many other Instagrammers or girls who have been reposted by Kayla, but I have noticed myself toning up, having more sculpted arms and less bloat. When I look in the mirror, some days are better than others, but I try to focus on the metal aspects of my transformation and see how far I've come.
KF: Do you find it difficult to keep up with content?
MC: All the time. Sometimes, I open the app and log off immediately because I feel pressured, by myself, to post something because it's been X amount of days since my last post, or I feel like I'm wasting time that could be spent studying or working out.
Sometimes, I struggle to figure out what to post. It's a constant battle between "Is this what I want to showcase?" and "It's my Instagram, so I can post whatever I want!"
KF: What is your main motivation to keep going?
MC: Seeing how happy fitness makes me. I love the post-workout endorphins, dope leggings and feeling strong. I even love sweating. I am my own motivation, despite not being as motivated as I was earlier this year.
KF: Your honest approach to fitness is so relatable. What is your relationship like with your followers?
MC: They're my friends, my family and my support. I turn to my Instagram when I'm down, excited or just feeling meh, and I know that someone will always be there to listen, whether or not I've actually met them. I try to stay as transparent as possible, so when and if I do meet people, they say I'm exactly like they thought I'd be.
KF: How have you seen fitness Instagrams, like your own, impact others?
MC: I've had girls come up to me at meet-ups or random events, saying that I've inspired them to keep up with their fitness journey because I'm such a busy person, yet I still keep up with it.
I've been told lately that I'm a huge inspiration, and that is what keeps me going with my own life as well. It makes me feel great to know that I was able to inspire someone, just like the way Leah was able to inspire me.
KF: What has been the most challenging aspect of maintaining your social media platform?
MC: For me, it's the struggle of engagements and posting photos. There aren't enough hours in the day for me to reply back to everyone on time, or have the patience to take a photo of my breakfast before I devour it.
KF: What advice would you give to someone who wants to create their own fitness Instagram?
MC: Do it for you. You don't need to impress anyone else. As long as you're happy, that's all that matters. Be as genuine and authentic as possible. It's 2017, and with how involved millennials are with social media, viewers can tell what is forced and what is natural.
KF: Throughout your experiences with your Instagram, what has been the most rewarding aspect?
MC: The most rewarding part has been the friendships I've created and grown, despite distance and if I've even met the person or not. Sometimes, you instantly click with other people. It doesn't matter if they're a 10-minute drive away or a 10-hour flight away. The friendships are so incredible and real; they make it all worth it.
KF: Are there any interesting things you have been able to do that you wouldn't have been able to do without your Instagram?
MC: Absolutely! Without my Instagram, I wouldn't have found out about @squareorganics. I'm currently their brand ambassador, and I demo their products and introduce them to people who may not have heard of the brand before.
I've been able to visit a few countries during my exchange as well, because I was able to stay with a friend that I made through Instagram (Hi, Lisa and Elin!). I've met some of my best friends, who I can't imagine life without through this app.
KF: What are your future plans for your Instagram?
MC: I'm not sure what the next moves are for my Instagram, but I'm reevaluating my posts. I want to inspire, influence and make a difference. It's not about the tangible products; it's about the messages and the meanings behind each post.
It's about empowering one another, bettering each other and impacting lives. It's so much more than a photo-sharing app. It's life changing.
Follow Mariam on her personal Instagram or her fitness Instagram here and here.