Losing a pet — basically a loved one — is never easy, but finding a way to help prevent other deaths has become Blythe Serrano's mission when she became inspired after her cat died from being run over by a car in the middle of the night. Norwalk Community College student Serrano has constructed a collar that lights up automatically in the dark, specially made for cats and dogs.
Winning a few pitch competitions in her community college, Serrano has also participated in "Maker Faires," which are located in Connecticut and New York and eventually led to the budding of her young entrepreneurship. Last summer, she had attended Connecticut's Westport Dog Festival to promote her cause. In last December, she won another competition that was outside of her academic premise, despite her lack of funding.
Ellyot Chen: What is your major?
Blythe Serrano: I am double majoring in honors liberal arts and engineering.
EC: What inspired you to study those two fields?
BS: I chose to double major in liberal arts honors when I was encouraged by a professor to join NCC's honors program, which gave me the opportunity to take challenging classes outside of the STEM field.
I was also inspired to become an engineering major because I had always loved building things ever since I was a little kid; I have done several robotics competitions before. After constructing the light-up dog collar, I became more inspired to become an engineering major since I hoped to gain more skills and learn how to construct similar products.
EC: How did the idea of a light-up collar first come about after the car accident?
BS: After the incident with my cat, I found out that many people around me also had their pets ran over. I even did some research and discovered that over six million dogs and cats are hit by cars every year in the United States, and I thought that number was incredibly big. From then on, I was set on reducing the statistic as well as preventing this from happening to other people's pets.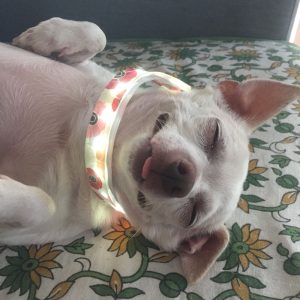 EC: How did you construct the collar?
BS: The collar itself is in two parts. It has an outer sleeve that consists of silicone tubing and stiff wire, which allows it to bend to the shape of the pet's neck.
In the collar, there are electronics — more specifically, it consists of LED lights and a simple light-detecting circuit that automatically turns on during the night and automatically off during the day. At the same time, there is a small rechargeable battery.
EC: How does your major, and the collar, drive you closer to your main goal?
BS: Since I'm currently in my second semester as an engineering major, I haven't taken the in-depth or specialized courses just yet. Nevertheless, my community college has a fantastic entrepreneurship program and makerspace; both have been very helpful in allowing me to move my ideas for the collar forward and think about the marketing and financial aspects of my project.
Before joining the program, I was unaware of the costs of the business side. As for the makerspace, the supplies consist of a 3D printer and laser cutter, which I am very grateful for. Altogether, the entrepreneurship program and makerspace has furthered my collar and business.
EC: Can you expand more on your involvement in the entrepreneurship program?
BS: Generally, NCC holds an annual business-idea pitch competition. Last spring, I entered my light-up dog collar and the judges were impressed with my idea. Winning this competition, I became more excited about what's to come for my product considering that it would be saving numerous lives.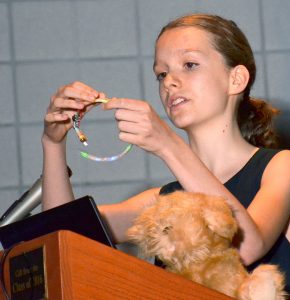 Also, the community college offers another intensive entrepreneurship program in the summer where they annually select 15 young future entrepreneurs, whose ideas will be set in stone into becoming actual products with a business and financial plan.
As I was invited to participate in the program, the process of me initiating my dog collar allowed me to develop and visualize what needs to be done and how to turn this prototype into something that I can eventually sell and market.
EC: What aspects of the collar would you like to improve on?
BS: For sure, I would like to improve the collar's durability because the silicone tubing is suitable for cats. However, I am afraid that a large dog could chew through it, possibly swallowing the collar along with the electronics, which would be undeniably harmful.
I want to expand on it with some more rigorous testing and by utilizing other kinds of silicone. Aside from that, battery life is another issue since the light-up feature can, at most, last for four days without the need to recharge. I have been thinking of using flexible solar panels or thermoelectric fabric in order to improve the lifespan of the LED lights.
EC: What are some possible plans for this collar, or what other projects have you had in mind?  
BS: I have done some brainstorming and thought of creating a dog sweater that lights up, which would be a fancier version of the collar. Though at the moment, I am more focused on launching the dog collar and I'm eventually hoping to incorporate a GPS into the product. Although GPS collars already exist, I believe the light-up feature and tracking ability would be a great combination for the collar.
EC: That would be helpful in the long run, especially since some pets frequently have their own sneaky ways of escaping their homes, without us even noticing.
BS: Yes, exactly. Once your pet has left the area, a notification would alert the owner of their pets' whereabouts. I imagine that there would be a network-working system that would easily allow the owner to contact their other local pet owners to keep an eye out.
EC: Were you hoping to extend this project not only to cats and dogs but also other pets, like snakes and hamsters?
BS: If they are willing to wear the products, sure! I was mainly targeting cats and dogs since, after all, they are the most common pets and most often being run over by cars. However, since the collars are very small, they can definitely be made small enough for other pets as well, so why not?