Playing Like a Grrrl
Abad, the music director of the school's radio station, also organized 'Play Like a Grrrl,' an all-girls show that fundraised for the local women's shelter.
By Jasmin Suknanan, Stony Brook University
---
Janelle Abad, a senior Electronic Media major from Texas, is helping local musicians expose their work to other Texans.
KTSW 89.9, the Texas State University radio station, first caught Abad's ear when she was applying to the university. She has since been working with a team of over 100 students to run programs and broadcasts at the San Marcos university. But now, Abad is tackling something that's much bigger than her campus: She is organizing the My Radio Festival in the Hays-Caldwell Women's Center in San Marcos.
My Radio Festival (MR Fest) is a free music festival organized by students from KTSW. The festival is a chance for local artists to gain exposure and play for large crowds. Although San Marcos is home to many musical artists, it is often difficult for bands to find locations to perform at long-term.
Celebrating its 10th anniversary, the festival also includes a national headliner. This year, it's HIGH WAISTED, a pop/rock and roll band from Brooklyn, New York. Abad has communicated with over 50 bands while organizing the event. In addition to organizing MR Fest, she also runs "Play Like a Grrrl" on KTSW, an empowering, all-girls show.
Jasmin Suknanan: When and how did you get involved with My Radio Festival?
Janelle Abad: Well it's held by KTSW and I'm the music director there, but it's a bit of a collective process. Every person at the station has a role. We have an executive staff of 16 members and a general staff of over 100 members. Our sales manager has the duty of handling sales, and I help with booking bands and the headliner.
JS: How do you find and pitch to local bands to play at the festival?
JA: It's a really cool experience, and since it's the 10th anniversary, our mayor declared the last weekend of April a music holiday citywide, so it's well known in the community. Bands can fill out an application online and see who gets to play where and who gets accepted, so we don't really have to ask them to sign up.
JS: How do you balance organizing the festival with your school?
JA: It's really hard. I'm a huge fan of to-do lists, and I invested in a meticulous planner that helps me organize things. Motivation-wise, whenever I'm going through a rut, KTSW is a family environment, so it's easy to devote free time to the festival and to KTSW.
JS: What has been the most challenging aspect of organizing the event, and how did you overcome it?
JA: The longest part was getting a band to say yes, and we don't really have a budget, so all of our money comes from sponsors. Plus, it's a free event, so there's no charge. Because it's the 10th anniversary, we wanted to go out with a bang, and we didn't really have the budget for big bands. Another challenge is trying to balance school with my part-time job and other commitments that I have.
JS: Are there any cool things you get to do as an organizer that you wouldn't have been able to do without your position?
JA: Yeah, collaborating with other people. KTSW has been a good hands-on experience, especially since my major isn't related to the music industry, so networking and communicating with people in the "real world" has been great.
JS: Can you describe the music scene in San Marcos?
JA: In the town specifically, when I first came to Texas, it was a lot of grunge rock, and as I got older, those bands got older and moved to Austin. Right now, bands are influenced by Led Zeppelin and others, and it's cool because they're a tight-knit community, and there's a lot of folk as well. It's harder for bands to find a stable place where they can perform, though. There are some punk bands here too.
JS: How have you contributed to the local San Marcos music scene?
JA: Since there aren't that many venues in town, I help bands book shows and find house shows. I have also been helping to promote shows as well.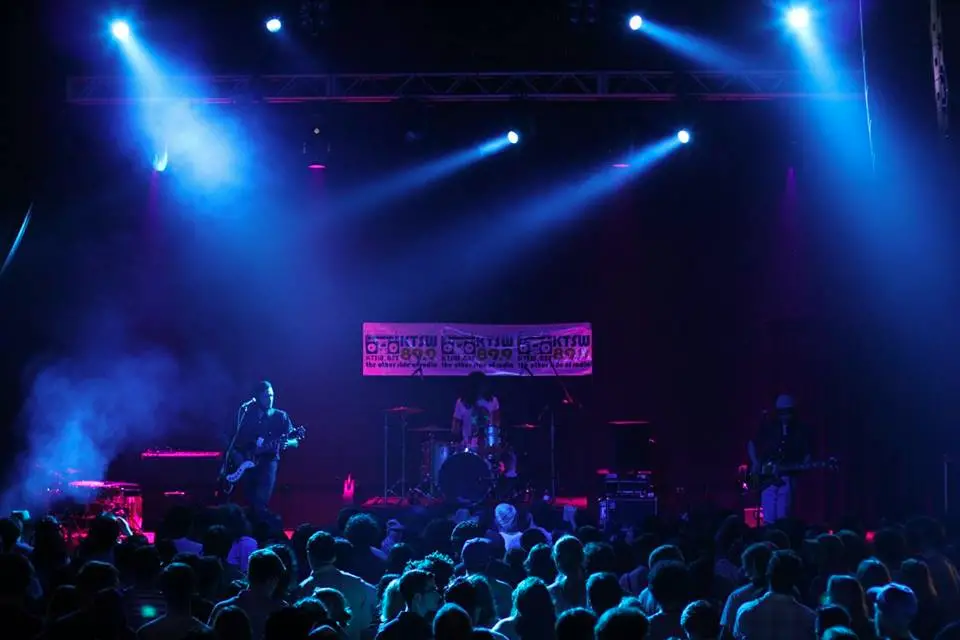 JS: How do you hope to contribute in the future?
JA: In a dream world, if I had the money, I'd love to buy a house that would be a solid place for bands to perform.
JS: Can you describe your show, "Play Like A Grrrl"? What inspired you to start it?
JA: It wasn't KTSW-affiliated. Two good friends from work put that together on International Women's Day. A girl came to me five months ago and said it would be awesome if we could do an all-girls show.
So, after winter break, I came back and decided it would be cool for the community. We originally wanted to have Planned Parenthood as the beneficiary, but we decided that the Hays-Caldwell Women's Center, which brings awareness to domestic violence, was more meaningful to us, so we went with them.
JS: Approximately how many people tune into your show?
JA: We didn't take a count, but we raised over $700 total, and everything went to the center.
JS: What kind of impact do you think "Play Like A Grrrl" has had on listeners?
JA: It was cool because afterwards, we noticed other friends trying to put on something similar, so it encouraged more people to realize that they can do the same thing, whether or not they're affiliated with KTSW. The center is also a beneficiary that hasn't been recognized in the past, so they're grateful to us.
JS: What are your future plans for KTSW and "Play Like A Grrrl?"
JA: For "Play Like A Grrrl," I don't know if we can do another one in the future, but we would like to have bigger bands. I'd love to go up to Austin and have more vendors. For KTSW, you have to be a student to work there, and since I'm graduating, I won't be able to work there anymore.