Overcoming Obstacles
Bachman, who has family members with disabilities, works with a 28-year-old buddy and is majoring in Early Childhood and Special Education.
By Lindsay Biondy, University of Pittsburgh
---
Heather Bachman has never been one to back down from a challenge.
Since starting college at West Chester University (WCU), she's joined seven different organizations through school, worked on executive boards for four of them and founded one of them. Though the average student may find her rigorous schedule daunting, Bachman considers her busy schedule to be the key to success.
Education for Education
Ever since she was a little girl, Bachman knew that she wanted to follow in her mom's footsteps and become a teacher, so a dual major in Early Childhood Education and Special Education was an easy choice for her.
"When I was young, I was always playing school when my friends came over. I loved going to school, and I took my baby dolls everywhere; I always loved kids," she says.
It wasn't only her knack for education that started at a young age. When she was in middle school, Bachman volunteered at the after-school program, working with younger students as they did their homework and helping teachers run the program. "Teaching little kids just always made sense to me," says Bachman.
Queen of the Mountain
You've probably dabbled in rock climbing once or twice in your life, but Bachman has made it her own. What started out as a fun hobby after class quickly transformed into one of the main aspects of her college career.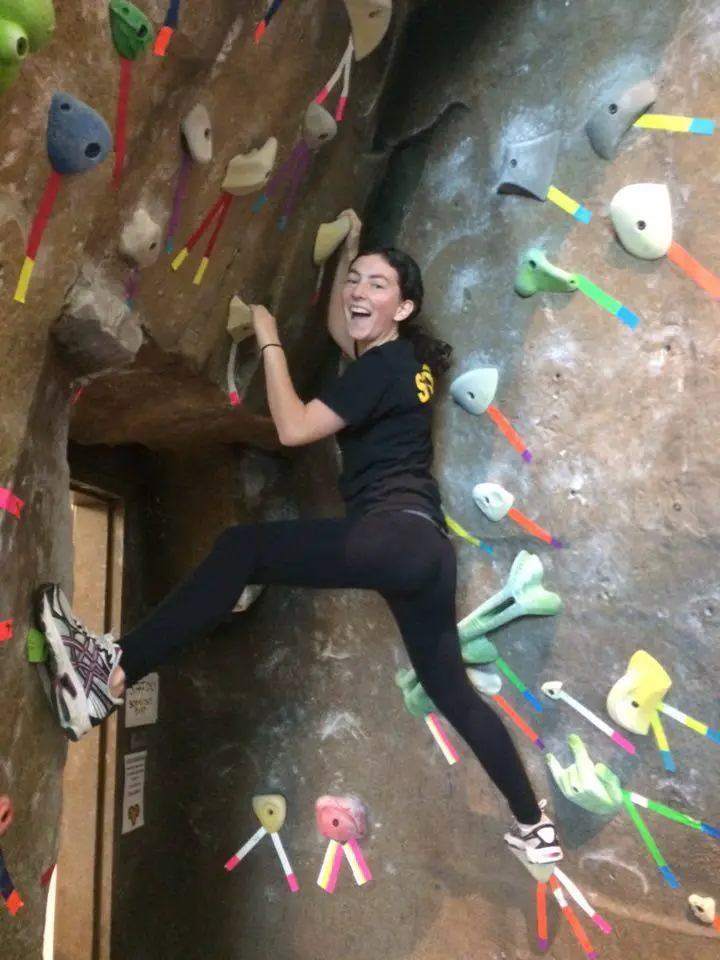 "When you're a freshman, you want to try everything, and I knew I wanted to try climbing the rock wall we have in the rec center," she says. So, a few weeks into her first semester, Bachman convinced her friends to go with her, and it was love at first climb.
"My first time, I made it all the way to the top and followed the route perfectly. Some of the workers said I was a natural, but I now know they say that to basically anyone who gets to the top without cheating. I remember it gave me the adrenaline rush I always look for in life," says Bachman.
She went back every single day after that, and it must have been fate because her classes ended at 3 p.m., and the wall opened at the same time, so she could climb all day. She got pretty good too.
"Some of my friends convinced me to compete my freshman year in a climbing competition. It was in December, when I was still a new climber, but they talked me into it, and I came in third behind two guys! By the time the end of the year rolled around, I had successfully climbed to the top 400 times."
It's no surprise that she started working at the rock wall her sophomore year, but she went beyond that and co-founded WCU's rock climbing team as well. She already had previous experience as president of the Outdoors Club on campus, so she helped present their case to the Student Government Association and Sports Club Council, then she began her time on the executive board as the founding secretary.
"I just wanted to create a team that could go to competitions together and share in a love of climbing," Bachman says. "There's a bunch of us who are always seen at the wall, and we wanted to have more opportunities to climb."
Not only has rock climbing given Bachman great abs, but it's given her more confidence and taught her how to become a leader. "I found my voice, and I'm not as shy anymore," she says. "I'm not afraid to ask for what I want. I feel like I'll be a better teacher now that I'm so much more confident in myself and able to put myself out there."
Becoming Best Buddies
One of the most rewarding organizations Bachman is part of is Best Buddies, a club based on Best Buddies International, a non-profit organization dedicated to ending the isolation of people with intellectual and developmental disabilities (IDD). There are various chapters at high schools and colleges across the country, and they strive to create friendships between all students.
Bachman is a peer buddy, so she's developed a one-on-one friendship with her buddy, Chris, who she tries to get together with at least once a month for dances, bowling, game nights—anything a classic college student would do.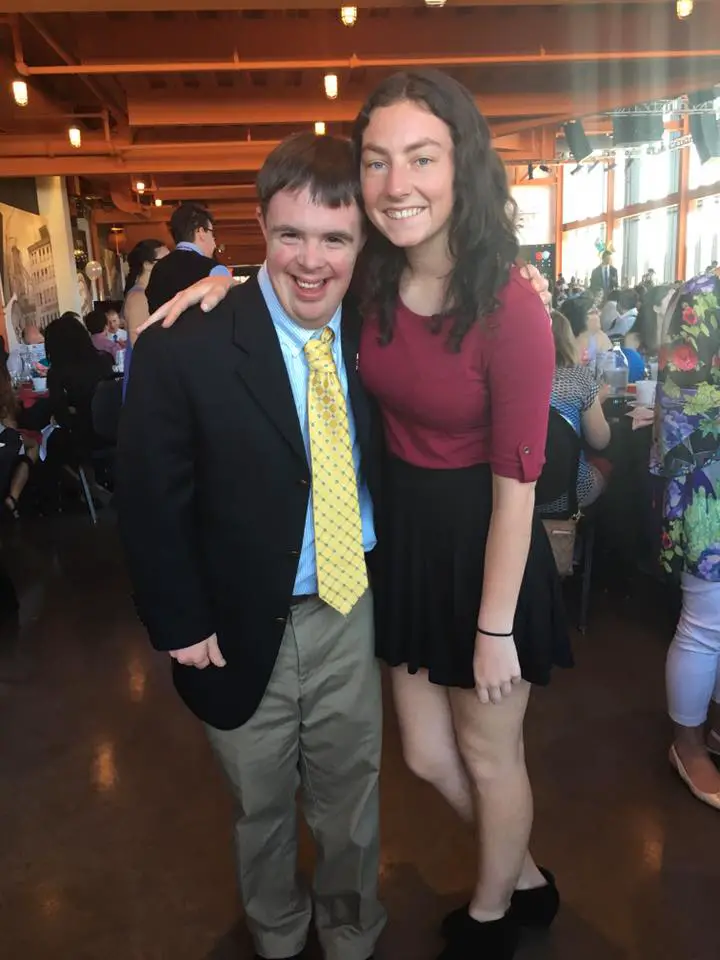 "He was 26 when we were paired together," Bachman says. "He's 28 now and absolutely incredible. He tells me all the time that I'm his best friend, and he's definitely mine too. We share a love of the outdoors, and he teaches me the coolest dance moves."
Chris lives about an hour away from West Chester's campus, but that doesn't dampen their friendship. When they're not together, they make sure to email and text each other, and if you think having a developmental disability hinders his conversation skills, you'd be wrong.
"He's a talker, and if you ever ask him how he's doing, he always answers 'FABULOUS!' And he really is no other word than fabulous. He is the greatest friend I've made through the Best Buddies club, and it's sad that next year is our fourth and final year as one-on-one buddies, but he'll always be my friend."
Best Buddies has always had a special place in Bachman's heart, even before she met Chris. She has a cousin and a great aunt who suffer from mental disabilities, and while neither of them were involved in the Best Buddies program, she knows that she's making a difference.
"I was always around [mental disabilities] growing up, so I'm comfortable with it," she says. "Seeing all the incredible people with IDD is the most inspiring thing. They are the happiest and friendliest people, and they always put a smile on my face. Everyone says that when you're sad, think how good you have it, so I think the fact that everyone I've met with any type of disability is always so happy, even when they have every right to be sad, is eye-opening."
It's clear that Bachman's experience with students with IDD will impact her future classroom as well. "I plan to teach all my students to be patient and include everyone, no matter what differences they have," she says.
Even after graduation, Bachman plans to continue doing what she loves. "I will have to leave the WCU Best Buddies chapter, and Chris will get a new student buddy, but that doesn't mean I'll lose touch with him," she says.
"I'll have to hand over my executive board position for the climbing team and stop going to practices, but that doesn't mean I'll stop going to other gyms or climbing every rock I see when I'm hiking. I'll have to give up Outdoors Club, which I brought up from nothing, but I'll never give up my passion for the outdoors and my love for an adrenaline rush."