Underwear: most people wear it, but most don't talk about it. For a lot of people, though, clothes impact how they feel about themselves, which is a realization held by many. That's what inspired Helen Fleischer to develop IntimaQ, a business startup working to provide gender-inclusive underwear for trans and gender-nonconforming individuals.
Fleischer, a senior at Oberlin Conservatory of Music, studies horn performance but carried a passion for business almost all her life. She credits her mother, also a businesswoman, as her role model but says her love for business comes from the connection to the music world, too.
Music, especially music theory, Fleischer says, involves strategic and creative thinking, just as developing a business does. Enjoying math and numbers is a plus, too, and helps with the logistical side of business models and projections. But, as many first-time entrepreneurs will say, her knowledge of startups was limited.
Luckily for Fleischer, Oberlin's LaunchU — a business startup accelerator and competition — taught her the foundations of creating a startup in early 2017. She says the bootcamp-style process in January gave her the valuable experience and guidance she needed to pitch IntimaQ at the competition in March, where the idea came in second place.
LaunchU taught her a lot, but Fleischer says, "I'm learning every single day still, and I expect to be for hopefully the rest of my life." That sentiment applies both to the business world and the communities she hopes to help with IntimaQ, as she's been working every day to be the best ally she can be.
Being an active ally and using her privilege to solve everyday problems is one of Fleischer's main goals with IntimaQ. The idea for the business came from being an RA in Oberlin's Trans and Women's housing and grew on the proud and supportive campus. Though Fleischer was always passionate about gender equality and trans rights, being an RA opened her eyes.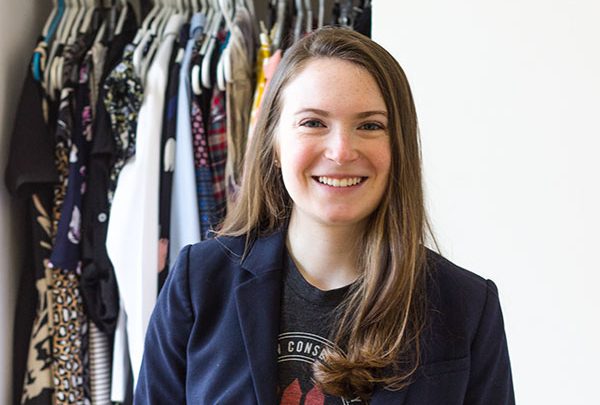 "While I was engaging in trans activism surrounding legislation and discrimination, I was becoming more aware of day-to-day problems that are neglected from the conversation, such as access to validating and functional underwear," says Fleischer. Though it is a personal topic and can get awkward to talk about, conversations with friends and others she lived with helped Fleischer to see the issue with limited underwear options.
That's how Fleischer knew trans and gender-nonconforming communities needed comfortable and functional underwear and, just as importantly, that a conversation needed to start. Going from there was a bit of a challenge, as Fleischer explains, "I don't know what I'm going to do with this, but I know it's a problem that needs a solution." Luckily, responses to her idea have been positive.
Researching the market led Fleischer to send out a consumer survey on Oberlin's campus around Nov. 2016. The overwhelming response reassured Fleischer that what she wanted to do would fulfill a lot of needs.
Whether it's underwear that allows for tucking or packing or other gender-inclusive options, IntimaQ would be providing communities with what they want. Those surveys are one of the most important parts of developing the business.
Customer feedback gives Fleischer great insight into what work she should do with IntimaQ. "None of the work that we're doing is guesswork. Everything we're doing is through consumer feedback and as much as possible is coming from the community," she says.
Fleischer and her team aren't doing what they think people would want — they're doing what they know people need. Community feedback has been an integral part of the learning process, but Fleischer greatly appreciates the other members of her team.
"What I'm trying to do is be a facilitator for other people's voices and needs to be heard and met," Fleischer says.
The senior is grateful for all those who have helped her along the way, including IntimaQ's chief designer, Billie Green. She acknowledges that without Green's help and knowledge of the design process, IntimaQ wouldn't have gotten far.
Green is responsible for designing IntimaQ's products and the meticulous process of creating tech packs, which are manuals that explain how the products should be made. She also constructs the prototypes and tests materials Fleischer suggests, getting everything done as quickly as it needs to be. For Green, that's no challenge since IntimaQ does work she's always wanted to do.
Making affordable and accessible clothing is the main goal for the IntimaQ team, as Green says, "The most important thing is that the fashion industry now is not accessible to most economic classes and is inaccessible to the trans community. It doesn't represent anything I stand for, and I wanted to do something. I've always wanted to help people."
IntimaQ makes change possible, as Green adds, "It's incredible to me that I get to be a part of this, and it's exactly what I want to do. I love that Helen is so here for it. I get to do this for my community, and it's something that's not been done before." Green's passion is a great fit with Fleischer's, and without Green's help, Fleischer knows her vision would not have become a reality.
"What I'm trying to do is be a facilitator for other people's voices and needs to be heard and met," Fleischer says. "It's not about me, I'm just trying to find and provide a solution to help people I care about, to make even just one person's life better, and this is just one way to do it." Fleischer's use of her privilege and voice in this matter to make a change only strengthens her cause and makes IntimaQ an incredibly important business.
While Fleischer can't give too many details about where IntimaQ is currently, she does say that they are in the prototype stage. This involves testing with handmade products before going to manufacturing. While Fleischer enjoys this transition, she says it is taking time because she and her partners want to ensure that whoever they look to work with upholds the same values they do.
Fleischer hopes that the success her and her team have now will lead to the long-term goals for the company: expanding IntimaQ's line to clothing besides underwear and making a positive change in the fashion industry for trans and gender-nonconforming individuals.
Though Fleischer can't say exactly when or how IntimaQ will expand in the future, she definitely plans to make as much positive change as she and her team can. You can check out IntimaQ's website and follow on Twitter, Instagram and Facebook to see what they're up to next. At the end of the day, Fleischer wants to encourage others to share what they want from their underwear and to become a part of the conversation.