As a columnist in Hong Kong and Taiwanese media, Jessie Yang has always felt writing as an outlet to be herself, describing it as "a world where I can express how I feel." Yang as well as another founder of the media platform The Wandering Voice decided to give the downtrodden a place to tell their stories.
Currently in her third year as a student at Hong Kong University, Yang has found a real-world use for her area of study, media and cultural, from her time spent in the U.S.
The major explores subtopics in sociology, which has helped Yang observe and make sense of social issues from different perspectives. By applying her studies to her own personal experiences as a student traveling abroad, Yang began to understand how social structures and media converge to influence individuals.
While studying abroad at the University of California, Santa Barbara, Yang discovered America's historical build was not geographical, but rather racial. She realized that the world-renowned story of America's origin wasn't so clear-cut as its own people believed.
The true history of "The Great United States" isn't known by most of its citizens, a TA at UCSB told Yang. Instead, she described how "Americans are strangers" in their own country.
Yang continued delving more into America's lack of cultural awareness, including the one that came in their own country before colonization had even begun. While studying in American history classes, she recalls learning about Abraham Lincoln and JFK, but very little about foreign countries such as China, Japan or Korea.
Yang believes this keeps Americans in a "bubble" where they see their world as "The World," which can cause tension and ignorance when it comes to refugees and other ethnic groups entering the U.S. The escalating tension then leads to prejudices, discrimination and the formation of minority groups — a connection, she realized, that also exists in Hong Kong.
Whereas Yang currently studies in Hong Kong, local ethnic minorities such as Pakistani, Nepalese and Indian citizens, as well as immigrants such as Filipino and Indonesian domestic workers, tend to fall victim to discrimination, prejudices and misrepresentation in the media. Being Taiwanese, Yang came to realize her own privilege and the need for better representation of these groups.
With the help of the platform's other founders, Innocent Mutanga and later-acquired media head, Suskihanna Gurung, Yang generated The Wandering Voice, a media news company in Hong Kong. The Wandering Voice is dedicated to telling the stories of migrant domestic workers, refugees and ethnic minorities.
The company's mission statement on their Facebook group page reads, "To provide an active voice for those in search of identity and hope." The Wandering Voice publishes both bilingual articles and video content to humanize real depictions of discriminated communities.
The media news company also features several articles on individuals from diverse groups and backgrounds. Some of their published works include personal stories of seeking refuge, migrating to Hong Kong, skills and accomplishments of minorities, as well as articles that aim to help readers understand these groups and debunk misconceptions.
Yang dedicates her skills in media and writing to help produce content that discards prejudice about status and identity. However, while in the process of starting The Wandering Voice, she faced the internal doubt that no one would understand what she was doing or why she was doing it.
Yang said that one of her biggest setbacks in creating the media news company was trying to convince individuals who already had a preconceived idea of immigrants and discriminated communities that her media platform could have an impact on society's perception of minorities.
"We, as students, have the responsibility to raise awareness about social issues and help shape society."
Nevertheless, Yang decided there were ways to try to change how people of Chinese descent viewed these groups. Outside of the content created and published on The Wandering Voice, Yang and her teammates host school programs to educate Hong Kong University students and others about refugees and minorities.
The "A Day in the Life of Others" event has received positive feedback from its participants, with one person saying, "It was really inspiring as we get to experience and know more about the life of refugees, domestic workers and ethnic minorities in Hong Kong." Others have referred to the event as "a precious opportunity to promote mutual understanding, to learn of a new culture and make friends."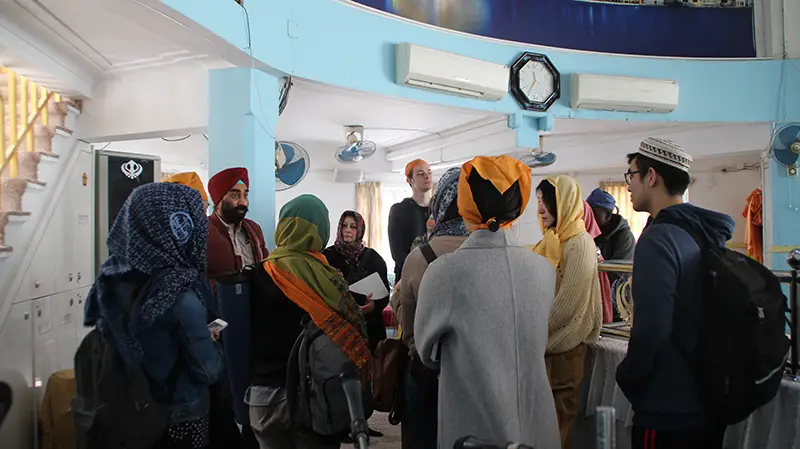 Yang was ecstatic to see the event so well received despite the often negative and stereotyped representations of minority groups in Hong Kong. The publications and school programs give students the opportunity to meet and speak with immigrants and other minorities and hear their stories.
In addition, Yang hopes students also learn of their own privilege. The goal of the event is for students to take away a true image of the minority groups aspirations and "strength in overcoming hardships."
Yang continues to reach out to individuals in Hong Kong to help them tell their story. She said for every interaction she must begin by establishing a sense of trust and friendship, no matter which community the individual belongs to.
For communities that have been exploited by local media and other organizations, it is important to create a sense of a safe place. With two minority group members on her own team, Yang feels as though The Wandering Voice can fill the gap of distrust between minorities and Hong Kong organizations.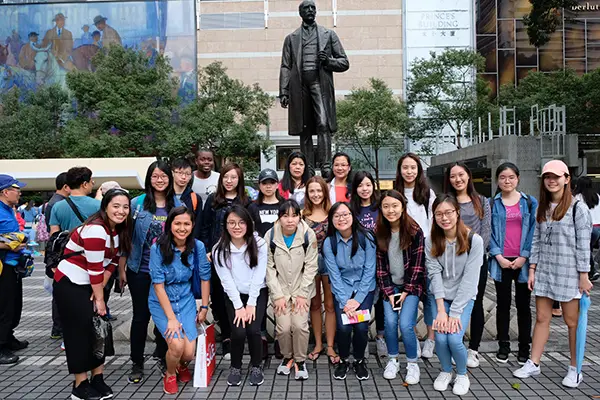 The co-founder of the company invites readers everywhere to check out the stories on The Wandering Voice to learn more of their efforts to fight discrimination and stigmas toward domestic workers, minorities and refugees.
Some of their featured work includes "Confronting the Stigmatization of Refugees in Hong Kong" and the documentary on drug abuse in the Nepalese community in Hong Kong, "Second Chances."
For now, Yang's efforts will continue within Hong Kong as she and her team work to branch out their school programs to other universities outside of HKU. Yang hopes to one day expand The Wandering Voice's vision of "providing an active voice for those in search of identity and hope" to Taiwan, Mainland China, the Philippines and anywhere else she feels their safe place and trusting approach to promote inclusivity is needed.
"We don't want to act like saviors," Yang makes clear. "The Wandering Voice isn't meant to 'save' individuals, but rather reflect on their journeys, hardships, as well as qualities and skills that help others realize, 'Despite our different backgrounds, we all face our own struggles.'"