Some people take selfies for the hell of it. Hannah Altman takes them to showcase an intimate, not always "pretty," view of femininity.
Using photography, Altman pushes against the societal standards placed on the female body. In her work, she uses ideas such as the damaging effects of keeping up appearances to appeal to others, the relationship between mother and daughter, and the positive portrayal of the female form. Her work has become well-recognized and featured in publications like "Buzzfeed" and "Format Magazine."
The Point Park University student is busy preparing for graduation and exhibiting her work all over Pittsburgh (in fact, she'll be in a house show January 14, if you happen to be in the area). I was lucky enough to steal some of her valuable time to ask a few questions about future plans, current work and how the city of Pittsburgh has influenced her.
Ashley Wertz: To start off, what is your major and the school you're currently attending?
Hannah Altman: I'm a Photography major about to graduate from Point Park University.
AW: When did you start taking photographs?
HA: I can't remember a time when I wasn't devoted to visual art, but I got serious about photography as my medium around age 16.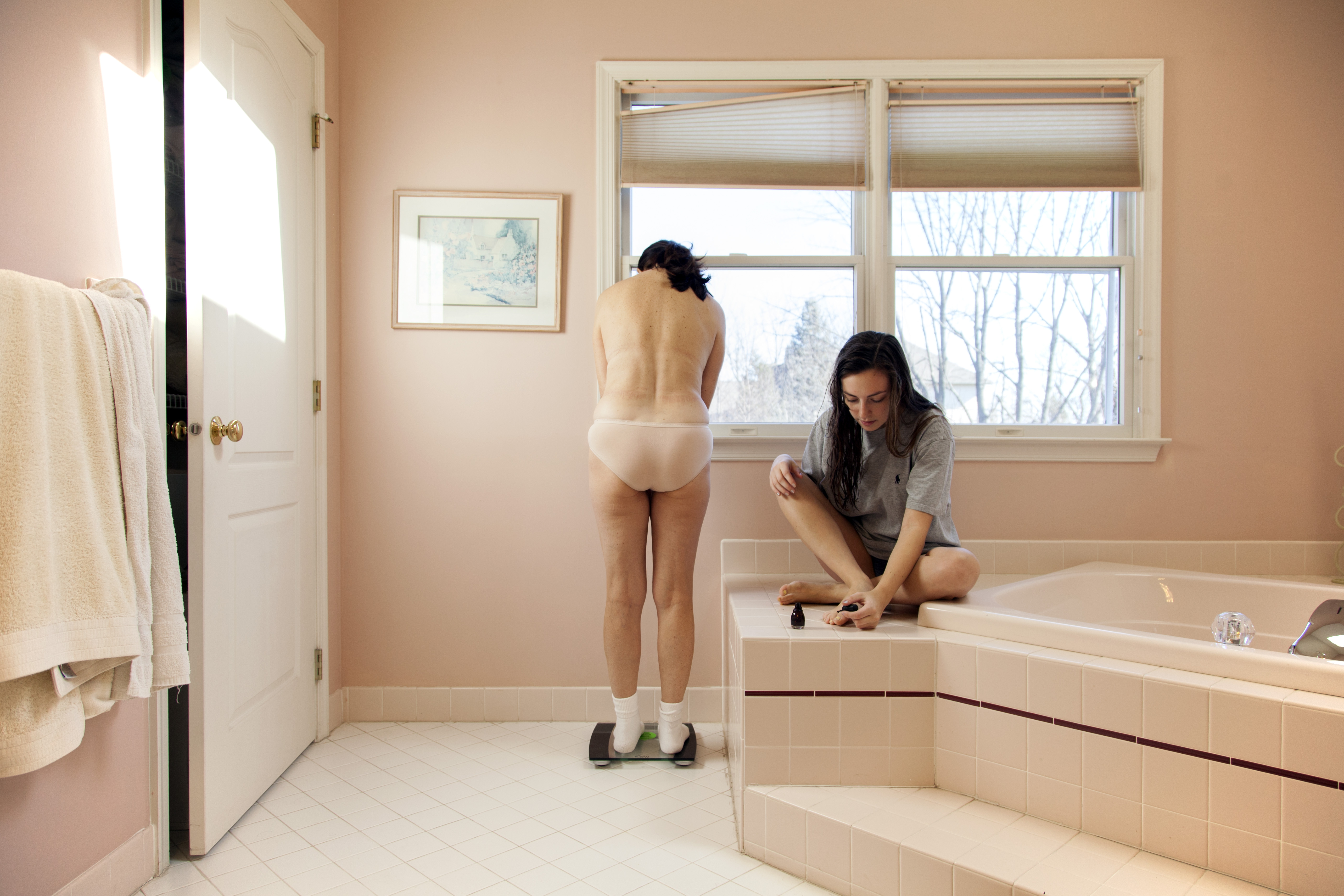 AW: Who/what inspires your photography and creative processes?
HA: Some Pittsburgh based artists who are making work that I love are Corrine Jasmin, Terry Boyd and Tyler Calpin. All different artists that are making some amazing work right now. I'm also always looking to absorb more photo theory. I've read a lot of Charlotte Cotton this year and think her artist analyses are really interesting.
AW: What themes or subjects do you most like to work with?
HA: I'm mostly interested in portraiture exploring femininity and domesticity for now. I've been so invested in interdisciplinary work over the past few years, particularly with mediums that are traditionally female-oriented, like needlework.
AW: You take a lot of amazing self-portraits. What led you to start taking photos of yourself on such a regular basis?
HA: Thank you! Self-portraits are truly the root of my work. I'm interested in the simultaneous intimacy and universality of documentation of the self. Being both the photographer and the subject provides complete control over how my body can be used as a tool of expression, which I think is critical for me in regards to both my womanhood and my emotions.
AW: Your current photography show, "Luminous/Weightless," focuses on the energy of the feminine form by using pinpoints of light from a light box. What can you tell us about this concept and what it means to you?
HA: The body of work is a celebration of the female body. The pieces are all portraits of some of the female influences in my life. Light is let through the bodies in the photographs via needle holes, and the prints are shown through light-boxes that let the light shine through the women. The photos are made to express comfort, positivity and power in the female body.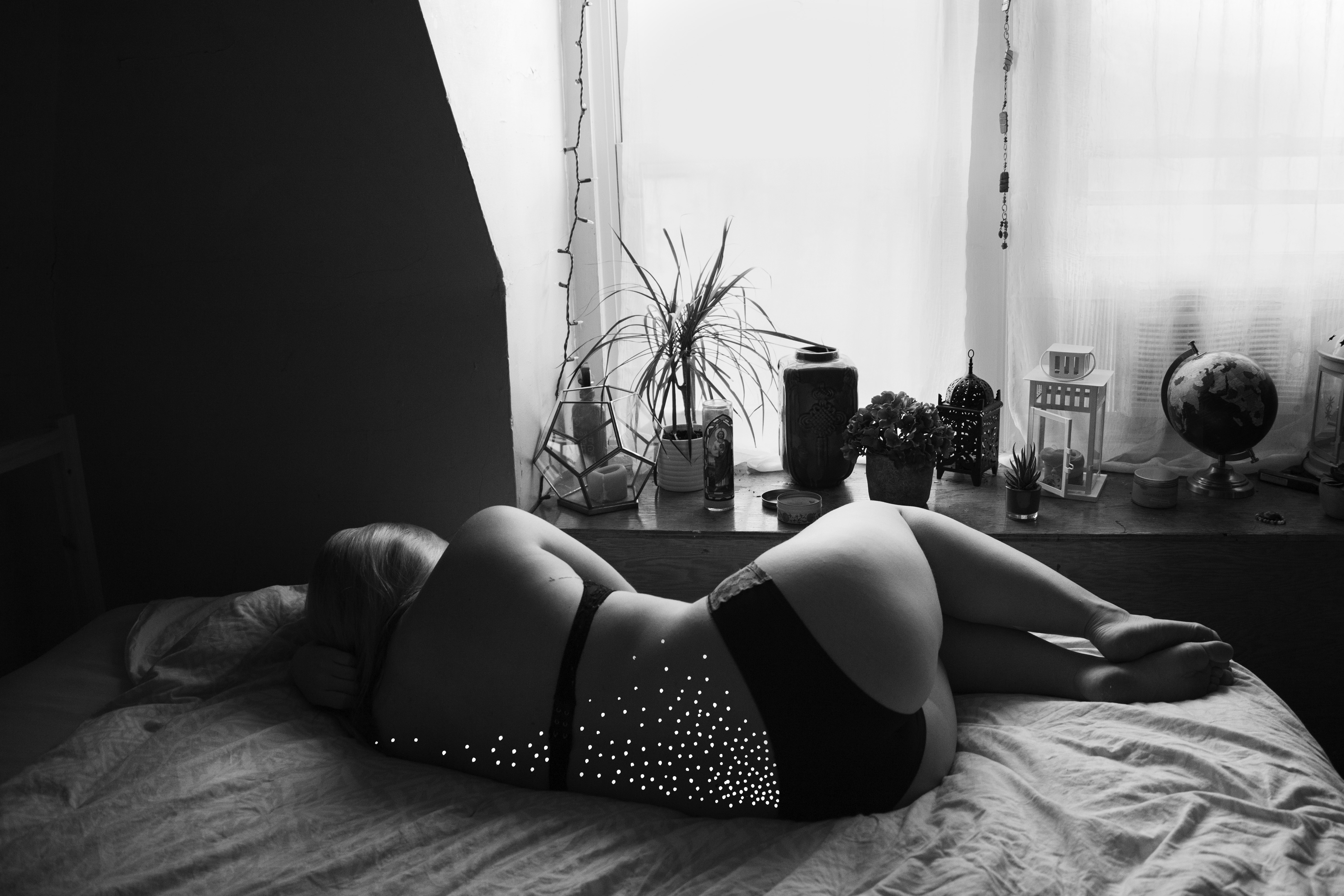 AW: What other projects are you working on?
HA: Like ten at a time, always. Right now I'm interested in learning more about fiber arts and how it can create a visual dialogue with photography, so I'm in the experimental stages of that right now. I've also begun a body of self-portrait work that specifically addresses the relationships between organic and manufactured shape and light. I have an ongoing project with my mother that documents our relationship, and we just passed the one-year mark on that body of work, so it's been interesting to reflect on that so far with her. I'm also graduating undergrad soon, so I'm shaping my thesis as well. And sleep. Trying to sleep a little more.
AW: Are there any artists or photographers you'd want to collaborate with in the future?
HA: I'm about to begin a collaborative project with local (and incredible) sculptor Saige Baxter regarding multigenerational female archetypes, so I can't wait for that. Pittsburgh is filled with incredible artists that I'd love to work with and learn from.
AW: What would you most like viewers to take away from your photography?
HA: My work is trying to instigate and encourage both visual and verbal conversation regarding the female body and thinking more extensively about femininity's role in contemporary art and society. There are endless ways to convey your body and emotions and my work wants to explore that complexity.
AW: Has living in a city like Pittsburgh shaped the way you view photography and the creative process?
HA: Totally. I love Pittsburgh. In the past few years that I've lived here, I've met so many people that have important messages behind their art. Beyond that, I've really lucked out and delved into a community where I can show them all a concept of what I'm working on in the middle of the night and get constructive feedback on it, which is invaluable.
AW: How do you choose the materials for your photos (Glitter, thread, concentrated light etc.)?
HA: Most of the materials I end up using have a domestic background. Glitter, thread and scrapbooking materials are often associated with women's crafts, and aren't taken seriously in the art world. I think it's an interesting juxtaposition to create "crafty" mixed media pieces with a serious statement.
AW: What are your long-term goals, photography-related or not?
HA: As long as I'm doing art-related things I am a happy camper. I want to keep on creating, keep sharing messages that matter to me and help lift up the work of others.
AW: What motivates you to continue taking photographs conveying important social messages?
HA: So, my mom wasn't always super down with me taking nudes all the time. But regardless, she always calls me whenever I publish a photo online to talk about it. She is an incredibly supportive mother, but usually tacks on a joke about inappropriate nudity on the internet.
After about three years of this, she called one night to tell me how much she liked a certain naked self-portrait of mine. I joked about her lack of a nudity call-out, and she replied that she wasn't thinking about that; she first saw the expression of the body and what the photograph was trying to say. That's the necessary switch that social change thrives on, and that's why socio-political art has a purpose.
AW: What has been your favorite project and why?
HA: If I answer this question with a specific body of work I'm going to read this interview in a year and cringe. Gotta keep learning and growing!
AW: And last, the most important question: Canon or Nikon?
HA: Canon! Forever and always.