Finding your own niche is hard. Finding a community that you can have strong beliefs in and have your actions be rewarded is hard. Getting heavily bombarded with clubs, schoolwork and other opportunities can be overwhelming — but college is where people often are able to find their purpose and sense of self.
Freshman Sam Shapiro from Georgetown University is an incredibly active student for just his first year. Already he has expanded his writing portfolio to his college's blog space, joined organizations and has created his own community. The most important aspect of Shapiro's college experience has been making others connect to their own college community.
Shapiro might seem like your average student who is enrolled in the School of Foreign Service, but his thoughts and personality are exemplified through his mindset of positivity and his involvement in his collective community. Collective communities typically hold a common entity that brings them together, which can range from social to political or even cultural aspects.
Gillian Farnan: In what ways are you involved on campus?
Sam Shapiro: I do a couple things on campus here in Georgetown. I work for Campus Ministry as a hospitality team member, I'm also a part of Alpha Epsilon Pi fraternity and I write for the Fourth Edition Blog for the Hoya, the school newspaper on campus. I also just got asked to be an orientation advisor for the summer. An orientation advisor helps guide and mentor the first year students during orientation.
GF: That's cool, congratulations! Tell me more about Campus Ministries — what is it, exactly?
SS: Campus Ministries is a place where students can satisfy their spiritual needs. There are many diverse religions that are found on campus and Campus Ministries is at the disposal of students. Offices at Campus Ministries include a rabbi, chaplains, priests and an Imam to name a few.
All of their offices are right next to each other and offer services for everyone. I like knowing that I get to be a big help to it.
GF: What do you do as a hospitality team member?
SS: It's mostly just front desk work, some office tasks and I help set up events. But being a team member really is a rewarding job for me. It's a small role but what makes Georgetown so special to me and part of the reason I love it so much here is our emphasis on interreligious understanding and dialogue. It's very rewarding for me to be a part of such a diverse community.
GF: What's so rewarding about being a part of Campus Ministries?
SS: I really enjoy that I get to be a part of something big on campus. Plus, I get to help out others achieve and feel important about whatever they are putting on throughout campus or within their own spiritual realm. I really love what Georgetown offers for people who do not identify fully within the Catholic and Jesuit identities.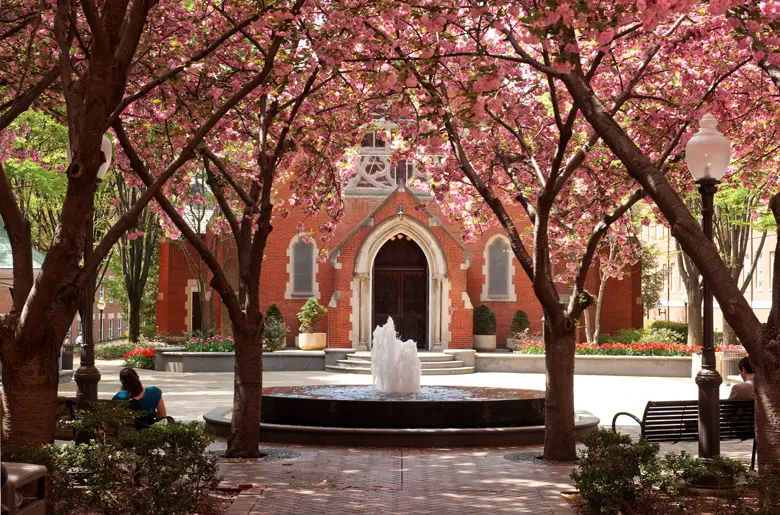 GF: Let's turn to your writing since I found your blogs for Georgetown online. Have you always been into writing?
SS: I have, actually. I used to write for my school newspaper at home called, "The Science Survey." Eventually, in my senior year of college, I was the editor in chief for the paper and a section reporter of it called the "Observatory." It was a great experience to have.
The newspaper Shapiro talks about, "The Science Survey," is an extensive school newspaper at the Bronx School of Science that has multiples sections and writers on hand. Multiples facets of politics, news and pop culture are covered in the sections of the paper.
GF: Where are you originally from? Where did you go to school?
SS: I'm from Manhattan and I went to school in the Bronx. The school was called the Bronx School of Science.
GF: Has blogging been something new for you, in terms of writing?
SS: Blogging actually isn't new to me at all. I really like how I can make it about anything and put my own spin on things. I write blog posts, which are super fun and often on a whim. I think it's cool to have campus-specific media content because it creates a sort of monoculture on campus that really brings people together.
GF: How do you blend the writing that you do and your overall college experience?
SS: I think too often on most campuses there's a real lack of honest attempts at understanding. I think everything I do on campus and elsewhere is trying to get at the ability of people to see issues from other people's points of view.
I feel like a big contribution my writing and college itself has given is the ability to create a collective community where people can be brought together. If I can create a community where students can relate to one another and have causal conversations, then I know that what I've done has truly brought people together.