Psychologist Jordan Peterson has become a beacon of hope for many people through his widespread and easily accessible discussions of philosophy, psychology and self-improvement.
He's become famous for his ability to articulate complex ideas in a simple manner to a relatively young audience and his courage to question social norms, and he is now becoming one of the most outspoken and impactful figures today.
Jordan Peterson is a clinical psychologist, professor at the University of Toronto and author of two books. Over the past few years, Peterson has gained a respectable following online through his various lectures and interviews posted on his own YouTube channel, amounting close to 300 videos.
His topics of discussion range from handling depression and anxiety, the philosophy of existentialism through the lenses of Nietzsche, Dostoevsky and Frankl, various concepts of psychology from Freud and Jung, the meaning and significance of the five personality traits and how to battle chaos and restore order in one's life, among many other contemporary ideas such as postmodernism, political correctness and Marxism.
It wasn't until recently in an interview with U.K. television program "Channel 4 News," however, that Peterson came into prominence as not only a psychologist and instructor, but as the face of a new social movement to not adhere to identity politics and to raise questions that may otherwise seem uncomfortable or misleading in an attempt to get closer to the truth.
In the 30 minute interview, Peterson's arguments on the gender pay gap as the result of a number of complex factors, the potential and serious issues of embracing a Neo-Marxist ideology and what constitutes the highest probability of someone becoming successful in the workplace, were misconstrued and often ignored to a point that didn't allow for a complete, engaging conversation to take place.
Instead, the interview was one-sided and Peterson calmly and eloquently maneuvered through false accusations with evidence to support his claims.
Since then, Peterson has participated in plenty of interviews on various platforms discussing these issues, along with many others. Aside from the occasional apparent hit piece, similar to that of the Channel 4 interview, they are all mostly insightful conversations on complicated topics that require an abundance of thought and communication to reach a better understanding.
It's through the act of "pushing the envelope" in theory and engaging in these conversations that people can learn, which is why it's so important for someone like Peterson, with the audience that he has, to put this content out.
However, as important as those discussions and questions are to have, and as much as the potential controversies that may arise from any opposing views have now become associated with Peterson's name and public view, it's his psychological and philosophical discussions that are perhaps his most significant and profound pieces of work.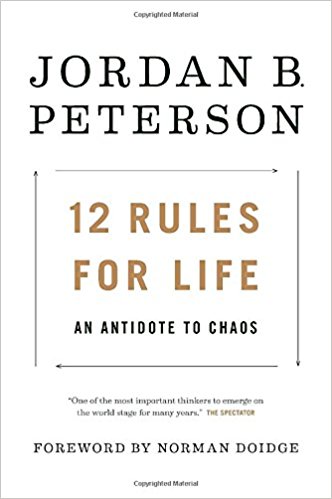 His most recent book, "12 Rules for Life: An Antidote to Chaos," was a number one national and international bestseller and is a great example of his intellectual prowess.
It serves as an elixir to the disorder and chaos in one's life and it comes from a clinical psychologist who has spent years doing research and years treating people with various mental health issues. Laid out in an easy-to-digest format, his rules are simple but profound when explained in the anecdotes and facts Peterson presents.
Some of my favorite proposed principles are: Rule 2, "Treat yourself like someone you are responsible for helping"; Rule 3, "Make friends with people who want the best for you"; Rule 9, "Assume that the person you are listening to might know something you don't"; and Rule 12, "Pet a cat when you encounter one on the street."
Simplified, they mean to not only love yourself but to more specifically treat yourself like you would treat someone who needs help.
Look after yourself by engaging in a positive activity, such as thoroughly cleaning your room, and cut out the negative activities that you are able to stop. Befriend people who care about you, your happiness and your progress.
Gain new information and perspectives from everyone around you to become wiser. Lastly, be on the lookout for any tangible silver linings, no matter how big or small, at every point in your life, such as petting a cat when walking down the street.
These are all beautiful concepts, and although it would be impossible to fully articulate over 300 pages worth of text and meaning into one small paragraph, the general sentiment Peterson presents is this: there is a lifetime's worth of power in the daily life. Daily attempts to improve your outlook on life will eventually do so and an improved outlook leads to you becoming a more productive and purposeful individual that can contribute to the larger scale of society.
The significance of a "Jordan Peterson" emerging in the mainstream media today is that there aren't many psychologists who are as charismatic, credible and have the same appeal and outreach to audiences, young and old, in this new age of the internet and social media.
This makes for an interesting situation in which people are becoming more and more exposed to figures such as Nietzsche, Freud and Jung, ways to improve your life and overcome your depression, fears and anxieties, questions asked about the truths and falsehoods of the gender pay gap and the consequences of Neo-Marxism.
A society more exposed to these ideas means, hopefully, that people are more understanding of themselves and of each other, and they are more willing to engage in conversations and become productive.
With over 200 hours of content on his YouTube page, two books and multiple appearances on several podcasts, Peterson has a lot of insight to offer audiences, including myself. The way he presents ideas are captivating, important and will have a long-lasting effect on the way the world thinks.
Peterson will be on tour reading and discussing his latest book, "12 Rules for Life," starting next month. Tickets can be found on his website.