When one thinks of Notre Dame, a few things instantly come to mind: the signature shamrock, the golden football helmets, "Rudy" and massive cathedrals. What you probably don't think about, however, is the dominant fencing program that the Fighting Irish have developed over the last decade. And while the campus may never see a mural of en garde Jesus, Francesca Russo, a senior sabreuse, two-time individual National Championship winner and key figure in her team's overall National Championship last year, is making a name for the Catholic university as a hotbed of elite swordsmanship.
For most Americans, fencing is one of a handful sports that only seems relevant during the Olympics; even Russo, before beginning her athletic career, had no idea what the sport was. "I started when I was nine years old with my sister, Jessica. I honestly thought the sport involved actual fences, so I was surprised and relieved to find out that we would actually be sword fighting and not building fences," Russo says.
However, once Russo began her career, she quickly became one of the most dominant figures in youth fencing, boasting four consecutive New Jersey state titles in high school and competing with the United States Fencing Association (USFA) team on the international stage. While her high school years were when Russo really began to emerge as a world-renowned individual talent, competing on her high school team helped groom her for success in ways that, at the time, she was then unaware of.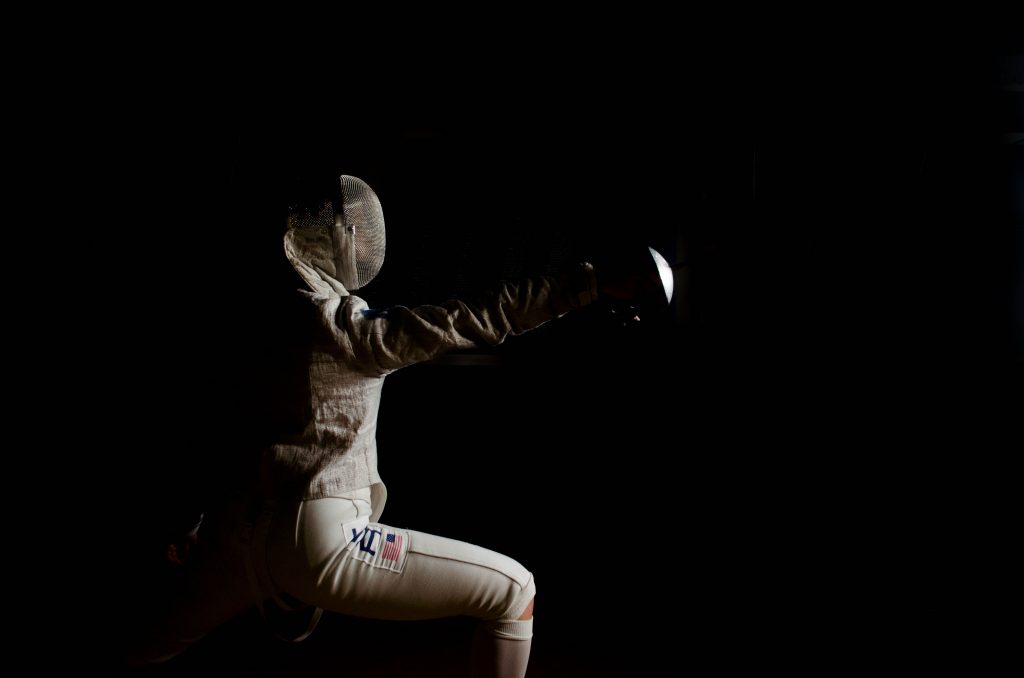 "Although high school fencing is much different than collegiate fencing, I got the chance to experience a team environment, so transitioning to a team of over sixty people [at Notre Dame] was fairly easy," Russo says. "Every meet matters not only for yourself, but for your whole team, both men and women. Coming to Notre Dame gave me the chance to compete for something bigger than myself, and it has been one of the most rewarding experiences of my life."
There are three different categories of competitive fencing: sabre, epee and foil. Each category offers distinct strategy and rules, and Russo has claimed the individual sabre National Championship in both her freshman and junior seasons. "I fence sabre, which is considered the slashing weapon. Sabre's target area is the torso and up, and it's the quickest of the three because it involves a lot of fast footwork while moving up and down the strip," Russo says.
In Russo's three years at Notre Dame, she has an astounding 144-36 record, including a ridiculous 20-3 record in pool play at last season's National Championship. Like any other student athlete, she is expected to balance both her athletic and academic schedules, which can become difficult while trying to maintain a place on top of the fencing world.
Russo, and the rest of Notre Dame's fencing team, have their eyes on one goal, however, and that is repeating their National Championship victory in this upcoming season. Despite the hours of training and travel, winning it all again would make everything worth it for Russo. "I have seen this team grow, on both an individual and team level," she explains. "To win another championship would be an amazing ending to an unbelievable four years."
Beyond college, Russo plans on training for the 2020 Olympics in Tokyo, Japan, which will require her to commit even further to fencing after she graduates; however, training with her personal coach in New Jersey, as well as some of the best fencers in the United States, has her confident that she can achieve her goal. While Russo will have to continue to work toward becoming an Olympic Gold Medalist in fencing, her love for the sport is what continues to motivate her every day.
"Fencers come in all shapes and sizes," she says. Many people may not believe that fencing is a tasking or an athletically challenging sport because there is no ideal image of a fencer. Because we are a sport of different weapons and styles, there is no perfect fencer. It is one of the most unique sports in the world; every single person has his or her own style, and that's the beauty of it."
Read about another college Olympian taking the bronze medal in TaeKwonDo