When a college student needs a job, chances are that they do not find it necessary to go above and beyond; they settle for whatever they can get, which means the least amount of work and the least amount of effort.
This is understandable, as no student wants to put a challenging job before their school work. So, working at a job that pays well and will allow one to dedicate enough time to their studies might seem impossible. Many find themselves asking, "How do I balance a good job while pursuing a degree?"
One individual who has done an excellent job at balancing his work with his education is University of Colorado-Boulder student Nicolaus Wolfrum, who is currently working toward a STEM-related career in the fascinating, mentally stimulating field of mechanical engineering.
Many college students at one time or another have found themselves strapped for cash, which was the case for Wolfrum and his peers. When found in this situation, though, Wolfrum went beyond the call of duty, and you'll be amazed to discover where it's gotten him.
Haileigh Galloway: What made you take an interest in starting a business in which you would work with automotive machinery?
Nicolaus Wolfrum: Honestly, it was never really my intention to start a business. After my freshman year of college, I realized that I needed a way to make some money during the school year without sacrificing my grades.
After working in my dad's machine shop over the summer, I saw that there was an opportunity for me to sell surplus engine parts online. I kind of just stuck with it.
At the time, I chose to sell in the automotive industry solely due to the fact that I had access to automotive inventory. In the beginning, I just considered it a way to make money. It wasn't until I was nominated for the eBay award that I realized what I had built was truly a business.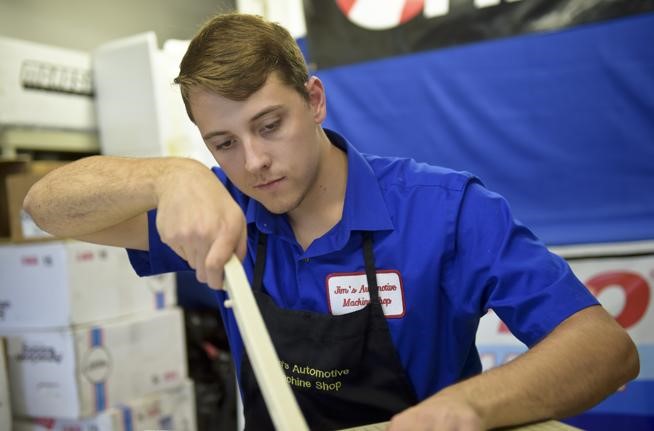 HG: Has your father's work had any influence on your decision to major in Mechanical Engineering?
NW: Growing up, I was never really that interested in my father's work. When I was in high school, we really didn't get along all that well. My decision to pursue a degree in mechanical engineering was made based on the fact that I was good at math/science, and enjoyed learning how mechanical things work.
HG: You were a finalist for the 2017 eBay SHINE Awards. How did you come to be a part of this competition?
NW: In around May 2017, I received a message in my eBay messages inbox stating that they were holding the SHINE Awards, and after reading a bit, I realized that there was a section for "Young Entrepreneurs." I thought that description fit my eBay job pretty well, so I said, "What the heck."
I typed up my application, had my mom proofread it and I submitted it. I guess eBay liked my submission, because a few weeks later, I was notified that I had been chosen as a finalist.
HG: When did you know that you were going to be starting a business? What made you choose to do so through eBay?
NW: As I stated a little bit earlier, I didn't really know that I was going to be starting a business. When I started, I was simply trying to make a buck here or there to pay for my next meal.
The choice to start my business with eBay was due to the ease of access/startup. eBay is an easy-to-learn platform with virtually no risk. As long as you have some inventory, you can start selling on eBay with almost no financial investment. eBay was the clear choice.
HG: How do you keep up with your school work while still running a business?
NW: Despite the fact that I love my business, my primary focus is getting my degree. Sometimes, it can be tough to keep up with my school work while running a business. I'm lucky to have a great employee (my dad).
In general, I can handle the day-to-day operations of the business. However, if I'm hit with a really busy school week with a ton of exams and homework, my dad is willing to take over and cover for me.
HG: What is an average day like in your shoes?
NW: On an average day, I wake up, have breakfast, take my dog for a walk and then fill orders. Typically, I have classes for a few hours every day starting around 9 a.m., but in between those classes, I can be found in the library working on school work and/or filling more orders.
This year, I am also participating in my senior design project, the University of Colorado Baja SAE vehicle. This project requires an immense amount of time, so most nights, I am working hard in our design space until well past midnight. Once the work is done for the night, I head home and go to bed. I put as much work as I can into the business, but as I stated earlier, school is still my first priority.
HG: Do you plan to go on to assist your father in his automotive shop once you graduate? What's the next step for you?
NW: I haven't fully decided what my plan is after I graduate. I do plan to keep my e-commerce business running alongside my father, but I am hoping to secure a job as an engineer as well. I am currently in the process of applying for jobs, and I hope to get a job as an engineer in the automotive aftermarket industry. Only time will tell!