Wanbli Gamache is an artist who looks at the fringes of the world—the abandoned, the decaying, the broken. Through diligent, introspective eyes, Gamache offers audiences new perspective of their own world, now more than ever influenced by digital media and the internet.
The visual artist fuses the synthetic and organic to create works that force viewers to reevaluate their perspective of their physical surroundings, as his work is multidimensional, occupying physical space and progressing through time with video and sound. After graduating from the University of Arkansas with a bachelor's in Anthropology, Gamache returned to Fayetteville to pursue a degree in Fine Art, only to leave for the School of the Art Institute of Chicago three years into his undergrad.
Jack Brandon: You graduated with a degree in Anthropology, but returned to school for art. Why was that?
Wanbli Gamache: After graduating, I felt that there was a void in my life, so I turned to art. I started doing band posters and illustrating again. I jumped into art, more or less, and it clicked really well for me.
JB: Did you plan to return to school?
WG: There was never a master plan that Anthropology would feed into art or that I would turn my interest into art, but it definitely did happen. When I finished up my Anthropology degree, I was very interested in contemporary culture, internet culture, digital spaces—more generally, spaces. How we manipulate our environment and how that environment will influence the next generation of people intrigues me.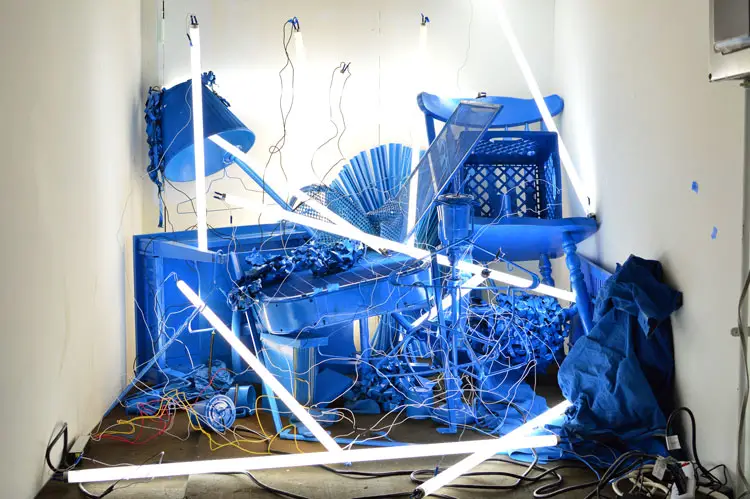 JB: Is the construction of space a defining theme in your work?
WG: The initial concept for a lot of my videos, especially the earlier ones, come from reactions to spaces. "Moments in the Wall" and "Iridescent" are shot in two D.I.Y. spaces in Fayetteville where musicians and artists gather to experiment. I spent a lot of time in those spaces; I have a big heart for them and I respond really well in there.
Other work comes from ideas, like in "Sediment." I was interested in the idea of decay, which is what introduced me to glitch art. Glitch is maybe referencing the decay of data or the codex in an audio or video file, and I can also talk about the decay and erosion of more organic materials as well.
JB: Do you work in video exclusively?
WG: I would say that video is my foundation. My first year at the University of Arkansas, I had a time and motion class, which excited me. When I was a kid, I was interested in making videos but never got around to making any, because my family never had a camera.
At school, I was able to finally experiment once I got an assignment to do something in stop-motion. At the time, I was really fascinated with abandoned places. I was spending my free time exploring weird, abandoned houses, parks and places I could find in the area. From three different locations, I made my first video, "Excavations."
I love installation and video work, because it allows me to combine a bunch of media—I get to draw, paint, make objects and sculpt things. I have a minor in Music Theory, as well, so making audio is a joy. Video is so cool because it's so interdisciplinary, like a symphony of different media.
JB: Your work is immersive in that sense. How do you approach a project?
WG: In art, I enjoy the limitations I give myself. For my work "Reconstructions," I gave myself eight days to make an installation show from scratch. I barely brought any materials; I basically used the space to try to make sense of it and to make something out of it. Those limitations are really great, because you can dive into something that might seem simple, but then you break it down and it gets more complex.
It's a great challenge too. If you have all the nicest toys and tools and materials and whatnot, I think it's quite limiting on the person to be experimental or innovative. When you're working with poor equipment in poor conditions, it pushes you to be innovative and come up with something unthought of.
JB: Where does this methodology come from?
WG: I grew up in a strong Native American culture. My father did lots of rituals, like sweat lodges, pow wows and sun dances, primarily aligned with the Sioux Lakota culture. I approached "Reconstructions" and "Moments in the Wall" like this, thinking that putting your body through a strenuous circumstance, through fasting or isolation, can bring out new perceptions of the outer world.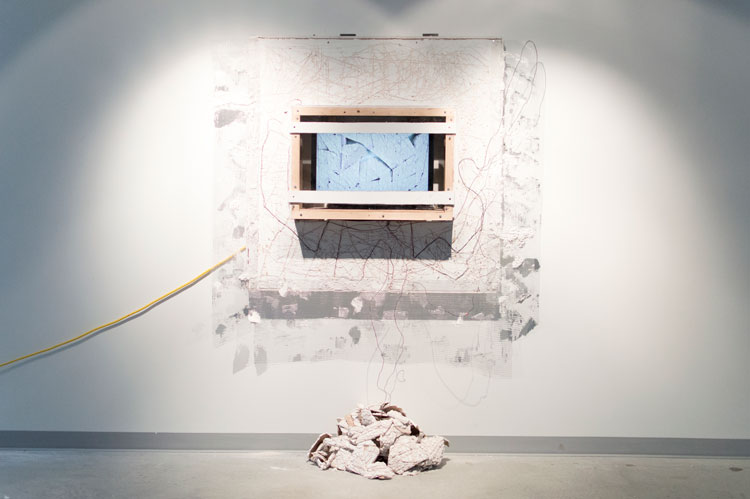 JB: Recently, you were a visiting artist at Clemson.
WG: Clemson reached out to me after they saw my work at a show last spring called "Art Fields" in South Carolina. I received a merit award for "Excavations," and someone from Clemson enjoyed it. I flew out, spoke to everyone about digital media, glitch manipulation and video work. Although I use glitch in a bit of my work, I don't consider myself a glitch artist.
JB: Was that the extent of your visit?
WG: I did a workshop, too. I tried to talk about process rather than technical skill. You can figure technique out with tutorials. If you're doing a talk, the process is the important thing. How I choose to get to the end is much more important than trying to get to the end. If I approach it a certain way, it's going to look a certain way.
JB: How did you feel about the experience?
WG: I had a blast; it was crazy to be a visiting artist while I'm doing my undergrad. Visiting artists are usually well established or well past their MFAs. I would consider it again.
JB: What does the future hold for you?
WG: I'll be pursuing my Masters in Fine Art in the Video, New Media and Animation department at the School of the Art Institute in Chicago this fall. The exciting thing about the materials I'm working with, like arduinos, sensors and motors, are that they are so wonderfully applicable in so many different avenues, not only for fine arts. One of my favorite artists in New York works for this augmented reality prototype firm. She's a painter, so she both works for the firm and has access to the newest prototypes for her own work. I feel like I have a lot of options.