In the internet age, wouldn't it be nice if you could take your successful online business and turn it into a temporary in-person shop, without the stress of maintaining it year-round? Visual artist Domeinic Jimenez sure thought so. A Studio Art major at UTSA, Jimenez has a passion for every type of art, whether it be videos and projecting, zines, DJing, clothing or art galleries, and for two years he's been operating his online vintage shops, Scenario Vintage and Common Threads. Now he's investing in a pop-up shop to help spread his childhood love of vintage to as many people as possible.
I had the pleasure of interviewing Jimenez and getting the inside scoop on his visual artwork and what it's like running a small business.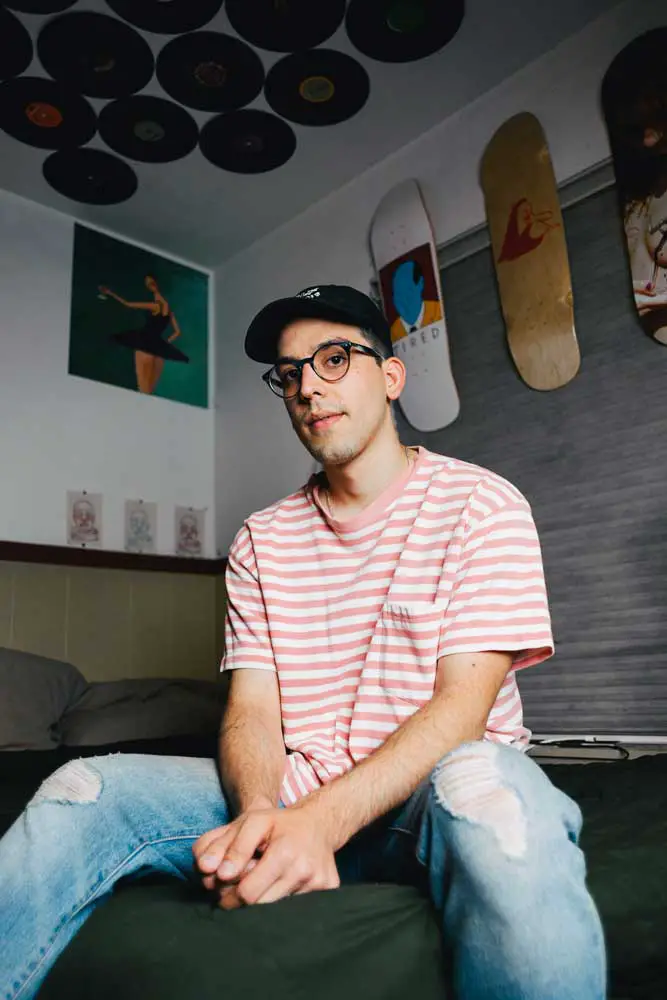 Lindsay Biondy: Tell me about the visuals and art you do around the city.
Domeinic Jimenez: Lately I've been doing live visuals around town with many artists and musicians, which has been really rewarding. It's a live show of original and sourced content that is warped, looped and mixed live. I try to work with each artist to make for a personal show that runs true to their work and vibe that they bring to the venue. To me, I feel like everyone knows a DJ these days. Everyone knows somebody trying to push a party or event they feel is forward, which is great! But it can also very easily become an oversaturated thing. The live visual component brings a more interactive, inclusive element to the audience, and can really set off the night and highlight the performance and experience.
Honestly, I've just been super stoked with our city lately. San Antonio is blessed with so much talent! I feel like everyone's gotten sick of the "SA is lame" narrative and is really stepping out, pushing their art and collectively inspiring one another to keep going.
LB: What's your favorite medium to work with?
DJ: Lately video and projections is where it's at for me. It's a great space for me to utilize sight and sound and provide a whole atmosphere/world for the viewer to dive in. I also have a weird bond I can't seem to shake with print. In my younger days as a student, even before college, I used to experiment with zines, print and clothing. Just experimenting with the line between artwork and products.
It's a similar conversation with streaming music versus physicals. You can thoroughly enjoy a record streaming, but with a physical, you can sit with it, enjoy the album art, read the booklet and get a more personal experience attached to the record.
I try to incorporate that feeling with my work. As much as I love me a nice curated art show in a gallery, I want my viewer to remember it next week/month and be able to revisit it in a meaningful and honest way.
LB: Who are some of your favorite artists and why?
DJ: Wow, so many! I really admire Spike Jonze's work. I grew up watching his skate videos and, in many ways, they are the blueprint to a lot of what I do today. The whole celebration of expression through skateboarding, style and music really changed everything for me with the power of that multimedia format. I didn't know until much later that this was the same guy behind classic Pharcyde, Sonic Youth, Beastie Boys and Biggie videos, but it all makes sense. I really dig his style of production. He's clean when he wants to be, but keeps it raw throughout much of his work which often highlights on the subject.
I grew up with the Gorillaz and really admire seeing what that project has done. Not sure if anyone remembers, but back in the day they used to have a crazy interactive website where you could explore the band's "Kong Studios" and enter different rooms (possibly nerding out here, but that was huge for me). Also, when they first toured, they would perform behind a screen, leaving the audience to see only silhouettes of the band while the band's characters were puppets in the audience. I really admire that thorough execution of actualizing a virtual band.
There's so much great art out there. I can keep going but I'll take up your whole day.
LB: What exactly is a pop up shop?
DJ: It's a bit odd, isn't it? I feel the term "pop up" has been growing tremendously as of late, but is still a bit vague. The pop up is just a very short-term setup that allows you to bring your online shop to a small retail experience accessible to others around the city in an internet and online age, without the necessity of having a year-round store.
LB: Can you tell me a little bit about your vintage pop up? Why did you decide to launch one?
DJ: I've always been into vintage clothing. Some of my earliest memories as a kid include chilling or selling with my mom at the flea market, so I guess I've kind of grown up with secondhand and vintage surrounding me. I also grew up on hip hop, and clothing was truthfully the first tangible medium I understood as a tool for expression. It became a personal thing for me at first, with sneakers and whatnot, and eventually you learn to let it pay for itself and start selling and trading clothes for more gear.
I could never afford the new stuff or most brands, so I gravitated toward vintage and got addicted to the dig. It was actually my girlfriend Natalie, Business major and incredible person, that introduced the idea to me of selling clothing through this retail app she used called Depop. Things grew, and for about two years now we've been ~officially~ operating our online vintage shop(s). Our men's shop is Scenario Vintage and women's is Common Threads!
LB: What do you want to do after graduation?
DJ: With art, there's a whole spectrum of possibilities one can go to find a career, and that open spectrum can be a scary thing for someone like me who is always jumping around. Ultimately, motion graphics and graphic design are incredibly strong interests of mine that reach many job opportunities.
I've found that I find great reward in collaboration and curation, so that's something I'd like to further explore. I would love to be a force behind a production team and watch a project come to fruition. Just pushing to get the best possible product. Nothing is promised, though, so we'll see where the work takes me!
LB: We're gonna end with a big, existential question, are you ready? How do you want to be remembered?
DJ: Man, you know, I've lost a few homies along the way and think about this question quite often. I've had some great mentors during my come up, so I'm a huge advocate of the "each one teach one" mantra. There was a long time where I felt lost and the work I wanted to do felt unattainable.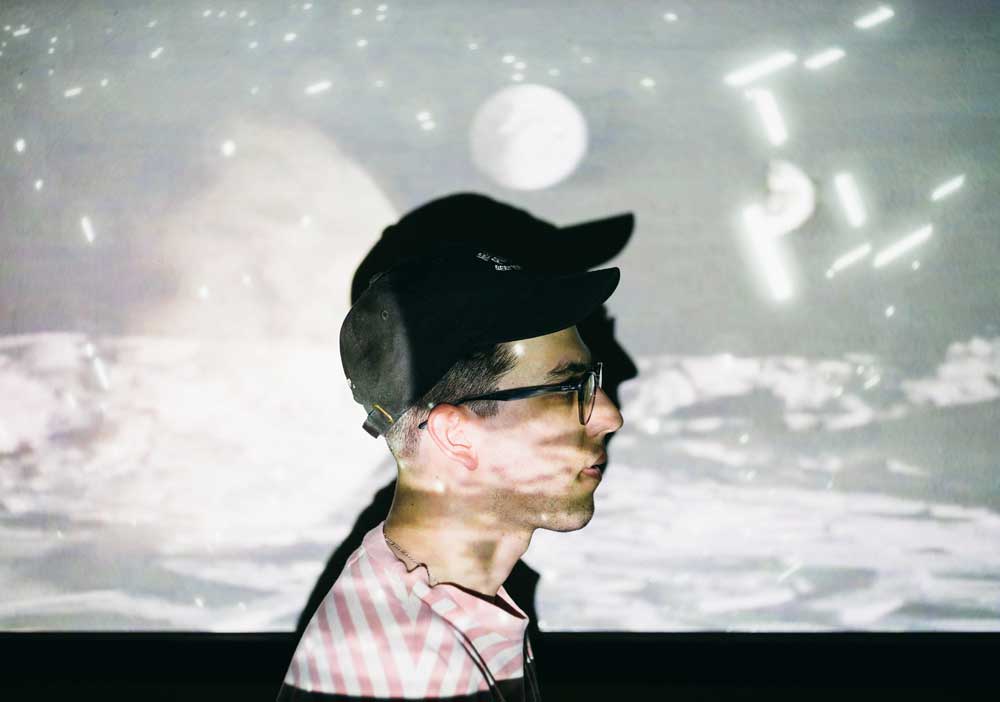 Getting started is always the hardest part. In my time working and interning at various galleries and art programs across SA, I've noticed that art can be a bit "elitist" and rather intimidating to a kid unsure of where to go. I would hope to not only be known for my work, but to also leave a legacy to others. To just be a catalyst for others and encourage creativity.
Whether spoken or not, anyone interested in art, performance or anything with an audience hopes for some presence of fame and recognition; no one is out here striving for second place, ya know? I'd just like to encourage others to join the marathon and know that we can all do this. By all means, you gotta come correct and learn as you go, but don't sit there and play "what if" anymore, because time will do what time does best and move right along with or without you.
For more on Jimenez, follow him on Instagram here or check out his videos here.