Sitting in with Scoma
After leading a sit-in at the university president's office, the sophomore has already begun drawing up plans for next year.
By Cassidy Leslie, University of Nevada, Reno
---
Anthony Scoma is a sophomore at the University of Utah (UU), where he double majors in Communication and Political Science and is a part of the Students for a Democratic Society (SDS).
Shortly after the election, in an attempt to get involved in student activism and Salt Lake City politics, Scoma first decided to get involved with the SDS . After joining the group, the sophomore partook in a campus sit-in that was part of a campaign to persuade UU to declare itself a sanctuary campus.
While the sit-in was unsuccessful, it taught Scoma a valuable lesson and influenced what he wants to do with his future, as well as motivated the political group to continue pushing for sanctuary status. I was able to talk with him about what the protest taught him, and how he plans to redouble his efforts in the coming semester.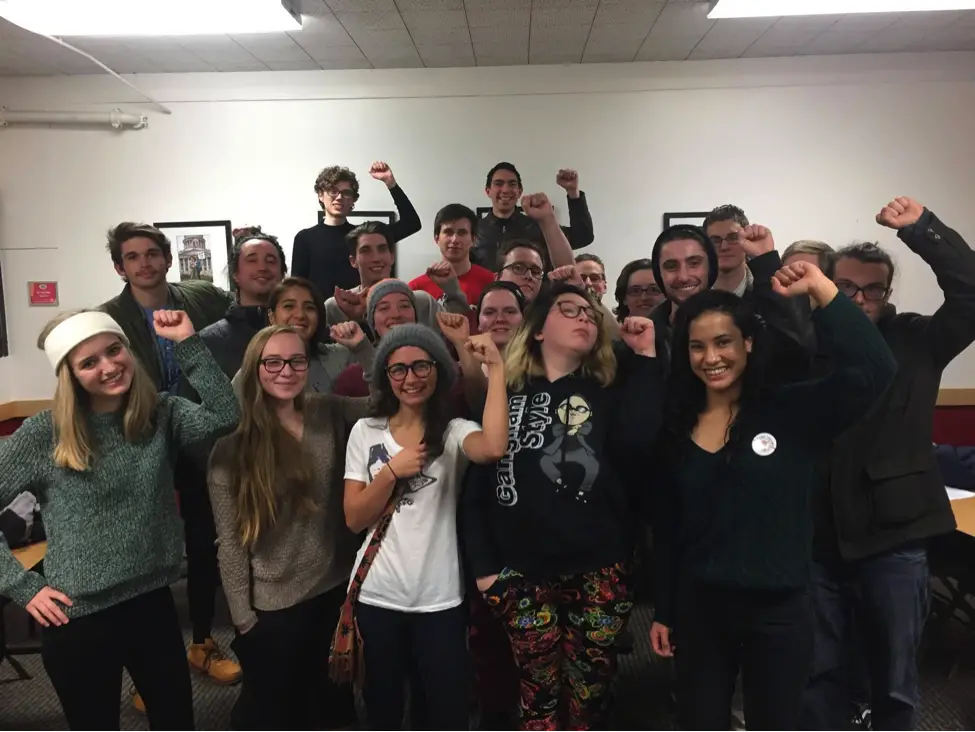 "For me, my choice in majors was about my future career and what I wanted to achieve in my life. Communication and Journalism combine my love of writing with my desire to engage in activism and speak truth to power. My decision to choose a second major in Political Science came from my interest in the problems that plague contemporary politics in the U.S. and across the globe. After I graduate, I hope to attend law school and begin a career as a political journalist."
"I was first inspired to get involved with activism because of my sister, Rachel. After attending law school, she worked in California as a canvasser for grassroots organizations and was a leader in the Occupy Movement, which were both focused on economic justice and civil rights protections. I was also inspired by civil rights leaders, like Harvey Milk, who united disenfranchised groups to initiate real change."
"The sit-in was part of the Students for a Democratic Society's ongoing campaign to persuade the University of Utah to declare itself a sanctuary campus, which means the university would promise to protect the information and well-being of undocumented and Muslim students while they are on campus.
"I had been working with the SDS for a few months, and I thought it was time for me to speak at one of the rallies, and the sit-in felt like the perfect opportunity. I wanted a chance to voice my support for the SDS campaign and link the modern student movement with the historical movements to protect former slaves, Japanese students during WWII and draft-dodgers during the Vietnam War on U.S. campuses."
"The sit-in started with us rallying outside of the library building, where I delivered a short speech in front of a small group of students. The SDS then marched to the Park Building, which is the administration building for UU. Once outside of the building, I delivered another short speech before heading inside and sitting down in front of the university president's office. We chanted, sang and banged drums for several hours, while security and administrators watched until the building closed."
"Since the sit-in, the university has left us, and our ultimatum, unanswered. We have met with several administrators responsible for diversity on campus, but they maintain that there is nothing they can do to better protect students. The SDS does not believe this to be true, though. As a final act for the year, we posted three banners across UU calling for a sanctuary campus. The SDS also promised to return to the campaign this fall. With the university's president recently announcing that he will be stepping down, we hope to have better luck with the new president in terms of creating a sanctuary campus."
"The success of the sit-in was mostly symbolic. I believe it showed the administrators that we are committed to working for this cause, and we will not back down. By making ourselves known and maintaining pressure on the administration, we hope to see better results in the future. As with many of our demonstrations and rallies, we could have done more to get students outside of the SDS involved."
"I joined SDS at the end of 2016. That was about the time that our chapter disbanded all formal titles and positions within SDS, so we could be a more egalitarian and democratic organization. We now make decisions through majority-rule votes. I plan to remain a part of SDS as long as I am at the University of Utah because it is the only organization that actually works for change on campus."
"Unfortunately, the sit-in was a failure in the sense that there has not yet been a declaration to name the university a sanctuary campus. We have done our last act of the year, which involved the placement of three banners across campus, including the administration building. The next step is to plan for next year, recruit more members and adapt our message for whatever political changes happen, nationally and internationally, over the summer."
"The worst part of the sit-in was probably the Trump supporter who followed us and harassed us before and during the sit-in. The best part was the sense of solidarity and purpose I felt delivering my speech and sitting alongside my fellow SDS members."
"This is just one of the many rallies and marches the SDS has organized in the last six months. It affected the university by energizing a politically active student body and elevating the ongoing political discourse happening across the country and at the University of Utah. It has affected me by enabling me to change the world around me for the better. It makes me feel that I am not powerless in a world that I had previously viewed as beyond my control."
"The SDS has had a huge effect on my life in the past six months. I have met new friends, feel more engaged in campus life and feel more aware of the political world. It has had a similar effect on campus, as it is the center of student-led activism, not only at the University of Utah, but in most of Utah."