There are a lot of things about American culture that confuse me; our longstanding obsession with celebrities, our complex political climate and how anyone enjoys eating apple pie are all things that keep me awake at night. One question, however, that has been stuck in my head since my youth still remains unanswered: Why is dodgeball not our national sport?
Requiring a combination of insane dexterity, cat-like reflexes and unadulterated power, dodgeball fits our country's personality unlike any other sport, yet it remains inhibited by its reputation as a children's game. Still, the potential for a dodgeball-takeover remains, and one Stevenson University student just might be leading the way.
Kris DeJesus, a.k.a. "Klutch Kris," has been dominating the college dodgeball landscape since he first started Stevenson's club dodgeball team in 2014. In addition to his collegiate pursuits, DeJesus has also competed professionally in both Elite Dodgeball, which is the premier dodgeball league in the United States, as well as the Ultimate Dodgeball Championship, which is featured on ESPN.
While DeJesus has ascended through the ranks of dodgeball's elite, his love of the sport comes from humble beginnings. "I started playing dodgeball when I was 13 years old, in ninth grade. There was a church by my high school where we played dodgeball every Friday," DeJesus says. "A lot of the original group still attends weekly, including myself when I'm in town."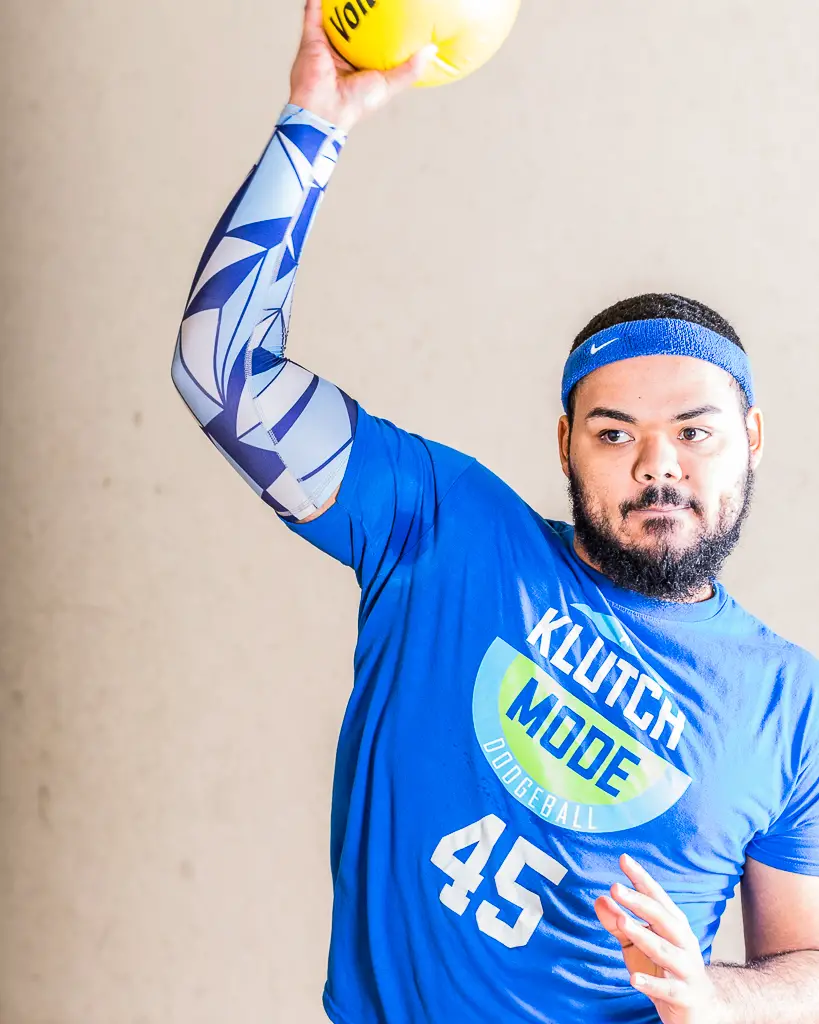 College dodgeball, unlike the game that the rest of us common-folk grew up playing, is imbued with enough strategy and skill that the game is almost unrecognizable to the untrained eye, which DeJesus believes is the biggest distinction between casual and competitive dodgeball. "While there were people playing in gym class who served no purpose, everyone has an important role in competitive dodgeball," DeJesus explains. "Another difference is that teams run plays and have strategies to beat other teams. If your team doesn't have a good strategy, then you're likely to lose. The same strategy won't work for every team. Using your players' talents, and maximizing them in your strategy, is the best way to win."
While the transition to college dodgeball came pretty naturally to DeJesus, he found himself looking for a higher level of competition. In April 2017, he helped to create Klutch Mode Dodgeball, a professional dodgeball team based in his hometown of Dover, Del. Since the team's creation, they have already made waves throughout the national dodgeball scene.
The team has already competed in multiple professional tournaments, and even qualified in second place out of 16 teams for the Ultimate Dodgeball Championship's National Tournament in Chicago, which was featured on ESPN. Even though Klutch Mode Dodgeball did not take home the title, DeJesus believes that the experience that his team gained during the competition was extremely valuable.
The Stevenson senior also shares my confusion surrounding dodgeball's relative lack of popularity, but he remains optimistic that dodgeball will eventually rise to prominence in the athletic world, and he hopes that he will be a part of the sport's renaissance. "I will definitely be playing dodgeball until I physically can't anymore. I believe that I can be the best player in the world one day if I keep working hard at it, but more than that, I want to see the sport grow, and be featured a lot more prominently in pop culture," DeJesus says. "This is the greatest sport on earth, and people who get into it don't tend to leave."
Further, DeJesus would love to see dodgeball represented on the grandest stage of them all, the Olympics, but recognizes that the sport has a long way to go before it's recognized as a serious endeavor. "I do believe that dodgeball will be an Olympic sport when it grows in popularity. People see it as a children's game or a joke, because of the movie ("Dodgeball" starring Vince Vaughn), but it's more than that," DeJesus says. He also referenced the fact that there is already an international competition that resembles an Olympic style of games, so the transition would not be as drastic as some might think.
Down the line, we just might see "Klutch" Kris DeJesus on the podium for a dodgeball gold-medal, but for now, he will be tearing apart college dodgeball teams across the United States for Stevenson University and Klutch Mode Dodgeball, as well as maintaining his YouTube channel, where he posts highlights of his dodgeball matches, as well as gaming content.