The LGBTQ Representation of 'Chapstick'
Created by Charlotte Kennett and Kearney Fagan, the series has already caught the attention of 'VICE' and 'Curve Magazine.'
By Olivia Wickstrom, Portland State University
---
If you're in the mood for lesbian hookups, breakups and drama, tune in to the LGBTQ series "Chapstick."
The online show follows the lives of Marlo and Addy, two Chicagoans that are lesbians and best friends. Each episode is two-to-five minutes long, and features the quirky and embarrassing situations the pair find themselves in. According to their press release, the goal of "Chapstick" is "to normalize LGBTQ characters, while still staying true to their rainbow roots." One of the main ways they accomplish this is by giving queer actors a chance on the screen, as "the cast and crew is comprised predominately of LGBTQ individuals and every LGBTQ character on the show is played by an LGBTQ actor."
The show was created by Charlotte Kennett and Kearney Fagan, who not only created "Chapstick," but wrote, directed and acted in every episode as well. Both Comedy Writing majors at Chicago's Columbia College, the two wanted to create a comedic series that centered on the lives of queer characters—and comedic the series is.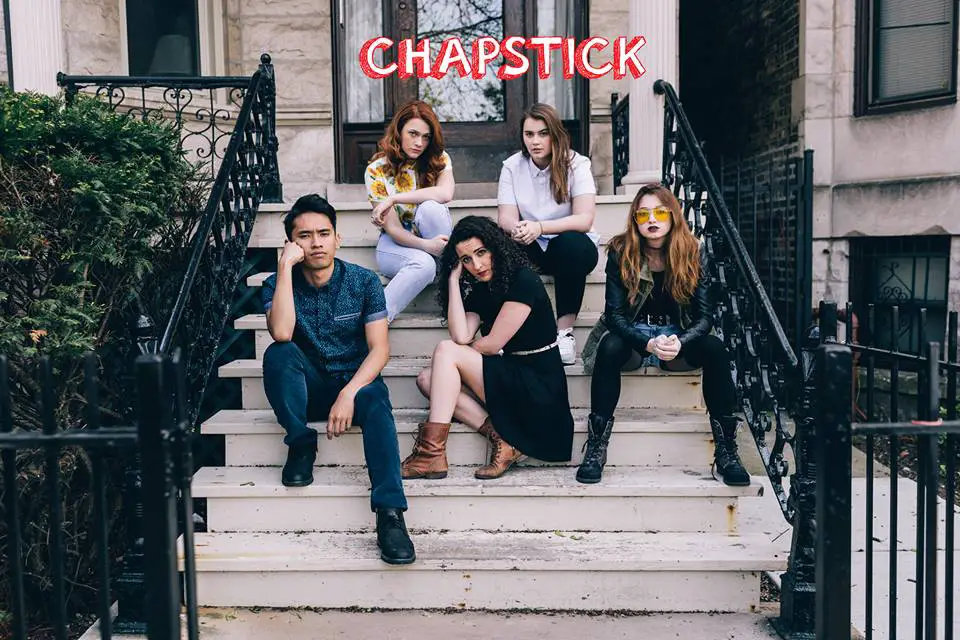 In season one you can watch Marlo and Addy take edibles for the first time, attend lesbian speed dating, discover that they're gay and break art sculptures at gallery shows. The two friends are a hilarious duo, and the awkward situations they find themselves in make for an entertaining display.
"Chapstick" has received a huge amount of media coverage and attention. "VICE" featured the series in an article on "Seven Web Series About Queer Women You Should Watch," predicting that the high femme best friends are bound to fall in love by the end (spoiler alert, they're a couple in real life). And "Curve," the best-selling lesbian magazine, called "Chapstick" a show that will "quench your thirst for an LGBTQ comedy." Season one is available to watch for free on YouTube, and there are rumors of a second season being released in the summer of 2017.
I got in touch with Charlotte and Kearney to learn more about "Chapstick," its future and its importance in the LGBTQ community.
Olivia Wickstrom: What's the story behind "Chapstick?" How did the idea emerge, and how did it begin?
Charlotte Kennett & Kearney Fagan: We are both Comedy Writing and Performance majors at Columbia College Chicago. While Charlotte was in her Comedy Studies semester at The Second City, she had to do a final project for a class. One of the options was to create and film five minutes of a web series. Charlotte had been wanting to create a web series, so of course, she decided to collaborate with her super funny girlfriend, Kearney.
Together, we came up with a comedic LGBTQ web series about two best friends going through the struggles of being young gay artists in a city. The idea also emerged from the lack of television representing LGBTQ individuals, especially in comedy. We didn't feel any show did that, and we wanted to change the score.
OW: I understand you both create, write, direct and act in the series. Tell me about your roles when it comes to producing "Chapstick." Is it always a joint effort, or do you work separately?
CK & KF: Because we are both Comedy Writing majors, we know it's important to support your partner (the rule of "Yes, and…"). We are a team, and we've both used our different strengths and weaknesses to make the show what it is. We are always together, so we naturally began to do the work together, such as writing the scripts.
When it comes to producing and the production end, that's just Charlotte—she is the executive producer. Kearney was new to working on a film set, while Charlotte was not. But the two of us make a great writing team, and genuinely love each other's comedic voices, and that's the most important aspect of any show, the writing. Everyone needs an Amy Poehler to their Tina Fey.
OW: Is the web series purely fictional, or is it based on true events in your lives?
CK & KF: Definitely both! I think it's fun for us to write what we know, while also making it way more ridiculous and entertaining. Episode six was probably the one episode that was the most "nonfiction" as odd as that sounds! It's fun to write and be different characters.
We didn't want to use our own names because we're not playing ourselves. Kearney and Charlotte are a whole other ballpark from Marlo and Addy. But the characters we play are heightened versions of ourselves. We take events and experiences from our lives and of course intertwine them into the narrative. But technically, it is fiction.
OW: The series is hilarious. What's the importance of humor when it comes to portraying the LGBTQ community, a community that is often marginalized (especially with our upcoming political changes)?
CK & KF: In our opinions, humor is vital when it comes to any marginalized community, but especially in today's world. With our president-elect being anything but supportive of minority groups, it becomes hard to have hope for the future. We believe comedy can change that though.
We will cling to our humor in these moments and know that we will pull through because we are strong. LGBTQ+ people go through a lot; their daily lives can be very stressful, especially depending on what kind of family they come from (supportive or not).
So we hope that our show brings relief and joy to all LGBTQ people who want to take a break from the sometimes-cruel heteronormative world. In our darkest hours, comedy will pull us through. We hope that "Chapstick" can be a safe space for people to come to, and laugh.
OW: What's in store for the future of the show? I've heard rumors of a second season being released, is this true?
CK & KF: You tell us! We're kidding (somewhat). The rumors are true. And you're the first source we have confirmed this with, officially. Feel free to share this information. The second season is in the works.
We're currently writing and pretty soon we will be moving into the pre-production phase of the show: getting producers on board, casting, locking locations and crewing. Charlotte is the executive producer so she deals with most of the pre-production. We intend to release season two in the summer of 2017, most likely early August.
OW: LGBTQ representation in pop culture is rare. For people craving more queer media and humor after your show, what do you recommend?
CK & KF: Gosh, well unfortunately there really isn't a lot of content like "Chapstick," if that's what you're hankering for (which is why we created the show). But, that being said, there are some amazing places you can go to get your fill of LGBTQ comedy.
"Reductress" is an amazing comedic site with all female writers and a few LGBTQ writers. LGBTQ "Buzzfeed" has some fun articles and videos as well. "Chapstick" is also featured on an all LGBTQ content app called "REVRY," which is a queer TV streaming platform.
"Take My Wife" on Seeso with Rhea Butcher and Cameron Esposito is also a great choice for lesbian content in television.
Charlotte directs and produces for an LGBTQ comedic sketch group called "Friends of Dorothy," a comedy collective underneath iO Comedy Network. Also check out the LGBTQ section of "Netflix"; both of us have binged almost everything in that section. The point is—more comedic LGBTQ content needs to be created, so that's what we are trying to do.