1. What is your major? Integrative Studies, with focuses in International Security and Diplomacy, College of Information and Leadership Studies, with a Rehabilitation Studies certificate
2. What is your dream job? Making a positive difference, however cliché that sounds
3. What academic focus most interests you? Reforming our education system
4. What are your intellectual strengths? Curiosity. I am always asking "why" in situations.
5. What will you never understand? Why our education system judges us by our standardized test results.
6. What qualities do you most admire in a person? The qualities that I admire most in a person are honesty, integrity and responsibility.
7. What is your most marked characteristic? My most marked characteristic is my resiliency.  I believe that with hard work, anything is possible!
8. What angers you? When people are assigned a task and they fail to complete the job fully
9. What is currently on your mind? Lately my mind has been full of thoughts on how to be the best undergraduate student body president I can be. I want to strengthen relationships at UNT and help everyone embrace differences and growth.
10. What are your summer plans? I will be working for the Student Government Association and interning in Washington D.C. for a senator.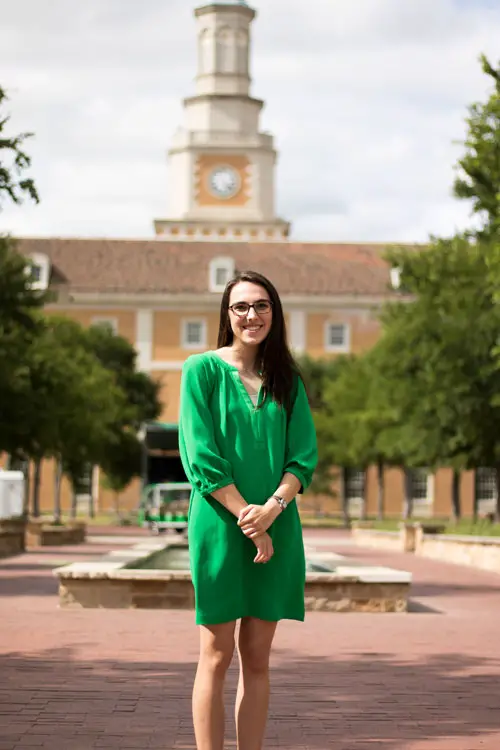 11. Who are some of your favorite authors? Jocko Willink and Khaled Hosseini are my current favorites.
12. What music are you into at the moment? Coldplay
13. What is your go-to meal? Any kind of noodle dish
14. What's your biggest struggle as a student? My biggest struggle as a student has been overcoming my ideal of perfection.  I work to do what I can do, the best way that I can do it and try to accept it.
15. What is your favorite Instagram account? @bluewhistlerfarm—there is something so refreshing about watching nature!
16. What is your most treasured possession? Family
17. What is your typical outfit? My typical outfit is jeans, Birkenstocks and a UNT t-shirt.
18. What's the best class you've taken in college? Racquetball has by far been the best class in college!
19. What is your favorite place to eat? Any place with a great khao soi and Thai iced tea
20. What's a secret talent of yours? One of my secret talents is the incredible amount of information I know about agriculture. I could easily live on a ranch with chickens and cows and be right at home.
21. Where do you want to go most in the world? I like going anywhere warm that has a beach.
22. If you could change one thing about yourself, what would it be? I wish I wasn't as self-critical.
23. What is your definition of failure? My definition of failure is giving up and not trying again.
24. Where would you be if not in college? I would own and operate a specialty butcher shop, with my own line of organic honey.
25. What is your biggest indulgence? My biggest indulgence is Takis and bubble tea; I could drink and eat these all day!
26. What is important to you right now? Family
27. What is your greatest achievement? Waking up everyday knowing that I have tried my best.
28. What is your motto? "Dream the impossible. Seek the unknown. Achieve greatness."