For Amanda Odasz, an early start in high school activism turned into a passion for educating peers on sexual assault and helping survivors. The Northwestern University student, who graduated this last month, worked to tackle an issue that plagues college campuses across the country: sexual assault within the Greek system on campus.
She has used her position as chair of the Outreach Committee of her school's Sexual Health and Assault Peer Educators group to help fellow students learn about the importance of proper sexual health. She also recently led a protest calling for increased supervision of Greek Life, and additional resources for promoting awareness of sexual health on campus.
Odasz graduated as a major in theater with minors in Spanish and gender sexuality studies. She plans to use her career goals to continue to support survivors of sexual assault.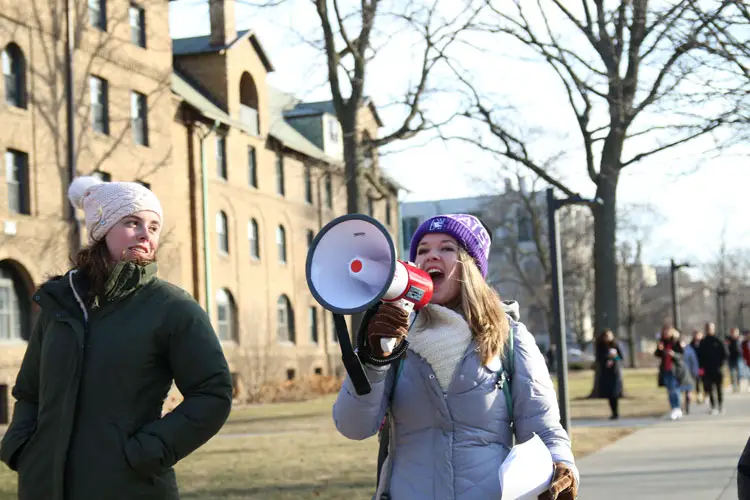 "Sexual Health and Assault Peer Educators is also known as SHAPE, an organization I've been part of since my freshman year. It's a peer education group at Northwestern University with about fifty students. We have a closer tie to the university department than most other groups, since we have an advisor who works in the CARE Center, which provides resources and support for survivors of sexual violence."
"We are on campus providing information and resources about sexual health and sexual violence prevention. We do outreach events, presentations, facilitated discussions and bring in speakers. During new student orientation, we speak on consent and policies. Throughout the year, we have several open lectures that we offer for people living in residence halls on campus."
"I got involved because of my history with activism in high school. I was part of a group in the Bay Area that got my feet wet in activism. I knew I wanted to pursue some activist work, so when I met someone who was a part of SHAPE during my first week, I applied and got in. All new members go through full-on training, and it felt like I had another class added to my schedule because of the several hours spent per week working with others and organizing speakers. It's hefty, but the goal is to get people out to campus who really know their stuff."
"I was the outreach chair for the past year. The committee deals with formal outreach on campus through presentations. We handle all of the tabling efforts in hopes of getting our name, information and resources out to people. We have a portable gazebo, called the G-spot, that we put up on Fridays where we hand out condoms, stickers, pamphlets and information about birth control, so it's a fun way to get out on campus and do tabling work where we get face time with students."
"Peer education reaches students in a way that other educational programs often can't, especially when we're talking about health promotion and issues that are part of students' everyday lives. It's important for students to hear things from their peers. A cool thing about being a peer educator was doing the presentations and the outreach. I had the opportunity to be there for my peers by answering questions about sexual health, resources or sex."
"For a lot of people in this program, myself included, it's really important to learn about self-care. We're doing work about sexual health and violence and sometimes people disclose to us about being assaulted. There are a number of people in our group who are survivors, so to help others, you have to take care of yourself first."
"We know that sexual assault happens across campuses, and it's there with or without Greek Life. There is a higher prevalence of assault within Greek communities. When I look at Greek Life, one issue I see is the control of alcohol and spaces. When there is a party, it is usually hosted by fraternity houses in a space controlled by young men, so there are expectations that they have for females, which causes an inherent imbalance of power."
"Often, it's easy for men to objectify women. In the same way, it's easy for women to feel that things are expected of them, such as when a guy hands them a drink at the party, and they feel obligated to give him something in return. Guys want to prove themselves to their frat brothers by drinking a lot and having sex. I don't think that parties lead to sexual violence; I think that culture-bound expectations related to women and women's bodies, compounded with power imbalances in party spaces, are what contribute to sexual violence."
"I met with two administrators, the dean of students and the vice president of student affairs, and we went through the list of demands. I got some ideas on what could have been moved on and what they were more insistent on. It was a good opportunity to talk to them about what we, as students, are seeing, versus what they aren't seeing as administrators. It was a good starting point, but I haven't seen those concrete steps. I'm hopeful they'll keep moving forward, and I have full faith in the people who will keep fighting for those things."
"I'm planning to go to law school, so personally I'm hoping to get my law degree and be able to use that to advocate for survivors of gender-based violence for the policies that support those people."