Puppy Love
Through fostering Captain, a dog with swimmer-puppy syndrome, Vickers has been inspired to help other disadvantaged pups.
By D'Ariel Myrick, University of Georgia
---
Amy Vickers is a student at the University of Florida who is fostering a puppy, Captain, who suffers from "swimmer-pupper syndrome," a disorder that is curable, but causes dogs and cats to lack the ability to stand on their hind legs, forcing them into a swimming motion.
But, Vickers is more than just a foster mom to this courageous dog; she is a compassionate college student who wants to make a difference in the world by helping both people and animals.
A majority of the public loves animals and would do anything to help a dog or cat in need, but Vickers goes above and beyond to help any animal she can—one paw at a time.
D'Ariel Myrick: What is your major, and what made you choose to work at Bay Medical Sacred Heart in the past? 
Amy Vickers: I'm majoring in Health Science, and I was working at the hospital as a scribe prior to moving to Gainesville to continue school. A scribe is someone who works with the ER doctors to take all their notes and documentation to complete their charts. It was such an incredible learning experience, and I truly enjoyed it.
I chose to work there because I am still undecided between eventually becoming a doctor or a veterinarian, and I wanted to be able to experience the profession on a deeper level. I still haven't quite made my decision, but I think animals are where my heart is.
I am currently volunteering at University of Florida Vet Hospital and am absolutely loving it. I am looking forward to logging a ton of volunteer hours this summer under both MDs and DVMs (doctors and veterinarians) before I take the MCAT and GRE to make my final decision.
DM: What sparked your initial interest in Captain and helping him get the necessary surgery? 
AV: My family and I have been deeply involved in animal rescue since we moved to Panama City, Florida, about four years ago. Moving from up north, where kill shelters were scarce and stray dogs were rarely ever seen, the south was a shock to say the least in this regard.
I began by volunteering at our local Humane Society, and quickly made friends and contacts with other private rescue groups that were doing a lot of amazing work. We began fostering emaciated dogs, mange-ridden dogs and litters of orphaned puppies all waiting for transport or a forever home. These animals became my heart and a real source of compassion and drive.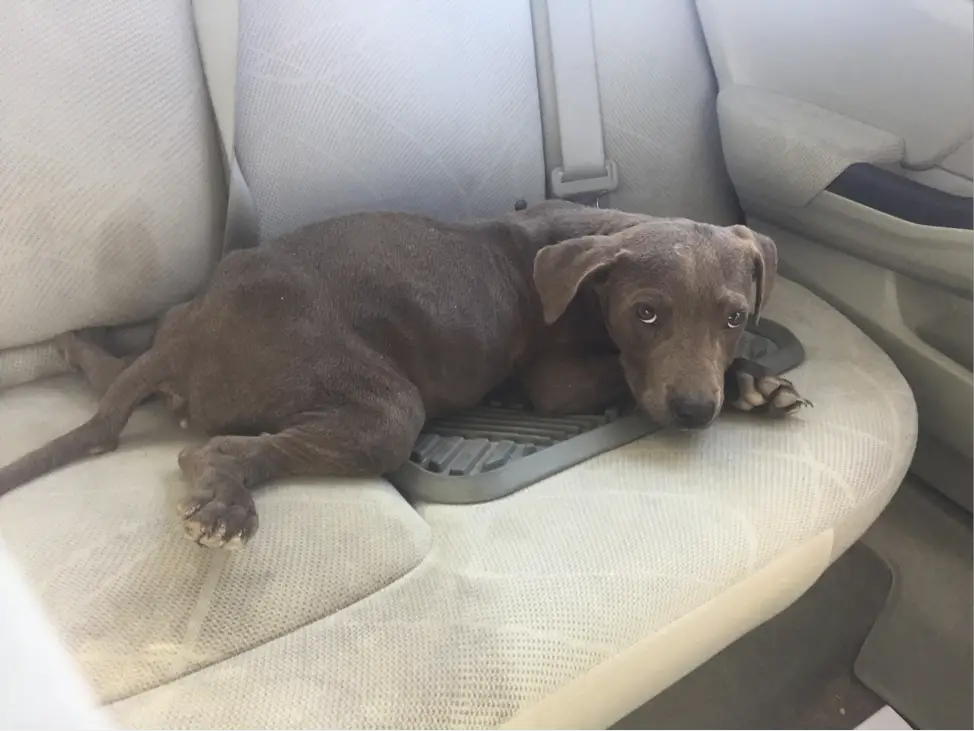 We often get calls from friends or get tagged on Facebook in posts asking to rescue certain animals, and an old friend of my mom's happened to call her about a puppy she had seen dragging himself along in a ditch up in Vernon. The next morning, my mom and I drove up there to search for the puppy, not really knowing what we would do if we found it, but we could not leave it to suffer.
We found out that he actually had an owner, but they just put food out for the dogs and let them roam as they please. Captain had never received any veterinary care and was in terrible shape. The gentleman agreed to relinquish Captain into our care, since he said there was nothing he could do for the puppy, and he thought we could provide him with better care.
After evaluating Captain in the car, it was obvious he was not paralyzed, and it was not likely to be a spinal cord injury, because his neurologic exam was normal. It was clear that this was more complicated than we had thought, and we had no idea how to help him.
We took him to our local vet the next morning, who had never seen anything like it himself. Captain could not stand up at all. He could only lay flat on his belly with his legs splayed out to the sides. He was malnourished, and his abdomen was distended from all the intestinal parasites. It was clear that he needed a more thorough orthopedic or neurologic exam, so what better place than UF?
This all took place when I was home for Thanksgiving break, so Captain came back to Gainesville with me for an appointment at the University of Florida Small Animal Hospital. I created a GoFundMe page and began begging for donations for his care, since there was no way I could give him what he needed financially. We have been successful in raising enough funds for his physical therapy days so far, but the surgeries will be a different story.
DM: What motivates you to keep fundraising for Captain's surgery?
AV: Seeing the tremendous progress Captain has made in the short time we have had him has given all of us the motivation and drive to push forward for him. He has so much fight and determination and deserves another chance, just like all the dogs we help. Although his road may be much longer and more expensive, if we all pitch in and work together, we can give Captain the life he so badly deserves.
If he does not receive the surgery, he will develop severe and early onset arthritis even at four or five years old. What kind of life will he have if he is forced to live most of it in pain, pain that will only continue to worsen as he ages? If we can go through with the surgery, though, and correct the alignment of his hind limbs, he will be able to lead a long, healthy and happy life, as it should be.
DM: How do you see your life and Captain's in the future? What are your plans for yourself as well as Captain in a year or two? 
AV: I pray that we can raise the money to fund Captain's surgeries when he needs them, and he has a smooth recovery. If all goes as planned, he should undergo both surgeries and be recovering nicely in a year or so. I am still just fostering Captain, so as of now, the plan is to find him a wonderful forever home when he is completely healthy and ready, but it won't be for quite some time.
As for myself, I am currently a junior, which means that I will be taking the MCAT or GRE this summer and applying to graduate school. I still don't know which one I will choose. I might apply to both medical school and veterinary school, but I will have a full summer preparing for whatever my future holds. I have always been very compassionate and had a big heart for helping both people and animals, so this is going to be a very hard decision for me.
DM: What are some of your goals and aspirations, whether it includes Captain or anything in general? 
AV: For Captain, our goal is to be successful in raising the funds needed for his surgery and subsequent rehabilitation so that he can lead the long healthy life he deserves.
For myself, as I stated earlier, I will either become a doctor or a veterinarian. If I become a doctor, I would love to be involved in Doctors Without Borders and travel to less fortunate nations to deliver much needed health care. If I become a veterinarian, my dream is to eventually buy land in Panama City to build a clinic. I want to be able to have enough room to begin a rescue and house adoptable dogs, as well as a place for boarding, doggy daycare and grooming to help raise funds for the rescue. Also, I want to provide low cost spay/neuter to needy families with pets.
DM: What other animals have you worked with, if any, and how do they affect you?
AV: I honestly couldn't tell you how many animals we have fostered, transported and rescued, but they all hold a special place in my heart. It is so fulfilling to see abused and neglected animals come back to life and be happy again and find a family that loves them like we do.
Rescue does come with its share of sadness, since not all dogs can be saved. Some are too sick to recover, and some you just don't have room for. It really breaks your heart. Even so, I try to remind myself that you can't save every dog in the world, but you did change the world for that one dog you did save. So, we rescue on!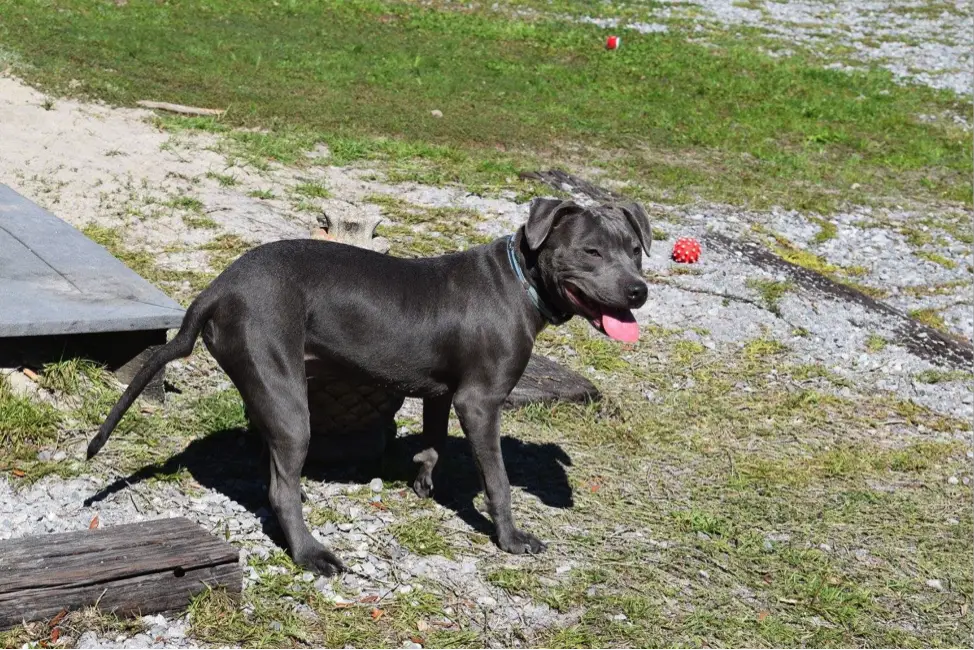 DM: Any advice for other animal activists who want to help animals like Captain?
AV: I think the best piece of advice I can give is to not be afraid to get involved. Special needs animals are notoriously more difficult to place in rescues or forever homes, and I think it is because people are afraid of not knowing how to deal with them or do not want to change their routine for a new animal. But, I promise it is not as hard as you would think.
You will figure it out. You will learn how to help them thrive and succeed. You won't mind doing it because you will start to see the beautiful personality underneath, and you will love every part of them.
I also raised a blind puppy and bottle fed his whole litter. He was not adopted until he was over four months old, so we had lots of time to love him and learn how to help him. But, the truth is that they will figure out most of it on their own. Dogs do not know they are disabled or any different, and their drive and attitude is what fuels me to continue to help them.
Also, don't be afraid to foster because you don't want to feel sad when they leave. Please try to put the life of an animal above the temporary sadness you will experience when they go to their new home, because you truly did save their life. And, although it hurts to see them go, remind yourself what you provided for them, and they would not be here without fosters like you. The next animal you get will need your tender love just as much.
Follow Amy Vickers on Facebook, emailer her at a.vickers@ufl.edu and check out the GoFundMe page for Captain at www.gofundme.com/SavingCaptain.