Just weeks after more than 150 Olympic gymnasts came forward about their sexual abuse at the hands of the team doctor, Larry Nassar, more and more athletes are telling their stories. This time, however, the focus is on USA Swimming.
Last month, former Olympic swimmer, Ariana Kukors, penned an emotional letter online addressing her years of abuse at the hands of her former swim coach, Sean Hutchison. Kukors was a talented swimmer from an early age and, as a result, was close to making the USA National Team at the age of 13.
The hopeful adolescent swimmer soon found herself in the clutches of the charismatic and "incredibly convincing" swim coach.
"The grooming started immediately. Each of us had to shake his hand after every practice. A simple handshake, but it was a first step: contact." Kukors said in her statement.
WomenSport International, an advocacy group for women in sports, states that sexual abuse frequently happens after careful "grooming" of the athlete until she believes that the sexual involvement with her abuser is either acceptable, unavoidable or a normal part of her training.
Hutchison didn't stop at handshakes and the grooming progressed into something much more sinister. After a while of constant texting and inappropriate comments, the coach soon began touching and kissing the teen. The 34-year-old told the teen that he wanted to spend the rest of his life with her and the relationship became increasingly sexual.
Instead of enjoying her high school experience and her budding swimming career, the teenager's accomplishments were overshadowed by the sexual relationship she was having with the coach. The expert manipulator even went as far as to convince the teen to attend a college close to him so that she could be closer.
In 2011, USA Swimming began an investigation into the sketchy coach-swimmer relationship after an article about the pair was published in the Washington Post. Kukors states that the investigators only asked her a total of 19 questions. "I was scared. I lied. I had never felt more alone in all my life." Kukors said.
USA Swimming soon closed the investigation and called the rumors about Hutchison "malicious lies." "Well, that shut me up real quick. But I think they knew. I think everyone knew. No one flew out to meet me. No one seemed to care what happened to me in all this," the swimmer said.
Kukors quit swimming following the 2012 Olympics and continued an abusive relationship with the coach. However, after years of manipulation and verbal abuse, the world champion swimmer soon found the strength to leave her abuser for good.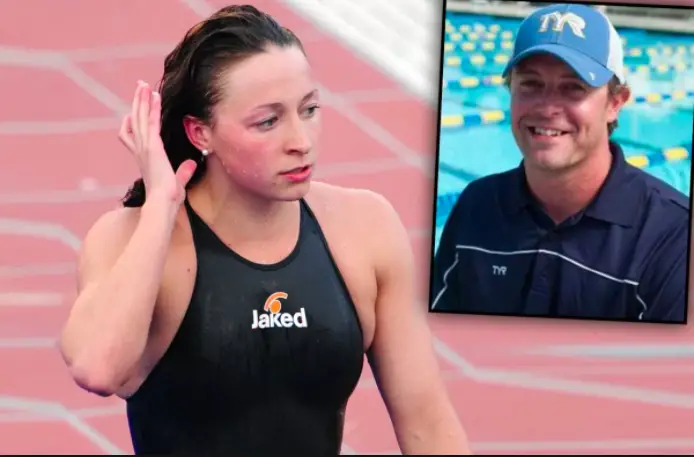 Sadly, Kukors is not the only swimmer to face sexual abuse at the hands of a trusted coach. Back in 2010, it was revealed that 36 swimming coaches had been banned for life by the USA Swimming Organization over the last 10 years due to sexual misconduct.
The swimming coaches molested, fondled and abused dozens of swimmers. "This had gone on for nearly 10 years, without any detection whatsoever," Lt. Don Whitehead of the Kokomo, Indiana police department's cyber-crime unit said to ABC News.
Coach Ken Stopkotte, however, claims that the issue had been going on his entire 27 years of being a swim coach. "It's something that coaches talk about all the time," Stopkotte said to ABC News.
Chuck Wielgus, the former USA Swimming executive director, was hired in the late '90s and since his hiring, the organization has been full of sexual abuse allegations. Unfortunately, the allegations were overshadowed by the Olympic success and many medals that Wielgus helped the sport gain.
It was clear during the early years of Wielgus being the boss that USA Swimming was a place where sexually abusing adolescent athletes was commonplace. USA Swimming's predatory culture was well-known and accepted by coaches and top-ranked officials.
"In the more than 20 years since Wielgus took charge of USA Swimming in July 1997, at least 252 swim coaches and officials have been arrested, charged by prosecutors, or disciplined by USAS for sexual abuse or misconduct against individuals under 18," Scott Reid said in an article for The Orange County Register.
"Those coaches and officials have a total of at least 590 alleged victims, some of them abused while attending pre-school swim classes."
During his position as head of USA Swimming from 1997 until his death in 2017, Wielgus and other USA Swimming officials declined to pursue at least 11 sexual abuse cases against their high-profile coaches, even when faced with direct complaints.
Susan Woessner, USA Swimming's current director of Safe Sport, was also among the many officials that chose to ignore complaints concerning sexual abuse. USA Swimming's policy states that their executive directors have the discretion on whether or not to investigate a claim.
Wielgus was dubbed the "gatekeeper" and was said to have had "absolute control of the issue of coach-swimmer sexual abuse." The goal of USA Swimming has clearly been to win medals and not make their swimmers' safety a priority.
Since 2010, over 30 coaches and officials were flagged by the organization after being arrested or accused of sex crimes that stem from rape to child pornography. The majority of the predators were simply flagged and did not face any sort of disciplinary action by USA Swimming. Reid states that, of the 32 people on the flagged list, the organization only banned 6 of them.
Undoubtedly, USA Swimming has failed to protect young swimmers from their predatory coaches. There is an overwhelming amount of proof that many were aware of the sexual abuse within the USA Swimming organization and that the issue was frequently swept under the rug.
Former Olympian, Katherine Starr, founded Safe4Athletes in order to aide sports organizations in adopting policies and programs to prevent coach, volunteer and peer misconduct which include sexual, verbal, emotional and physical abuse. Sexual abuse and harassment are some of the main issues that they hope to combat so that youth sports can become a safe place for young boys and girls.
Kukors bravely wrote her letter for those little girls and boys who may experience the same ordeal that she did.
The Olympian's ending remarks echo the sentiments of many sexual abuse victims worldwide, "Because the time for change is now. It's time to change the way we talk about sexual abuse, the way we respond to sexual abuse, and the way the system understands and prevents sexual abuse. And with all my heart, I hope that each and every abuse victim knows their story matters, it is important, and their voice will be heard whenever and however they choose to use it."