A Heightened State of Security
Britain has raised its threat level to 'critical,' and France has been in a 'state of emergency' for five years. Such precautions have ominous ramifications.
By Christine Ascher, University of Southern California
---
On May 22, twenty-two people were killed in Manchester following an Ariana Grande concert in an attack that ISIS has since claimed responsibility for.
In response, the UK's prime minister, Theresa May, declared the threat level in the UK to be "critical," with the ominous implication that another attack would not be far behind. As a result of this heightened threat level, the UK can expect to see a large increase in security at sights and venues that draw in big crowds. It will also become more common in the coming days for military officers to patrol alongside the police. According to Mark Rowley, the head of the National Counter-Terrorism Policing for the UK's National Police Chiefs' Council, the organizations "are flexing [their] resources to increase police presence at key sites, such as transport and other crowded places, and [they] are reviewing key events over the coming weeks." Some of these events were even cancelled for the week, including the Changing of the Guard ceremony at Buckingham Palace.
Despite a terrorist attack earlier in the year, in which five people were killed outside the Houses of Parliament, this is only the third time that Britain has raised its threat level to critical, with the last time being in 2007. It cannot be said that this situation is unprecedented, however; France has undergone similar threats and increased security measures as well in the last couple of years. Beginning in November 2015, when the Bataclan theater in Paris became the sight of a deadly terrorist attack, France's president François Hollande declared a state of emergency. Though a state of emergency is traditionally intended as a temporary measure when threat levels are at their highest, France has continued to renew it, allowing it to stay in place for a year and a half.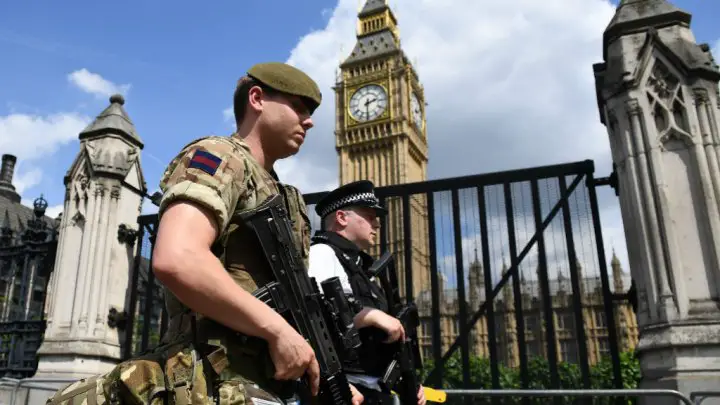 France has now renewed its state of emergency status five times, citing more recent incidents, such as the killing of a police officer on the Champs-Élysées in April, as evidence of its necessity. Though perhaps justified, the country now runs the risk of allowing a state of emergency to become the new norm. As it becomes routine to see armed soldiers patrolling the street and metal detectors at every popular venue, these measures start to seem less extreme and more like normal, day-to-day precautions. Living under a state of emergency for so long has allowed the country to normalize this status.
France is now facing criticism for allowing the state of emergency to last for so long. According to Nadim Houry, director of the Terrorism and Counterterrorism Program for Human Rights Watch, "like an addict, France does not know how to quit its state of emergency even though it has become clear that maintaining it erodes the rule of law and fosters human rights abuses while not keeping the country safer." This accusation alludes to the fact that, under a state of emergency, the French government has the authority to "set curfews, limit the movement of people and forbid mass gatherings, establish secure zones where people can be monitored and close public spaces such as theatres, bars, museums and other meeting places" and "gives more powers to the security services and police, such as the right to conduct house searches at any time without judicial oversight, enforce house arrest and confiscate certain classes of weapons, even if people hold them legally."
Given that a state of emergency allows the government and police more power when it comes to security, it can be tempting for them to keep these measures in place, even when no longer facing a direct threat. While it remains to be seen if the UK will follow suit, it is nevertheless clear that high security has become the new normal for Europe—and, if it continues for as long as terrorists continue to threaten the Western world, it's impossible to tell when it will end.
Given the close relationship between the United States and its allies, and in particular with the UK and France, it is not surprising that terrorist attacks and their subsequent heightened security measures would have some impact on the U.S. as well. Tighter security measures have already been called for in major U.S. cities, including New York, Baltimore and Chicago. Specifically, the Manchester attack has opened the discussion concerning the need for security both inside and outside of theaters and arenas.
Chicago's Wrigley Field, for instance, recently received a $1 million donation from the Cubs to install new security cameras around the outside of the stadium. Though "the timing [after Manchester] was coincidental," "the expensive undertaking underscores how difficult it is to keep large locales secure, especially after events." In New York, the Manchester attack has led directly to increased "security at tourist hot-spots and other heavily-trafficked areas of New York City." According to NBC 4 New York, "officials said New Yorkers should expect to see additional counter-terrorism officers, explosive detection dogs and subway bag-check points."
In addition to precautions taken within the U.S., the U.S. Department of State is now recommending that Americans avoid travel to Europe this summer. Because tourism is at its highest in the summer, the coming months in particular are likely to see more attacks. According to the warning, "U.S. citizens should always be alert to the possibility that terrorist sympathizers or self-radicalized extremists may conduct attacks with little or no warning" when traveling in Europe. In other words, there is no way to predict when a terrorist attack will occur—and, therefore, no way to avoid it.
The warning goes on to state that "extremists continue to focus on tourist locations, transportation hubs, markets/shopping malls, and local government facilities as viable targets. In addition, hotels, clubs, restaurants, places of worship, parks, high-profile events, educational institutions, airports, and other soft targets remain priority locations for possible attacks." In general, anywhere a tourist would travel is liable to face an attack. Given their largely unpredictable nature, while the constant threat of terrorist attacks remains, these constant and severe security precautions will likely continue.